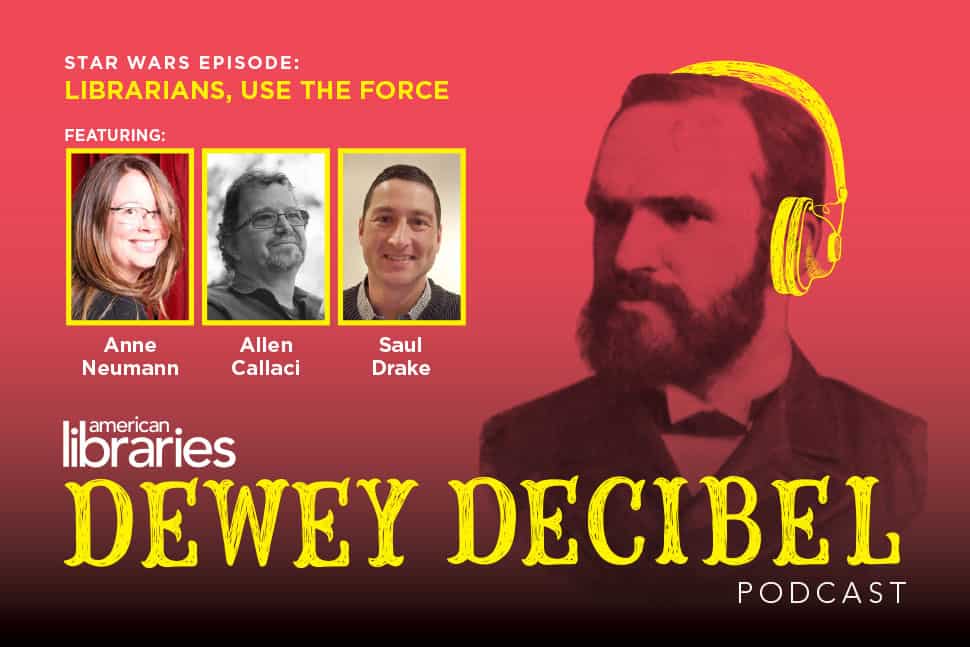 In the 10th episode of the Dewey Decibel podcast, American Libraries Associate Editor Phil Morehart talks with three individuals who occupy a unique place in the Star Wars universe, revealing how the franchise has become a force with galactic influence. Guests include:
Anne Neumann, general manager of Rancho Obi-Wan, a nonprofit organization in Sonoma County, California, that collects, conserves, and exhibits Star Wars toys, memorabilia, and artifacts.
Allen Callaci, literacy librarian at Rancho Cucamonga (Calif.) Library and organizer of the library's annual Star Wars Day event, which draws thousands of attendees each year.
Saul Drake, project director of Rebel, Jedi, Princess, Queen: Star Wars and the Power of Costume, an exhibition presented by the Smithsonian Institution Traveling Exhibition Service that is bringing more than 60 costumes from the Star Wars franchise to museums across the US.
If you have any feedback for the Dewey Decibel team, send us an email. Tell us what you like, what you don't like, or what you'd like to see us cover. Follow us on Twitter and leave us a review on iTunes.