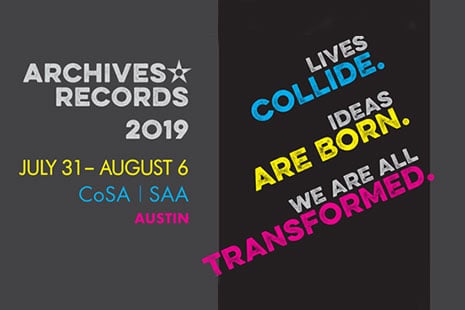 By documenting social justice movements online, archivists are discovering the need to create collections of born-digital materials related to current events from both the fringe and mainstream. Many of these digital materials contain controversial or sensitive content, and archivists face challenges related to collection scope, ethics, access, liability, contexts, appraisal, technology, and staff safety. That was the focus of "Documenting Current Events and Controversial Topics," a presentation at the Archives*Records 2019 Conference in Austin, Texas—hosted by the Society of American Archivists (SAA) and the Council of State Archivists July 31–August 6.
Presenters explored how current events are captured in collections and archives and the effect that collecting controversial and sensitive materials has on patrons and staff. Jennifer Weintraub, librarian and archivist for digital initiatives at Harvard's Schlesinger Library, opened with a discussion on the #MeToo Digital Media Collection project from the History of Women in America at Harvard's Radcliffe Institute for Advanced Study. Documenting the digital footprint of the #MeToo movement and the accompanying political, legal, and social issues within the US, this project gathered social media content, news articles, statements of denial and/or apology, web-forum conversations, legislation, lawsuits, statistical studies, employment manuals from Fortune 500 companies, and hashtags related to #MeToo dating back to 2007, when Tarana Burke created the movement.
In addition to providing details regarding the collection's goals and scope, Weintraub highlighted the ethical and legal issues around gathering #MeToo digital material, specifically the contextual approach to privacy and the social network theory of privacy. The project included an ethics statement along with an ethics bibliography.
Jane Kelly, web archiving assistant at the #MeToo Digital Media Collection, discussed the technical infrastructure of the project. She noted that because of the social media platform requirements for collecting content and the technical aspects of gathering the data, having a developer is key to carrying out a project like this. She provided an in-depth look at the tech tools that were used in the collection, including Archive-It and Media Cloud.
What items should be included in these collections? Samantha Abrams, web resources collection librarian at the Ivy Plus Libraries Confederation, noted a range of questions to consider, including who the work empowers, the speed and appropriate timing in which the materials are collected, who will be affected by the collection, where the content is best suited, and how access to the collection is provided.
As the documentation of current events evolves, archives should provide collections that record historical movements, the speakers said. Web archiving and social media collection of these historical events are crucial to preservation.