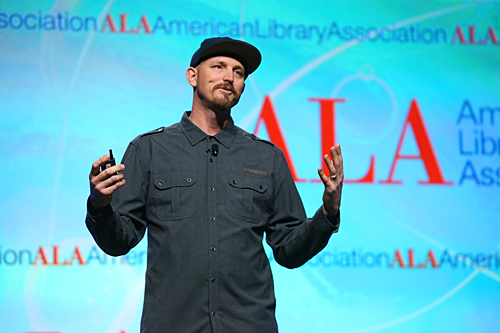 Mick Ebeling is an idea man, and his ideas transform lives.
A film and television producer by trade, Ebeling stumbled upon a project that led to sweeping changes in life-altering technologies and the formation of Not Impossible Labs, an organization that develops low-cost, open source solutions to health care problems. His story is a testament to the power of perseverance, determination, and incredible optimism. He detailed his experiences, the lessons learned, and how they can be applied to anyone's life in an inspiring President's Program talk February 1 at the 2015 ALA Midwinter Meeting & Exhibits in Chicago.
Tall, goateed and clad in rumpled jeans and shirt with a baseball hat on his head, Ebeling exuded a laid-back, likeable charm as he addressed a crowd that had braved a blizzard to hear him speak. Anyone familiar with his work knows that it is anything but laid-back, however.
Not Impossible Labs gathers the top minds in engineering, design, web hacking, medicine, and more to come up with solutions to seemingly unsolvable problems. It started in 2009, Ebeling said, when his production company decided to make an end-of-year charitable donation in clients' names in lieu of a standard gift. The company gave the funds to the family of a Los Angeles graffiti artist named Tempt, who was suffering from ALS. The disease robbed Tempt of all movement except for his eyes.
When Tempt's brother received the funds, he told Ebeling that he wanted to use the money to find a way to talk to his brother again. Ebeling said the request stirred him to action. He pledged to develop a device that would allow Tempt to communicate and create art again using his eyes. There was only one problem: Ebeling had no background in engineering, optics, or any other field necessary to complete such work.
Ebeling referred to his new book, Not Impossible: The Art and the Joy of Doing What Couldn't Be Done, throughout his presentation, using it to illustrate points that he learned while working on the Tempt project. Jumping into a project headfirst without a plan is essential sometimes.
"It's scary," he said, but we must commit first, then figure out how to make it work.
Ebeling's drive and connections helped bring the Tempt project to fruition. "I like to bring brilliant people together; I surround myself with people who make me feel stupid," he said, noting that, if you're the smartest person in the room, then you're in the wrong room.
To solve the Tempt problem, Ebeling gathered graffiti artists, hackers, and other minds. They looked at how eyes track. They programmed and mapped the eye. They developed projects.
And they failed.
This is an instrumental part of the creation process.
"You fail, fail, fail, and then succeed," Ebeling said. "And then you start the process over again. Each time, you fail a little bit less."
Ebeling showed clips from a documentary that he produced chronicling the development of the glasses-like device that would eventually allow Tempt to paint again using his eyes. The footage was exciting, touching, and revealed the wide impact of the project. Ebeling said that he was floored by its reception. The device was named one of the top 50 inventions of all time by Time and eventually was placed in permanent collection at the Museum of Modern Art in New York City.
The success led to the formation of Not Impossible Labs, an organization dedicated to developing "technology for the sake of humanity," Ebeling said. Using the process set forth in the Tempt project, Not Impossible Labs gathers brilliant minds to solve problems. The solutions then are offered for others to develop for free. Open access is important to Ebeling.
"We weren't developing things and running to our friends in Silicon Valley to sell it," he said. "The point is to make devices to help and to give them away."
Not Impossible is not a nonprofit entity, Ebeling said. The work is underwritten by large companies and organizations that can use the efforts as branding tools. "Doing good is good business," Ebeling said. By aligning themselves with positive projects, the companies reap positive public relations benefits.
Since forming Not Impossible, Ebeling and his team have taught refugees in Sudan to make inexpensive prosthetic arms using 3D printers and developed robotic exoskeleton legs to help people with cerebral palsy walk again.
Ebeling is humble about his work. He understands the impact that it has, but he hopes that his story inspires others to develop it even more. Open access allows for that.
"It's about the power of story," Ebeling said. "All the technology we make isn't as powerful as the story behind it. The story of what we're doing carries the work forward."