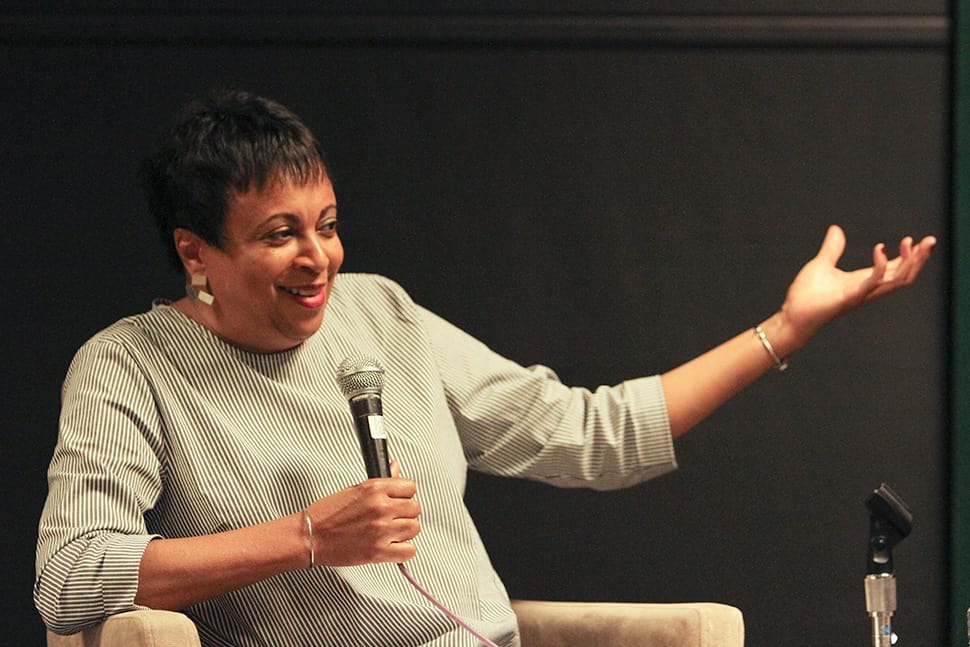 Dr. Carla Hayden has experienced several "pinch me" moments of awe in her role as Librarian of Congress, such as getting to handle primary source materials from important historical figures like Rosa Parks. Nothing compares, she said, to seeing a letter written "in her hand."
Similarly, it was an honor for me to get to hear Dr. Hayden in her own words at the Reference and User Services Association's (RUSA) President's Program, "New Dawn for Libraries: A Conversation with Dr. Carla Hayden." Her wide-ranging conversation with former ALA President Courtney Young gave insight into her career path from children's librarian to her current role running America's library and her vision for libraries moving forward.
On working in children's service, Dr. Hayden wryly noted: "If you can deal with three and four year olds—and their parents—if you can multitask and deal with personalities, it helps you put things in perspective."
On how she views the public library, she said "it's a place you get answers … whatever the problem is."
Her advice for early career librarians? "Be flexible" regarding your career path. "You can learn a subject. Don't close yourself off to opportunities," she said.
And for mid-career: "Think about how your experiences can be transferred. The subject matter might change, but the doing reference, giving service, it's the same. You can teach an old dog new tricks."
Dr. Hayden also noted that one of the the biggest challenges facing the Library of Congress is getting resources to digitize and store the collection. "We keep collecting because history never stops," Dr. Hayden said. The Library recently centralized their information technology services and are continually discussing new technology and the financial resources needed to stay abreast of developing strategies. "What we want to do is admit that we are grappling with it. That's a growth area."
On the most important trend for libraries to follow: "Ease of use." Library services can be underutilized because "people are getting impatient and they need it to be simple to access."
She also emphasized the importance of listening to your community's needs and proactively providing services. "Reference is, of course, facts. But it is also connecting people to what they need to know, when they need to know it."
On the role of librarianship in the Information Age: "There is a hunger for that authoritative, nonjudgmental source of information. We are the trusted source."
Toward the end of the program, an audience member asked for advice on being the "first and only," noting Dr. Hayden's groundbreaking role as both the first woman and the first African American Librarian of Congress. To rousing applause, she responded, "Make sure you're not the last."