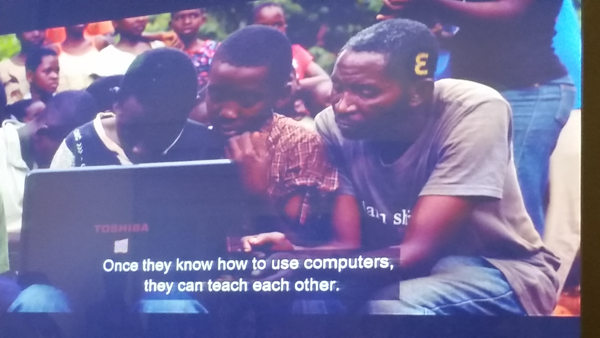 Inside the exhibits area at the IFLA World Library and Information Congress in Cape Town was a special area for product presentations and other demos. The Library Channel, a public television program funded by Finland's Ministry of Education and Culture, screened three of its recent documentaries on library initiatives in Namibia and Tanzania at this venue. One of the documentaries on Namibian libraries, Gateway to the World (2013), is available for viewing on the Library Channel website. The other, Library Connection: Vantaa‒Windhoek (2014), will be available online soon.
The most recent documentary, Street Librarian (2015), is about an outreach librarian in the Morogoro region of Tanzania who has taken upon himself the job of making the country an information-literate society one person at a time. Edward Fungo—working with the help of Libraries for Development, a project of the Finnish Library Association in cooperation with libraries in Namibia and Tanzania—travels to towns and villages in rural areas to train teachers in the basics of computers. Fungo says the villagers often have mobile phones but rarely have access to computers with an internet connection. He hopes that will soon change as the government realizes the potential for economic advancement that a computer-literate population enables.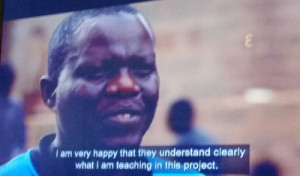 Fungo carries a laptop with him for training sessions, which can last up to three days, and in remote areas he has to bring electricity with him in the form of a generator. He hopes that by teaching some of the people Microsoft Word and other computer techniques that they can teach others so that the knowledge will expand.
Fungo sees his mission as spreading both computer literacy and an awareness of libraries as places where women, farmers, businesses, and people in general can expand their reading and increase their opportunities for employment and professional success. When he goes to poor areas of the larger towns, he sets up his training sessions on the sidewalk, which has earned him the name of "street librarian." In the villages he is known as the "village librarian," and when goes to schools to train teachers, they call him the "teacher librarian."
Street Librarian will be available on the Library Channel website in September, after it premieres nationally in Finland.