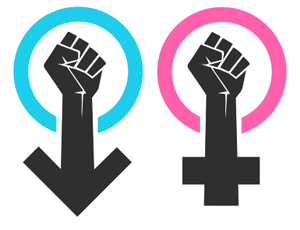 Do issues of gender and race matter in a predominantly white, female profession like librarianship? According to a panel at the LITA-sponsored "Challenges of Gender Issues in Technology Librarianship" on Sunday, the short answer is "Yes, they impact everyone."
Since technology is traditionally a male-dominated arena and librarianship is more female, the panel of tech librarians discussed how gender (and broader issues of diversity like race or gender identification) impact the growth and continued relevance of the profession.
Andromeda Yelton, LITA director-at-large and owner of Small Beautiful Useful, moderated the panel, which included: Cecily Walker, assistant manager, Websites and Online Engagement, Vancouver (B.C.) Public Library; Myrna Morales, program and communications coordinator, Community Change Boston; Chris Bourg, associate university librarian for public services, Stanford (Calif.) University; Emily Clasper, operations and training manager, the Partnership of Automated Libraries in Suffolk, Suffolk Cooperative Library System in Bellport, New York; Kate Kosturski, institutional participation coordinator, United Kingdom and Northern Europe, JSTOR; Eric Phetteplace, emerging technologies librarian, Chesapeake College in Wye Mills, Maryland; and Coral Sheldon-Hess, web services librarian/assistant professor of library science, University of Alaska Anchorage's UAA/APU Consortium Library.
Yelton began by explaining her own engineering background and the issues of gender inequality she had encountered, which contributed to her career change. "Engineers are expected to be straightforward," she said, adding that when she transitioned into librarianship, she had not expected to meet the same issues. But as someone interested in tech librarianship, Yelton often finds she is the only woman in the room, and so the dynamic is much the same. "Almost all of the librarian technologists in my area are men."
The main purpose of the discussion was not to share personal stories of discrimination, but rather to explore broader ways of how gender and other forms of diversity shape the professional experience of a librarian.
The panel, compiled with an eye toward diversity, discussed the concept of "intersectionality" (intersections between different disenfranchised groups or groups of minorities), and its significance in determining who contributes to the profession and how.
"We tend to talk about gender narrowly," Yelton said, explaining that there was more to it than just the perspective of "people like her" [white women].
"We want to be creating safe and welcome environments for everyone or we're not doing it for anyone," Walker, an African-American woman, said.
All the panelists agreed that the core issue lies in the structure of the profession, and that's why they need to raise awareness. "We are a painfully homogenized profession. We need to put our collective weight behind these issues, because no profession ends up that white and that female for no reason," Bourg said.
Nearly all the panelists had stories about how they had encountered sexism as a tech librarian, including being criticized for leaving a young child "with strangers" at day care after maternity leave. As the only male panelist, Phetteplace said he just wanted to help in any way he could, and suggested that men take an active role in combating gender issues when they witness them by calling people out. "You have to actively counteract inertia. Many people don't have other people's best interests at heart. You have to be somewhat proactive," he said.
Yelton explained that the more she does the things she likes to do, like puruse leadership opportunities or technology, the "fewer people in the room look like me."
"How we choose to interact with technology is indicative of who we see ourselves to be," Morales said. "Technology is neutral. It's about what we do with it."
But the discussion wasn't limited to tech librarianship; panelists also discussed how diversity of gender or race impacts relationships with patrons and local communities.
"When I interact with a patron or staff member, I can't tell why people are reacting to me a certain way," Walker explained. "Is it because I'm a woman, or because I'm black, or both?"
One area where librarians can make an impact on diversity in the workplace is during the hiring process or when serving on search committees. Phetteplace explained that things like gaps in work history might be held against a candidate with no consideration of the reason, including having a child or deciding to care for them in early childhood. This applies to men as well as women.
In discussing search committees, the panel also revealed how male candidates may earn positions by virtue of "unchallengeable comments" like "He had more 'gravitas'" compared to a female counterpart. They also discussed that women will not apply for jobs if they do not have all the qualifications specified, but men will. The panelists encouraged anyone in a position to hire to be very thoughtful about how they phrase job descriptions, and teach peers about code words like "gravitas," which perpetuates gender inequality.
These types of "microaggressions" add up. Hiring a diverse staff is the best way to appeal to different communities, Bourg explained. So when making hiring decisions, she suggests looking for who is not present.
These ideas go beyond the library staff and delve further into the communities being served. "How do we build bridges between our communities and people we serve and ourselves?" Walker said. "Try to look at ways to build relationships. What kind of barriers are we creating? Talk to other communities that are not represented on your staff. It all starts interpersonally, but look at it from an organizational standpoint."
Bourg had a very simple bit of advice. "If you want people of color in your workplace, then hire people of color."
The best way to get started? Bourg suggests asking the people you want to attract how you can help. "It's important for leaders to speak out and take a stand. I want my peers on this panel," she said.
The panelists also provided resources to attendees who wanted to learn more about the issues, and continued the discussion informally at another venue. They encouraged those who are interested to follow the discussion on Twitter via the #LibTechGender hashtag.