On August 18, the IFLA Committee on Copyright and Other Legal Matters (CLM) held a panel session at the 81st World Library and Information Congress on the Marrakesh VIP Treaty, an important international copyright agreement signed by 51 countries in Marrakesh, Morocco, on June 28, 2013. Representatives from the International Federation of Library Associations and Institutions (IFLA) worked closely with delegates from the United Nations' World Intellectual Property Organization (WIPO) to provide a library perspective on the treaty, which allows (without the express permission of the rights holder) the production of accessible copies of books for visually disabled persons, even across international borders.
Anne Leer, WIPO deputy director for copyright and related rights, said that the reason the treaty was so massively successful was because "IFLA members were so active in promoting it. This is a good example of what we can achieve if we communicate what is needed on national and international levels." The message was simple, she added, "because it addressed a single issue"—providing information to the visually challenged community.
Leer said that WIPO continues to serve these users through the Accessible Books Consortium, which attempts to ensure that publications that are "born digital are also born accessible." It is "building an international database of titles in accessible format," the Trusted Intermediary Global Accessible Resources (TIGAR service) that contains more than 286,000 titles in more than 55 different languages.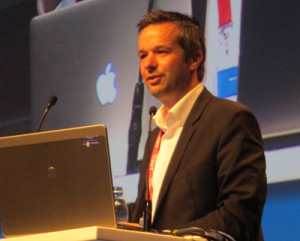 Tobias Schonwetter, director of the Intellectual Property Unit of the Faculty of Law at the University of Cape Town, noted that the Marrakesh Treaty was the "first treaty that, instead of expanding the rights of copyright holders, actually focused on copyright exceptions." For those unfamiliar with treaty law, he explained the differences between concluding, signing, and ratifying or accessioning a treaty: "To conclude a treaty means that negotiating countries agree on the final text. Signing a treaty is a preliminary endorsement and signals the intent to examine the terms of the treaty more closely. When a negotiating country ratifies a treaty, that means it agrees to adhere to its terms. If a country accessions a treaty, it agrees to become a party to a treaty already negotiated and signed by other states."
Schonwetter said that the Marrakesh Treaty requires 20 ratifications before it enters into force. To date, 10 countries have ratified it and 10 others are likely to do so by 2016.
"Only 5% of all books are produced in an accessible format," Schonwetter said, primarily because producing accessible copies is not particularly profitable. "If a third party, such as a library, wanted to create an accessible copy, national copyright laws get in the way." This is the roadblock that the Marrakesh Treaty intends to bypass. "The treaty," he said, "requires countries to introduce copyright exceptions in their intellectual property laws to allow accessible formats." And they must allow this exception outside their own borders—"a key point," he added.
The role of librarians in this process is to "facilitate the cross-border exchange of materials to be made accessible" and "act on behalf of visually disabled users," Schonwetter said. And the next step is to "push to the next level and seek another treaty that allows for much more general copyright exceptions for libraries and archives."
The role of librarians in this process is to facilitate the cross-border exchange of materials to be made accessible and act on behalf of visually disabled users. – Tobias Schonwetter
Colleen Cook, dean of libraries at McGill University in Montreal, Quebec, clarified that the Marrakesh Treaty will go into general effect three months after 20 countries ratify it. She explained that Canada, which has long supported legislation for individuals with disabilities, "played a large role in the Marrakesh negotiations," with Canadian delegates "involved in most of the discussions."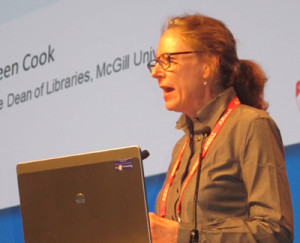 Cook said that in April 2015 the Canadian legislature introduced Bill C-65, the "Support for Canadians with Print Disabilities Act," which would amend its intellectual property laws (already largely mirroring the treaty) to come into full compliance. The act would further allow making large-print books accessible, permit nonprofit organizations to provide books to individuals who self-identify as visually disabled, and safeguard the interests of copyright owners where accessible-format books are commercially available. Cook said that the bill died in the House on June 4, but since it has "broad bipartisan support," she expects it will be an "easy win for any party that takes office after the fall elections."
The final panelist was Peter Jaszi, a copyright expert on the faculty of American University's Washington College of Law, who "felt compelled" to point out some "significant challenges ahead" in implementing a treaty that is "widely regarded as a famous victory." He said that the "history of international intellectual property treaties is littered with the debris of well-intentioned agreements that never quite made it" and that the treaty should not be allowed to "peter out after 30‒40 countries ratify it."
Jaszi said that "many of the world's poorest countries will not be in any rush to join this treaty, because there are few advocates for the disabled in these countries." He said that "getting to 90 ratifications and beyond will be a chore and will fall to international advocacy groups to keep campaigns going at the national level."
Jaszi also sees a pitfall in the loose definition of "authorized entities," or the organizations in each country that will be permitted to make and distribute accessible copies. It is widely assumed that libraries fall into this classification, but it is possible that some countries could specifically exclude them.
Another problem, Jaszi noted, is the loophole that disallows making copies if accessible copies are commercially available at reasonable prices. "The details will be crucial," he said, "since the format is not specified. Formats such as braille—quickly becoming a legacy—will not always be comparably useful."
One more contentious point in the treaty, Jaszi said, is that it only allows accessibility providers to make copies through "lawful access" to copyrighted material. If national laws add such further restrictions as "shrinkwrap deals or click-on licenses, it could frustrate the treaty's effect." National lobbying efforts could oppose these limiting schemes by "pushing for the elimination of offending words or urging inclusive language" that bars a contractual override.
A possible solution for the sticking points in national copyright laws would be the introduction of model legislation, Jaszi said, that "can easily be tweaked to fit local circumstances." He said that, along with Washington, D.C., technology policy lawyer Jonathan Band, he has "made some very preliminary steps to draft such model language. This is the best solution for national implementation. This treaty won't implement itself—it requires further legislation to be effective."