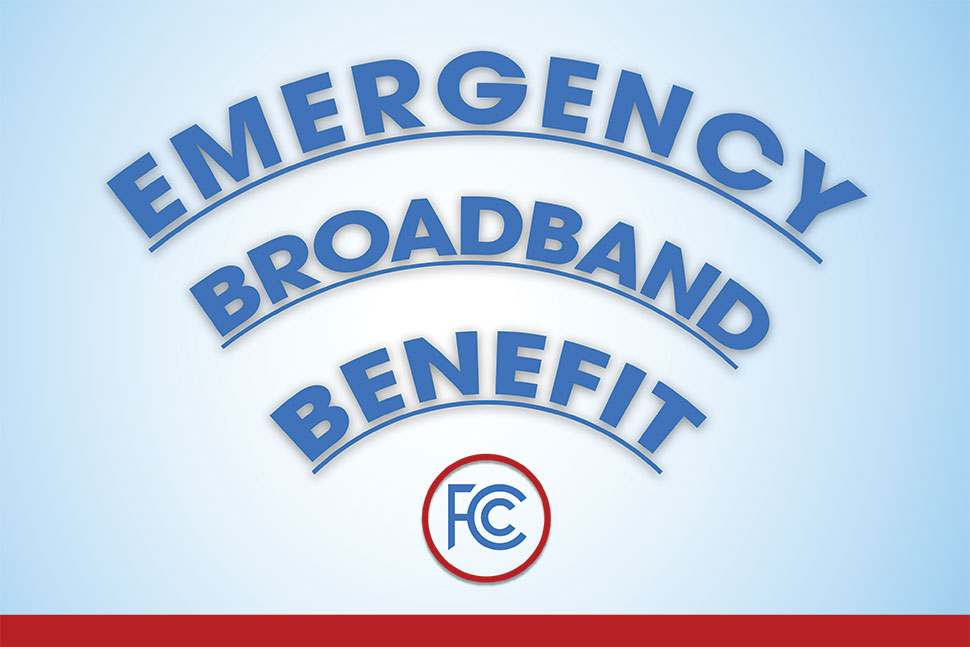 Starting May 12, families and households struggling to afford internet service during the COVID-19 pandemic can get help from a new federal program. The $3.2 billion Emergency Broadband Benefit (EBB) program, administered by the Federal Communications Commission (FCC), provides a discount up to $50 per month for broadband service (or up to $75 per month on qualifying tribal lands) and a one-time discount up to $100 for a laptop, desktop, or tablet computer purchased through a participating provider. Library staffers in all settings and other broadband equity advocates can help raise awareness of this new emergency funding.
Program and application essentials, including eligibility, are outlined in a new FCC-American Library Association (ALA) fact sheet for libraries. A household is eligible if one of its members meets any of the following criteria:
Has an income at or below 135% of the federal poverty guidelines or participates in certain assistance programs, such as the Supplemental Nutrition Assistance Program, Medicaid, or Lifeline
Receives benefits under the free and reduced-price school lunch program or the school breakfast program, or did so during the 2019–2020 school year
Received a federal Pell Grant during the current award year
Experienced a substantial loss of income due to job loss or furlough since February 29, 2020
Meets the eligibility criteria for a participating broadband provider's existing low-income or COVID-19 program
The EBB program is limited to one monthly service discount and one device discount per household. Having existing outstanding payments to a broadband provider does not disqualify a household from eligibility. EBB funds go directly to the participating broadband service providers. (See a list of participating providers by state and territory.)
The program will end once funds are exhausted or six months after the Department of Health and Human Services declares an end to the pandemic, whichever comes first. For this reason, getting the word out quickly to parents, students, families, and all households lacking home internet is critical.
The FCC is providing a toolkit of promotional materials to be used by libraries and other outreach partners nationwide, and ALA has customized options for a library press release and newsletter blurb. FCC materials include multilingual consumer handouts and fact sheets, as well as English and Spanish social media messages, images, and slides. Advocates can join a national day of action on May 14 called by Next Century Cities and find additional information and outreach strategies on its website. Next Century Cities, New York State Library, and the New York State Broadband Office will also cohost a webinar May 14, 1–2 p.m. Eastern, for local and state leaders to share best practices.
Funding was allocated for the program as part of a bipartisan COVID-19 relief bill passed in December 2020. ALA filed comments with the FCC during the rulemaking process.