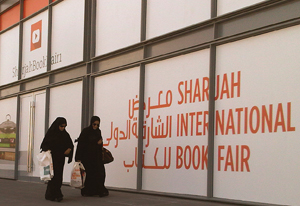 The count is in: The official wrap-up last week of the 32nd Sharjah International Book Fair (SIBF) in the UAE reported that 900,000 visitors had browsed more than 400,000 titles on display in Sharjah's Expo Centre, 150,000 UAE schoolchildren had participated in more than 500 interactive activities and workshops as part of class trips, and 20 million people had used the Twitter SIBF hashtag for a total of 60 million interactions. Fourteen tons of materials were handed out, and purchases were loaded up in countless SIBF supermarket-style trolleys. More than 1,000 publishers from all over the world shared know-how and signed deals. ALA was invited to attend as guests of this phenomenal fair, and I joined Keith Michael Fiels, Mary Ghikas, and Michael Dowling in experiencing a few days there.
Striking orange signage encouraged people to attend the free fair during the first half of November. The book fair theme, "For Love of the Written Word," loomed large on the side of overpasses, bridges, taxis, median strips, hotel lobbies, even the elevator TV in the Mall of Dubai. We found the commitment to building SIBF as one of the most prestigious book fairs in the world to be genuine and energetic. (SIBF also serves as an effective and needed channel for book distribution.)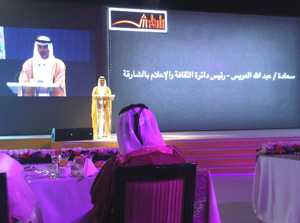 SIBF Director Ahmed Al Ameri said in the November 16 Gulf News, "To us, SIBF is much more than a remarkable trade show for the publishing industry—it is about encouraging a passion for literature and critical thinking, and the sharing of knowledge among Emiratis and the world at large. Under the patronage of His Highness Dr. Shaikh Sultan Bin Mohammad Al Qasimi, Member of the Supreme Council and Ruler of Sharjah, the book fair has come a long way to become one of the four biggest book fairs and trade shows across the globe."
Enjoying a literal and figurative warm welcome in the UAE, our ALA team was there to start planning the next steps of ALA's collaboration with SIBF, in keeping with the Association's global mission to help build stronger libraries worldwide. ALA participation will likely involve showcasing libraries and librarians' work through presentations and other programming, as well as introducing ways to help raise the ongoing visibility and use of libraries in Sharjah and the region. In addition to attending the fair itself, we had tours of facilities and meetings with ALA members and other librarians from Zayed University, American University in the Emirates, Sharjah Public Library, Abu Dhabi Higher Colleges of Technology, the Petroleum Institute, and representatives from the US Embassy in Abu Dhabi. We also met with Sheikha Bodour Bint Sultan Al Qasimi, the daughter of His Highness Dr. Shaikh Sultan Bin Mohammad Al Qasimi. An energetic promoter of reading for fun, founder of a children's book publishing company, and former president of the Emirates Publishers Association, she is also mastermind of the "Culture Without Borders" project that is distributing libraries of 50 selected books to each of 42,000 families in Sharjah.
We're looking forward to drawing on all that regional expertise as we build plans for 2014, and to an active role in the 33rd Sharjah International Book Fair on behalf of libraries. In the meantime, please stop by to introduce yourselves to SIBF Director Ahmed Al Ameri at the Combined Book Exhibit stand (#824) in the exhibit hall at the 2014 ALA Midwinter Meeting in Philadelphia—especially if you'd like to learn more about building your collection of Arabic-language and culture materials.
MARY MACKAY is director of marketing for ALA.