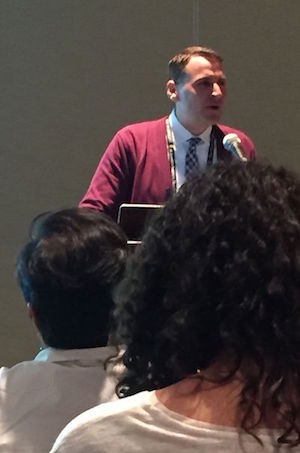 This Friday session—really three sessions rolled into one—examined and encouraged participation in the Print Archive Network (PAN) through an open forum and two panels.
At the forum, the Center for Research Libraries' Director of Technical Services Amy Wood delivered a recap of a meeting convened by CRL at the University of California, Berkeley, the day before. At that meeting, representatives from large print serials archiving programs examined data collected on various programs and assessed the progress that has been made.
Thomas Teper, assistant university librarian for collections at the University of Illinois at Urbana-Champaign, spoke on the role of the HathiTrust Print Monographs Archive Planning Task Force that he chairs. The task force was established in 2011 with a charge to develop plans for a Distributed Print Monographs Archive, a monograph archive that mirrors actual monographic holdings, that is governed and managed by the Trust, and that is lightweight and lowers barriers for early participation. Issues the task force is working to address include exploring the model for identifying and preserving print resources, the necessary qualifications for participating repositories, and analyzing appropriate content for inclusion in the archive.
The first panel included Tom Delaney of RapidILL; Dennis Massie of OCLC; and Stephen Spohn of Massachusetts Library System. Delaney discussed the importance of making information in archives available to users, as "the information contained within the archive is priceless." Massie shared the results of a study he conducted, focusing on the Ivies Plus group of libraries, which examined collection-sharing trends in three broad strokes. The study found that total sharing activity is going up, and due to circ-to-circ or consortial borrowing. Additional growth has come from the four institutions that joined the group most recently. Finally, Spohn discussed resource-sharing programs in the Massachusetts Library System, and specifically, the Commonwealth eBook Collections.
The concluding panel featured Judith Russell, dean of libraries at the University of Florida; Jamie Wittenberg of the University of Illinois; and Katie Birch, Portfolio Director for Delivery Services at OCLC. Russell discussed a software tool, Journal Retention and Needs Listing (JRNL), developed at the University of Florida and meant to build collections and engage users. So far, 762 agricultural titles have been entered into JRNL. Twelve land grant universities in the Association of Southeastern Research Libraries and the National Agricultural Library are collaborating to establish archiving commitments. Wittenberg introduced a new tool, the Preservation Self Assessment Program, meant to improve the health of analog print assets by providing a standard assessment tool that allows institutions to select copies for inclusion in PAN that are in the best condition. Birch concluded the panel with a discussion on moving away from second symbol methodology to a strategy that allows us to move forward on retention commitments for local libraries by using a standardized format to register commitments more easily.
For more information, visit the Center for Research Libraries' event site.