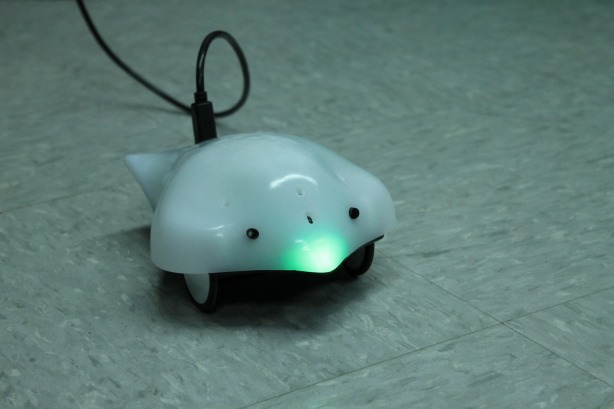 As part of its ongoing initiative to offer library patrons access to 21st-century technology, Chicago Public Library (CPL) has added programmable Finch Robots to its catalog.
The library is partnering with Google to offer 500 of the robots, which can be picked up at the Harold Washington YOUmedia Center, two regional libraries (Sulzer and Woodson) and three branch locations (Austin–Irving, Back of the Yards, and Wrightwood–Ashburn), CPL spokeswoman Mary Beth Kraft tells American Libraries. The robots are available for hold at all 80 of the system's Chicago-area branches.
The robots, which were developed at Carnegie Mellon University's CREATE (Community Robotics, Education, And Technology Empowerment) Lab, aim to teach children and adults the fundamentals of computer programming and are geared toward patrons ages 8 and up, Kraft explains. Students can program the robots in more than a dozen computer languages to perform functions such as move, make noise, light up, and draw.
CPL will be the first library in the US to offer the robots.
"Our circulation of the robots was prompted by teachers and community mentors who are teaching computer science, and because there is an increasing need for students to learn these skills," Kraft says. "There are some community groups meeting at our branches across the city that already meet every week to practice computer science skills, so this is perfect for them."
She says the robots can be checked out individually or in packs of five, allowing instructors to provide lessons in a group setting.
Kraft says CPL just began circulating the robots, and news of their arrival has already created a buzz on social media websites. "Since Saturday patrons have been tweeting about putting one on hold," she says. "They're excited to get their hands on one of these."
Jim Lecinski, head of Google's Chicago office, said in a May 10 news release that getting students excited about computer science at the primary- and secondary-school level is critical. "By providing the robots to the library, we hope to inspire the next generation of technologists and computer scientists here in Chicago," he said.
Chicago Mayor Rahm Emanuel was optimistic about the program and its impact on future generations in the May 10 news release. He stressed that the robots will offer an introduction to necessary 21st century skills in a creative, easy-to-learn way, making computer programming accessible to Chicagoans of all ages. "This partnership with Google Chicago is part of our comprehensive approach to expanding STEM (Science, Technology, Engineering, and Math) education across the city," he said. "I applaud Google for their contributions in ensuring that all residents have access to the cutting edge resources of tomorrow."
More information about the Finch Robots is available at chipublib.org/news/finch-robots-land-at-cpl.