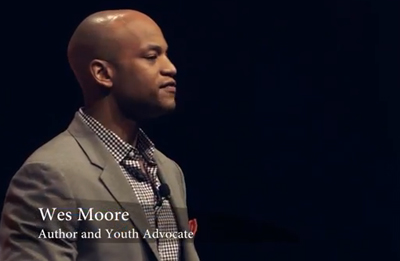 Speakers often come to ALA meetings and talk about a library, a librarian, or perhaps a book that changed their life. And in some ways, Wes Moore's story about a book on college freshmen basketball stars called Fab Five, which turned his rejection of books into a passion for reading, was not unusual. But how he became an author is.
His mother brought the book home for him because he was not studying, not reading, not learning, and getting in trouble. "The first time I felt handcuffs on my wrist was at age 11," he said. His mother sent him to a military school when he was 13, where he repeatedly tried to run away. When he called to ask her to please let him come home, she told him, no, too many people had worked too hard to get him there. He finally learned that "it's not all about you," settled down, went into the military, attended college, and was selected as a Rhodes Scholar.
When a story appeared in the newspaper about his achievement, another Wes Moore was reported arrested for a botched burglary that ended in the death of a decorated police veteran and father of five. He wrote a letter to this other Moore and was surprised at the letter he got back. Meeting that other man named Wes Moore was "discovering that line between success and failure and how thin that line can be. Very small decisions can lead to very different outcomes."
He wrote the bestseller The Other Wes Moore about their two often-parallel lives, and his newest book, The Work: Creating Success in New and Meaningful Ways, highlights the stories of people who have made an impact on their communities, often after adversity. "Our dreams have gotten wrapped up in these ties of monetary exceptionalism," he said. "Money isn't a prerequisite of success. I think of [success] as impact."
"The most important question we have to ask is not 'Where do you work?' but 'What is your work?'" he said. He went on to tell stories of a pair of Iraq War veterans, one who lost both legs, and the other with PTSD, who together started a company to build homes for wounded veterans. Another story was of a single mother who founded a clothing company that employs other single moms. These are some of the people he profiled in The Work.
Several librarians in the audience stood up to tell Moore about how his book had influenced people in their libraries. A prison librarian said one young inmate was reluctant to return the book, which he felt was a story about his own life. "I always recommend your book, and it always has an impact," she said. A school librarian chose it for her middle school, and found it drew kids out.
Someone asked him if he still hears from the other Moore. He said he had just met him a few weeks ago. "Even our worst decisions do not separate us from the circle of humanity. I've grown as a person because of Wes Moore," he said.
A school librarian from East Hartford, Connecticut, asked how to draw out the students who read The Other Wes Moore and could benefit from more discussion. "Urge them to express themselves in the larger context of community and family," he recommended. "You never know when someone who needs to hear your story is listening."
Watch videos of Wes Moore's Midwinter appearance at: http://bit.ly/1d37sxm, http://bit.ly/1az7BhM, and http://bit.ly/1dZ2o38
---
See, hear, and read more about what's going on at Midwinter—in real time and after.
Twitter: @alamw and #alamw14
Facebook: https://www.facebook.com/events/512164432210368
YouTube: youtube.com/user/AmLibraryAssociation
Flickr: flickr.com/groups/2422196@N23
Pinterest: pinterest.com/alamidwinter