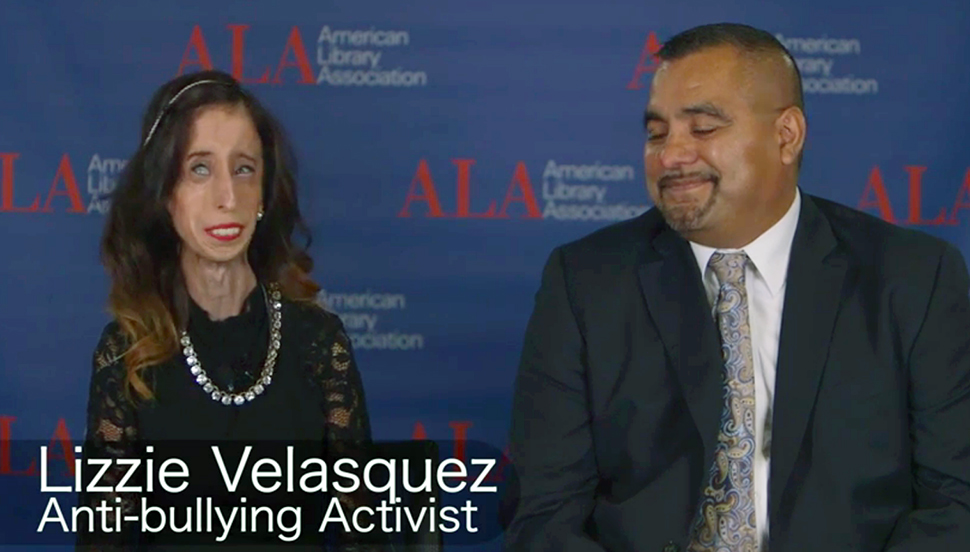 When she was 17, Lizzie Velásquez found a video of herself on YouTube calling her "the world's ugliest woman." Velásquez, who was born with the extremely rare neonatal progeroid syndrome (which prevents her from gaining weight), turned her sorrow into action to become an internationally known motivational speaker and antibullying activist. Her TEDx Talk, "How Do YOU Define Yourself?" has had more than 10 million views, and a 2015 documentary, A Brave Heart: The Lizzie Velásquez Story, won the South by Southwest audience award.
Velásquez sat down with American Libraries before giving the Arthur Curley Memorial Lecture at Midwinter and discussed her upcoming projects and how she feels now about social media.
Her new memoir—her fourth book—will be released in spring 2017. She calls it "my dream book" and says it is more personal than the inspirational tomes she's written so far. "A lot of my life is out there for the public, but a lot of it is not." She says the struggles she has faced have taught her how to be vulnerable, and the book will include the lessons she's learned.
Velásquez also spoke of her dedication to getting the Safe Schools Improvement Act passed. The antibullying legislation is sponsored by Rep. Linda Sánchez (D-Calif.). Velásquez has visited Washington, D.C., to meet with representatives and enlisted support from her followers to get the bill passed.
During her talk, Velásquez said of the biggest lessons she's learned is that we each have a purpose, and she now believes one person can change the world. She spoke about the many people who have changed her life.
Her parents were the first people who helped her. Velásquez was born prematurely, the first child of an elementary school teacher and a stay-at-home mother. Her parents were told their daughter would never be able to care for herself, but they were determined to give her a normal life, which for her mother meant regular trips to the library with her siblings and friends. Velásquez says she loved storytime and being around other kids, but definitely had trouble being quiet.
"It was really cool. It wasn't a doctor's office! I remember getting my first library card—and my first fine. I'm so ashamed to be telling you this," she laughed.
It wasn't until she went to school that she learned she wasn't like the other kids. She was confused why other kids wouldn't play with her. Her parents explained only that she was smaller than the other kids, but that she was brave enough and smart enough to do whatever she wanted.
Velásquez says the bullying she started to experience was not physical but psychological. Despite her strong support system of family and friends, she felt angry that she didn't look like everyone else and first looked for someone to blame. She decided instead to stop letting others define her and created a truth for herself. She even tried out for—and made—the cheerleading team and says she felt like a superhero wearing the uniform.
She found the YouTube video when she was 17 while procrastinating from doing her homework; her carefully constructed truth about herself was crushed by every vicious comment. She realized she needed to take control of the situation, but didn't know it would be creating the biggest opportunity of her life.
Almost immediately, she applied for her first job, as a bookseller at Borders. Although her illness prevented her from even doing chores as a kid, she wanted to prove she could hold a job.
Then the assistant principal at her school encouraged her to try public speaking, which she fell in love with. Velásquez has now spoken around the US and around the world, calling it one of the biggest blessings of her life.
Velásquez has experienced both extremes of social media—a viral video that destroyed her carefully constructed confidence, and another that made her a sought-after motivational speaker and best-selling author. She tells American Libraries that she is still a huge supporter of social media. Despite its capacity for malice, it has allowed her to make friends around the world and gives her a platform to help others. She has active Twitter and Instagram accounts with tens of thousands of followers.
And she noted during her talk that if she ever met the still-anonymous person who posted the YouTube video, she would bring them flowers and thank them for changing her life.