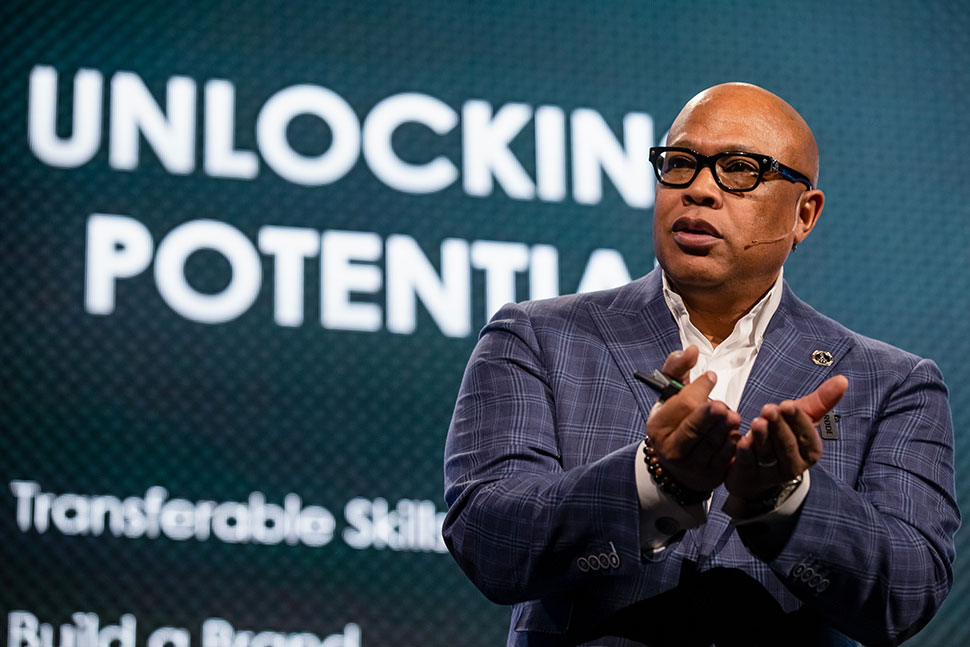 Award-winning chef and bestselling author Jeff Henderson knew that growing up in South Central Los Angeles was different from growing up in a middle-class home: no "good morning" greeting from parents on the way to school, no fruit bowl on the table, no bookshelves in the house.
"I was growing up hungry in a single-parent, dysfunctional home in the 1960s," he told the crowd at American Library Association President Wanda Kay Brown's program at the Midwinter Meeting & Exhibits in Philadelphia on January 26. "I had a little homeboy dream that I'd be able to buy a house on a hill with a white picket fence for my mother."
But that dream was deferred by the school-to-prison pipeline that disproportionately affects men of color in the United States. In 1988, Henderson was convicted for drug trafficking and conspiracy. He would remain imprisoned until 1996. Today, he noted, 2.3 million Americans are in prison and 70 million Americans have criminal records—largely attributable to the 1980s crack-cocaine epidemic and culture created by the war on drugs.
"When you're born into poverty, you're in survival mode," said Henderson. "I wanted to be the number-one drug dealer in my neighborhood. I saw no value in literature, I saw no value in public education."
It wasn't until Henderson got to prison—"the darkest place on earth, a cage"—that he could unpack the values system, baggage, and trauma that accompany poverty. "I began to understand how I was criminalized as a young boy," he said.
Books became transformative for him. "I began to read about men who looked like me," said Henderson, who cites Black Men, Obsolete, Single, Dangerous? by Haki R. Madhubuti and The Mis-Education of the Negro by Carter G. Woodson as important literary discoveries. "As I began to read, those blinders came off. I became hungry with knowledge."
Prison is also where Henderson began to see another side of food—how it shapes incarcerated life, how it brings together people of different backgrounds, and how crushed-up, nacho cheese-flavor Doritos can resourcefully flavor a bland can of tuna.
"I started my own business in prison: an underground catering company," he said, laughing. Henderson began to idolize chef Robert Gadsby and consider becoming a professional chef after serving his sentence. "I gave myself permission to dream again," he told the audience.
After his release from prison, Henderson started as a dishwasher and, with no formal culinary education, worked his way up to executive chef at Café Bellaggio in Las Vegas. He has since helmed other restaurants, authored four books, and anchored a Food Network reality TV show.
"Never underestimate the failure of someone," Henderson said at the close of his talk. "We all have the potential. There are seeds of greatness in everybody."
Chef Jeff Henderson shares his passion for cooking