In his keynote speech, "Steal Like an Artist," author Austin Kleon referenced Brian Eno's concept that creative ideas are birthed in a network, an ecology of talent known as a scenius. The scenius runs contrary to the myth of the lone genius. Rather than subscribing to the notion that people are born with creativity in their genes, and that talented individuals should squirrel themselves away, wait for inspiration to strike, and keep their ideas secret, the scenius focuses on the collaborative process and the quality of the connections you make and the conversations you start.
One of the best conversations I started at SXSW was with actress Rosario Dawson. During her session on engaging millennials, an extremely articulate and impassioned Dawson told the audience, "We need museums. We need libraries." Afterward I sought out Dawson and asked her to give a statement about libraries. My colleague Yemila Alvarez filmed a one-minute video that you can watch on sxswLAM's Tumblr.
SXSW provided an opportunity to participate in amazing conversations ranging from wearable technology, social technologies, hacking, marketing, crowdsourcing, and online security to the future of education and 3D printing. It was like being in a beehive of activity with a constant buzz of energy and excitement that was infectious and invigorating. This was part of the reason I came to SXSW; to immerse myself in the world of innovators and creatives who are at the forefront of their respective fields. Ultimately, I came to be inspired, because inspiration is always what starts the journey and makes it worthwhile.
I was inspired by several of my librarian colleagues. Christian Zabriskie and Lauren Comito offered a core conversation titled: "We Will Not Be Shushed: Guerrilla Library Advocacy," which described the successful social media and street librarianship strategies of Urban Librarians Unite (#ululib).
In another session, "The New Startup Garage for Innovation? Libraries," Janie Hermann from Princeton (N.J.) Public Library and Venu Moola, founder of Princeton Tech Startups, asked the entrepreneurs in the audience what they would like libraries to be able to do for them. One participant requested spaces to collaborate, connect, and co-work for hours at a time. Hermann shared that her library offers a drop-in session for Drupal co-working on Friday afternoons. When asked: "If you are a librarian, what services do you currently offer for entrepreneurs?" Adri Edwards Johnson from Pioneer Library System in Norman, Oklahoma, responded that there are two business consultants on staff who assist people with starting, developing, and fine-tuning a for-profit.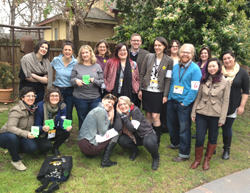 Helping startups to recognize libraries as a valuable resource was a key mission for EveryLibrary at SXSW. EveryLibrary, along with ULU, ALA, and members of the sxswLAM group (which I had the pleasure of joining this year), raised awareness of libraries both out in the streets of Austin, at various meetups, and in an Exhibit Hall booth sponsored by Innovative. The small but growing group of LAMers (Libraries, Archives, Museums) passed out stickers and koozies emblazoned with "Libraries, not the same old shhh" and were successful in getting several people to tweet their local public library.
Building connections and community is what libraries do. It is also one of the major goals of SXSW.
There is a lack of both women and librarians at SXSW, so my hope is that some of you will consider joining sxswLAM next year so that we can add more voices to the conversation.
ANN AWAKUNI is an ​online instructor at Infopeople and technology librarian at the Mountain View (Calif.) Public Library.