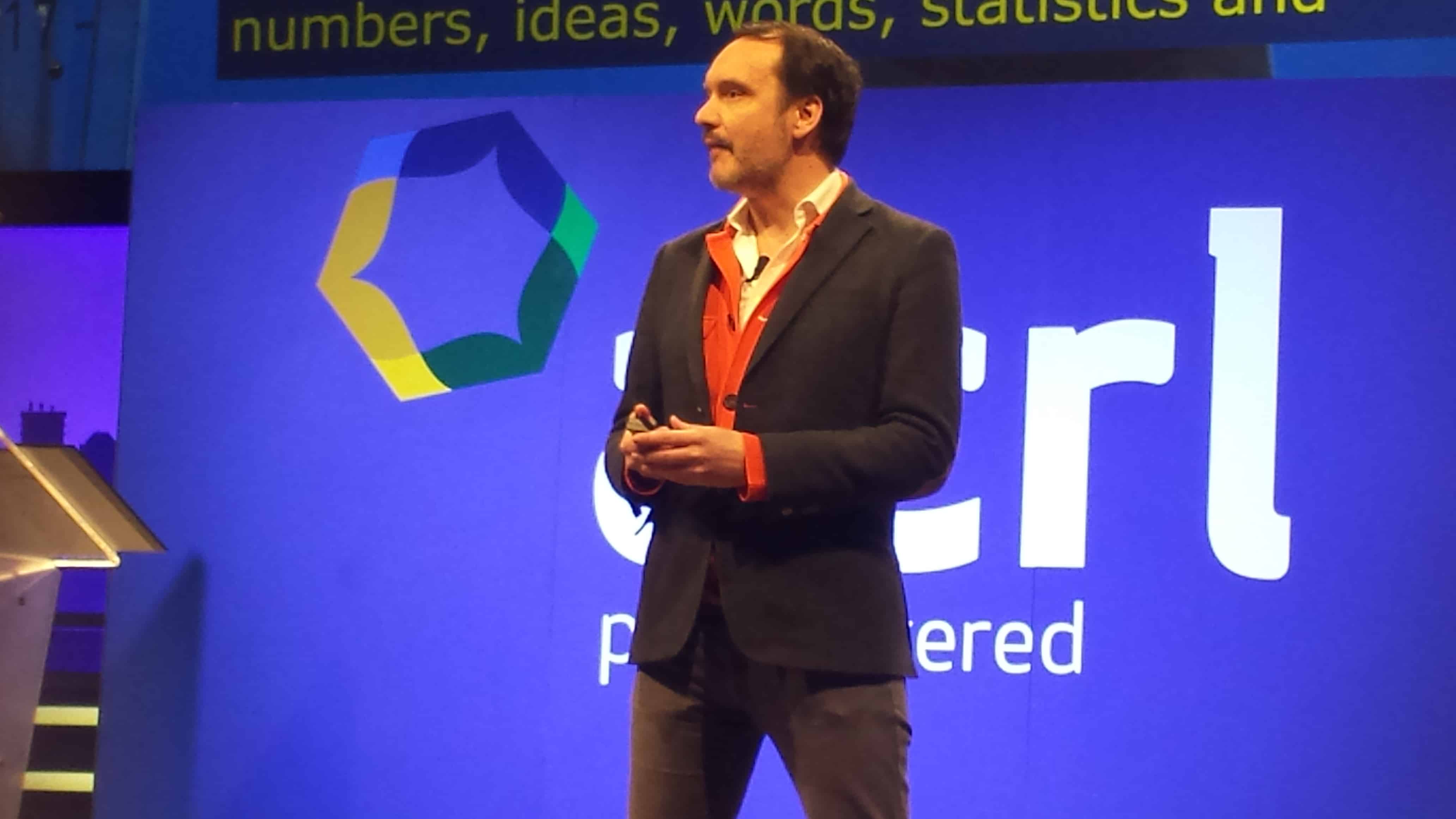 Information and storytelling emerged as major themes at the biennial Association of College and Research Libraries (ACRL) conference, which opened in Baltimore March 22 with a keynote address by British data journalist David McCandless.
ACRL Executive Director Mary Ellen Davis began the proceedings by emphasizing ACRL's mission of covering the trends and issues in academic and research librarianship and higher education. Davis said the conference was ACRL's largest to date, with more than 3,400 attendees from 29 countries and all 50 states.
American Library Association President Julie B. Todaro's opening remarks addressed the current political climate head on and the important role information and storytelling will play in protecting library funding in the 2018 federal budget.
She took the stage by noting, "This fight is a little different for us." It is not just about National Library Legislative Day but a sustained effort, she said, and members should expect at least five requests for them to take action. "We have to inundate legislators with content about what we do for people," she said. "We are all connected, no matter what kind of library, and we have to go forward with one voice."
Todaro joked that when she sees attendees throughout the rest of the conference, she will ask, "How many of the five steps have you taken? I know where each of you live."
Academic/Research Librarian of the Year
ACRL President Irene Herold and GOBI Library Solutions Senior Vice President Mark Kendall presented the 2017 Academic/Research Librarian of the Year Award to Loretta Parham, CEO and director of the Atlanta University Center (AUC) Robert W. Woodruff Library. AUC serves Clark Atlanta University, the Interdenominational Theological Center, Morehouse College, and Spelman College.
In accepting the award, Parham spoke of her mother, Amanda S. Rudd, who passed away in February. Rudd was passionate about reading and making books available to kids—especially black children—giving them fairy tales and award-winning books. She was a librarian and eventually became the first woman and the first African American to head Chicago Public Library. Parham said her mother's work ethic encouraged her to get to school every day on time or early, and inspired her to become a librarian.
Information is beautiful
Conference chair and ALA President-Elect Jim Neal introduced McCandless, who describes himself as a "data detective" and runs Information Is Beautiful, an organization that promotes the dissemination of data through graphics and diagrams.
McCandless uses colorful, interactive data visualization and information design charts and graphs as vehicles to clarify enormous sets of information. He explained how designed information can help us understand the world and reveal patterns, connections, and stories.
As an example, McCandless's previous career as a print journalist showed him that fear always gets on the front page. So one of his earlier data visualization pieces, Mountains Out of Molehills, tracks media-inflamed fears along a timeline—everything from disease outbreak headlines to violent videogame stories to recurring news about killer wasps. Patterns and outliers emerged, including the vastly out-of-scale response to Ebola in 2014 and cyclical peaks about violent videogames in November (just before holiday shopping season) and April (the anniversary of the Columbine shootings) in every year.
McCandless said he usually starts by asking a question and seeing where it leads. For example, which country has the biggest military budget? The obvious answer is the US. But is it true? The US is also the world's wealthiest country, so seen as a percentage of GDP, the US military budget ranks 19th.
"We can no longer take a single data point and say this is the truth," he said. Instead, we have to add context. "We have to take the data and grind it up to make a lens—that will allow us to see the world more sharply."
McCandless is not a trained graphic artist but learned the basics by being exposed to information design every day. He said that 80% of his work is still gathering and vetting data, and only 20% is design. We are now exposed to information design every day through the internet, which has its drawbacks. "We trust the authority of a well-designed website," he noted.
"The fake news phenomenon has been a very galling thing to witness, the flattening of hierarchies of truth and authority," he said. But he noted that there are different kinds of truth—scientific, journalistic, personal—and distinctions can get messy. He's working on a new piece to describe these differences.
Update, March 28, 2017: A previous version of this article stated that Loretta Parham is the first librarian from a Historically Black College and University to win the Academic/Research Librarian of the Year Award. Ravindra Nath Sharma, then–library director of West Virginia State University, won the award in 2005, and Jessie Carney Smith, former dean of the library at Fisk University in Nashville, won in 1985.