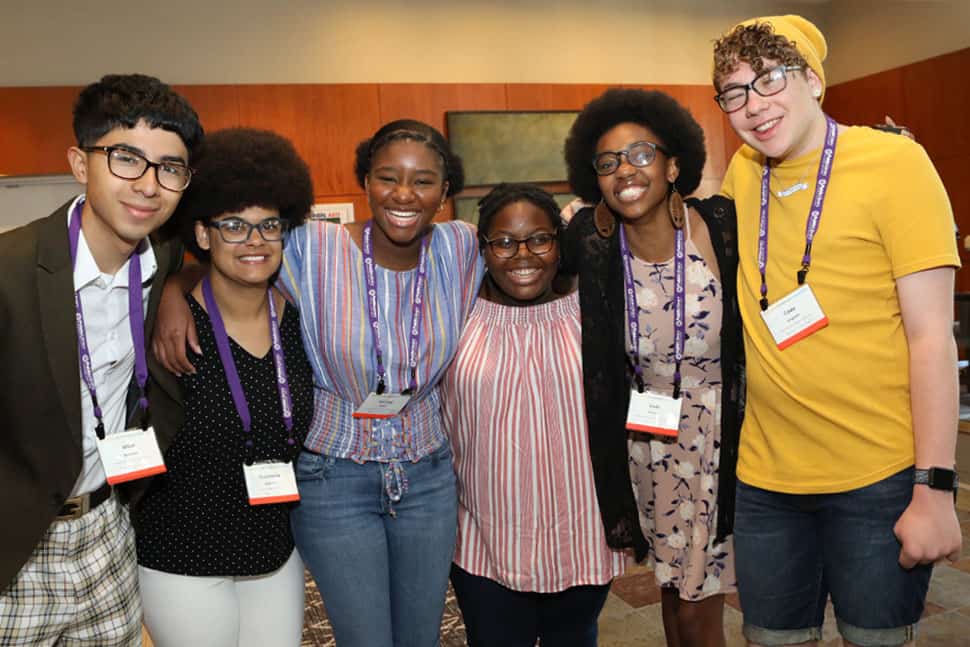 When Felton Thomas, director of Cleveland Public Library, welcomed intern–mentor pairs at this year's Public Library Association (PLA) Inclusive Internship Initiative (III) Kick-Off, he presented them with the word "revolution"—a fundamental change in the way of thinking.
"Libraries should be more inclusive, different-thinking, and innovative," he said. "I want us to try and revolutionize libraries towards the better and change stereotypes."
Now in its third year, PLA's III program offers summer internships designed to introduce students of diverse backgrounds to library careers. The III Kick-Off, a commencement where intern–mentor pairs attended sessions to prep for their internships, took place in Chicago June 13–15.
PLA received funding from the Institute of Museum and Library Services to have 48 high school students from 28 states participate in this year's III. With guidance from their individual mentors, interns will gain valuable experience in programming, leadership skills, user services, and more.
The III Kick-Off included sessions led by mentors that focus on programs, people, and priorities. These sessions covered topics such as prom clothing exchanges, professional development for undocumented youth, and social justice issues for interns to keep in mind as they work.
Thomas, the keynote speaker, shared stories about his own introduction to librarianship as a young man trying to stay out of trouble in his hometown of Las Vegas. He asked interns and mentors alike to think about how to improve libraries.
"I'd like to push on the idea of what it means to work in a public library," Thomas said. "I want to challenge us to think about what libraries are and have an open discussion about who we are as librarians. We come from different places, but we all have a lot of things in common."
He emphasized the importance of leadership and resilience that both interns and mentors will need to succeed during the program. "Everyone has emerged as a leader at one point," he said. "You don't have to be a 'born leader' to lead. You don't have to have a title to lead. You don't have to lead all the time. You don't have to follow all the time."
Summer of new projects
In addition to exposure to librarianship, interns will implement new projects at their libraries with help from their mentors. While their projects are still under development, many interns have started formulating ideas.
Cade Langsdon, intern at Salt Lake City Library, said that he would like to focus on LGBTQ+ inclusion. "Libraries should be safe spaces," he said.
Similarly, Mikel Gonzales, intern at Long Beach (Calif.) Public Library, wants to help the Hispanic community in his town come together and be more comfortable at the library. "I want to try and have a Culture Appreciation Day," he said.
Sade Wilkins, intern at Baltimore County (Md.) Public Library, would like to focus on something she thinks is controversial but important. "I want to teach menstruation awareness and provide resources for young girls, homeless women, and even incarcerated women, who don't always get education about their own body," she said.
Sommer Kinsler, intern at Camden County (Ga.) Public Library, wants to start a book club for high school students featuring literature often seen in colleges or universities. "High school and college are two different levels," she said. "I'd like to do whatever I can to make that transition smoother."
At Henrico County (Va.) Public Library, Kelsey Coston is targeting sustainability for her program. "I love composting and gardening," she said. "We don't have composting in our city, so I'd like to start raising awareness about that through the library."
Exploring careers
Though some interns are interested in pursuing other careers, they say the internship will still help them appreciate libraries.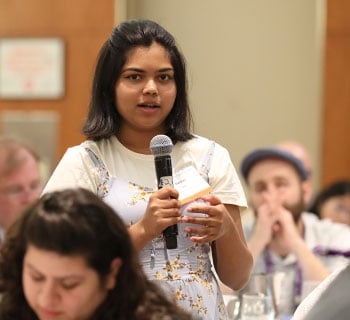 "I'm not sure if I want to be a librarian yet, but I've always loved libraries," Kinsler said. "What drew me the most about the internship was the opportunity to give back to my community."
Dominique Robinson, intern at Pioneer Library System in Canandaigua, New York, thinks her internship will help her branch out to other professions. "I want to be a college professor," she said. "There's some overlap there with library sciences."
Thomas spoke about once being a 'reluctant librarian' himself. Though he spent every day at his own public library, he wanted to be a sports psychologist, and didn't change his mind until he was given the opportunity to study library sciences at the University of Hawaii. He said that many students have this mindset of not wanting to be in librarianship until they try it.
"I often ask kids, 'Who wants to be a librarian?' And no one raises their hand," he said. "Some kids even sit on their hands, thinking they'll maybe accidentally raise them. But then I'll ask, 'Who wants to be in a profession that changes people's lives?' Then they all raise their hands."