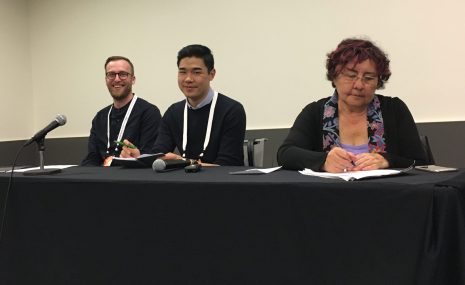 Casting a light on academic library support for indigenous studies scholars and the First Nations being studied, three Canadian university librarians shared their findings from an Ithaka S & R project at the Association of College and Research Libraries 2019 Conference in Cleveland. The project goals were to challenge assumptions about traditional research methods and to reframe the role of academic library services to scholars and indigenous communities. Librarian research teams at 11 North American universities participated in the study, including four teams from Canada, three of which presented their findings in the program "Indigenous Studies Scholars in Canada: Recasting Narratives of Research Support in Academic Libraries." Representing the Canadian research teams were Cody Fullerton, liaison librarian at University of Manitoba; Deborah Lee, indigenous studies and community initiatives librarian at University of Saskatchewan; and Desmond Wong, outreach librarian at University of Toronto.
The study examined the research needs and methods of indigenous studies faculty as well as those of indigenous faculty members whose scholarship was in other fields, such as health sciences or law. Also examined were the expectations of the indigenous people being studied. At the outset, researchers stressed that the project incorporated both Western and indigenous research methods, including semistructured interviews between 1–3 hours in length. Storytelling was greatly encouraged "and participants had multiple opportunities for providing feedback and consent," said Fullerton. "It was imperative that participants were comfortable with their transcripts," emphasizing the value of reciprocity when conducting research with indigenous peoples.
Researchers also considered the importance of sharing research materials with indigenous communities, which can take a variety of forms, explained Fullerton, including providing PDFs or speaking at community forums. Open access publication was mentioned as another way to facilitate tribal access to research findings, eliminating the traditional barriers of subscription-based journals and databases. However, open data depositories were highlighted as an area of concern for indigenous people, particularly with respect to the community losing control over what is shared publicly.
The role of libraries in preserving gray literature was also stressed as an important way to share research with indigenous populations. These materials might include community-based reports not otherwise indexed. Preserving and facilitating access to materials provides reciprocity to the community. "What does the community get?" Fullerton asked, emphasizing relationship and trust building within the research process.
Another important finding for the presenters was familiarity with indigenous languages when preserving materials. Much knowledge is passed through native languages that "is essential to proper understanding of archival materials," explained Wong. Metaphorical language is better understood in context, making studies of indigenous languages essential to scholarly work in indigenous studies. Library support for curriculum and acquisitions in indigenous studies scholarship was also stressed. One area noted for improvement was creating digital and physical space where indigenous languages can be seen and heard.
Within the academy itself, studies of indigenous peoples need to be guided by indigenous ways of knowing. One challenge is the higher value given to written work over oral tradition in academic scholarship and publication. Within librarianship, Lee added, there are also significant issues with the Library of Congress (LC) subject headings, which do not reflect preferred terms, such as Inuit instead of Eskimo. Similarly, LC subject headings do not necessarily reflect important topic refinements in the indigenous community, such as key geographical distinctions. Consequently, most faculty don't use them to find their scholarly resources and rely instead on online searching, bookstores, and social media. However, presenters identified one valuable resource—the Indigenous Studies Portal, a database from University of Saskatchewan, known as a good source for gray literature.
"We haven't even begun to address subject headings in [traditional] databases," Lee noted. "Maybe in 20 years, we will be in a better place."