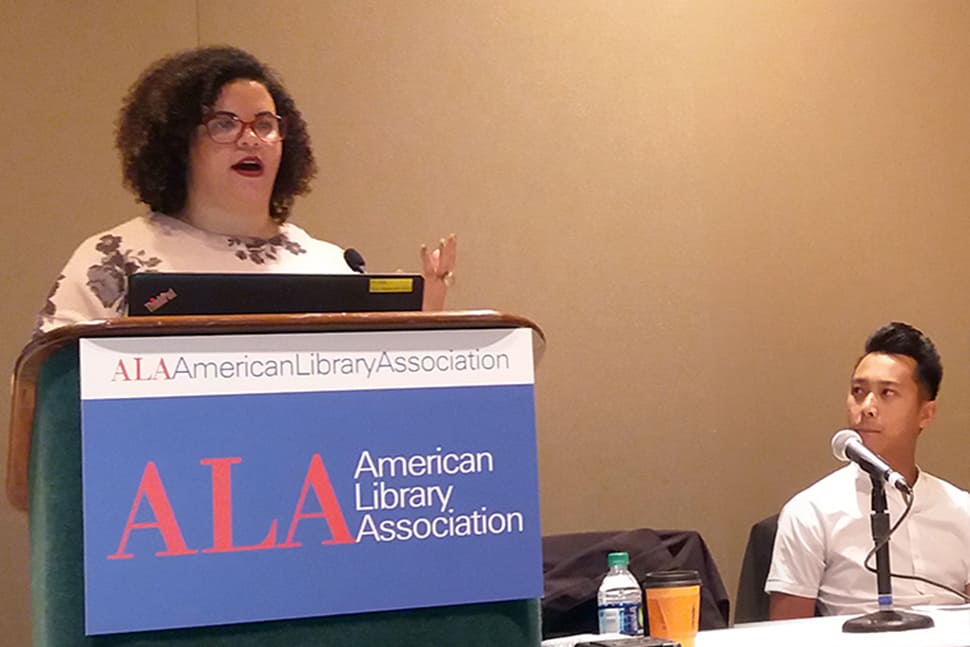 How do we create change, solve problems, and support innovation in our communities?
"[It's remembering that] the people most affected by the problem have the best ideas on how to solve the problem," said Sarah Studer, assistant director of the Arthur W. Buerk Center for Entrepreneurship at the University of Washington's Foster School of Business.
Studer shared with library professionals her philosophy on collective action and using business as a force for good at "Libraries Transform: Social Innovation," a Symposium on the Future of Libraries session at the American Library Association's Midwinter Meeting & Exhibits on January 26. She and copresenter Arnold Phommavong, art director at Hilt Agency (a brand development and design agency in Seattle) and vice president of Design for Good (a program of AIGA, the American Institute of Graphic Arts), offered strategies for keeping creativity and empathy at the center of social innovation.
One problem that Studer discussed—homelessness—deeply affects the city of Seattle, and many frontline librarians in communities across the country are dealing with the issue.
"We can't close our blinds to it," said Studer. "We haven't come up with a solution yet because there's no way to get government and philanthropy together to agree on a solution."
Studer said that when she worked at Impact Hub Seattle, a coworking space in the Pioneer Square neighborhood, she and her team witnessed the many byproducts of homelessness—sweeps in which people living on the streets lost their possessions, drug use, mental health issues, and deaths. She quickly realized her organization was uniquely positioned to bring people from competing industries together at a central meeting place to address social problems.
"Impact Hub's main motto is that impact cannot happen in isolation," Studer said. The agency mobilized by following the three Cs: creativity, compassion, and community. For instance, an event manager at Impact Hub brought a coffee cart out on the street to serve homeless individuals and engage them in informal conversations to learn more about their needs—"sadly, a new approach," Studer said.
Another example was a participatory design workshop at Impact Hub hosted by the Pomegranate Center, a training and coaching organization in Seattle, which revealed that one of the biggest issues facing homeless populations is the need for a power source to charge electronics. "That probably resonates with libraries because you deal with so many unsheltered people who just need power to plug in their phones," said Studer.
Phommavong also focused on problem solving from the angle of "deep empathy" and consideration for the end user that are the foundations of human-centered design. "Oftentimes we try to make things better," he said. "It's not about what we create, it's 'what is the consequence from what we create?'"
To help illustrate human-centered design, Phommavong introduced the concept of Norman doors—named after designer Don Norman, who observed that poorly designed doors prompt people to pull or push them in unintended directions. Norman doors illustrate that discoverability and feedback are essential to engineering, and Phommavong noted that the basis for much of today's design is a cycle of observation, idea generation, prototyping, and testing.
"Each time we go around the circle, we do a better job," he said.
To bring designers and design concepts to an ambitious set of social problems, Phommavong set about organizing the AIGA Seattle Changemaker Series, which poses an annual challenge by asking such questions as "How might design help support local refugees and immigrants?" or "How might we nurture local youth?"
"We need to be able to help our communities with the skill sets we have. In your corporate world, we might not have those opportunities," said Phommavong. He added, "We always start our program with empathy, of course."