While I was in Indianapolis at PLA, Innovative's Joe Murphy, Director, Library Futures, was in Austin, Texas at the well-known South by Southwest (SXSW) conference where emerging technology leaders, start-ups, and media entrepreneurs came together to discuss and even create the latest trends.
With Joe taking the lead, Innovative was working closely with many partners in bringing libraries to SXSW for the first time, providing a space, the "Innovative Booth for Libraries," that allowed librarians to demonstrate that they are strong partners in technology and innovation.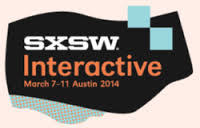 Innovative's partners in this effort included the American Library Association, the Association of Rural and Small Libraries, the Digital Library Federation, Electronic Resources & Libraries, EveryLibrary, the Freedom to Read Foundation, Urban Libraries Council, and Urban Librarians Unite, and more.
All of us at Innovative believe that a strong future for libraries includes access to new conversations with the technology community about the role of libraries. SXSW continues to provide avenues for librarians to enter into discussions with technology and media thought leaders, to build relationships with technology and policy partners, and to advocate for the value that libraries can add.
You can follow Joe Murphy on Twitter at @libraryfuture.
–Kim Massana, CEO – Innovative Interfaces