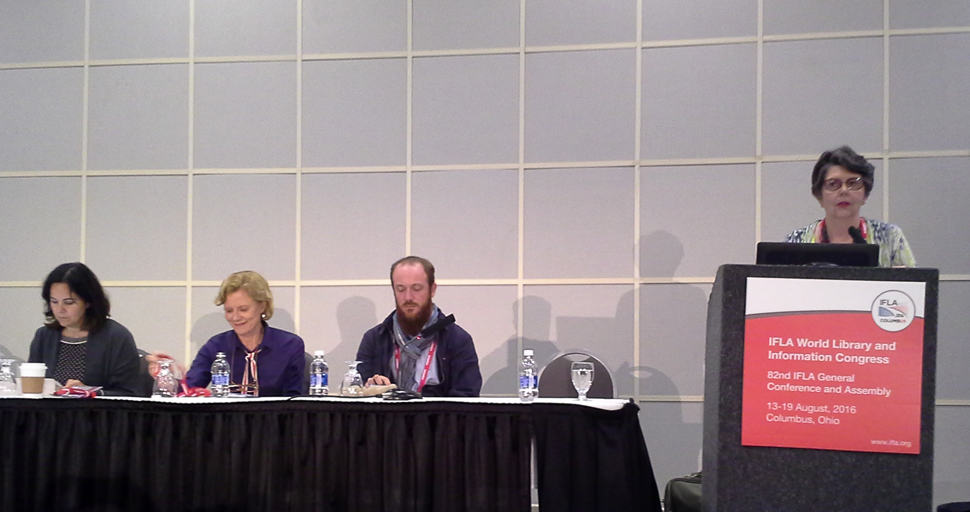 True marketing is not about selling, promotion, or advertising. It's about assessing needs and using common sense. And it's not strictly for businesses—which is why libraries should be doing it.
Christie Koontz, associate in research at Florida State University's School of Information, offered this wisdom, along with basic marketing definitions and best practices, at the outset of "What Makes a Great Marketing Initiative in the Library?," a session at the International Federation of Library Associations and Institutions' (IFLA) World Library and Information Congress in Columbus, Ohio. The program introduced a framework for launching successful marketing projects before announcing the IFLA BibLibre International Library Marketing Award winners for 2016.
Koontz stressed that good marketing is built on a mission, goals, and objectives—and has a beginning and end. "Your evaluation is part of it," she said. "Think of every single thing you can measure."
In addition to an evaluation phase, marketing plans should include research, segmentation, and strategy, said Koontz. She warned that "[initiatives] not targeted to customer groups are not successful." Librarians should also play up their expertise when marketing their libraries, Koontz suggested. "You're a product, the high-end brand of the place."
Koontz turned the program over to Silvère Mercier, chair of the jury award and the IFLA Marketing and Management section, to announce the top 10 examples of "the most inspirational" library marketing of the year. Honorees were selected from 71 submissions from 26 countries, and the top three entries shared their projects with the audience.
First-place winner Vancouver (Canada) Public Library was recognized for its Inspiration Lab awareness campaign. Sandra Singh, chief librarian, described the genesis for the lab—"people were very interested in learning about the creative technologies"—as well as the creation stations, digitization stations, and recording studios contained within. Yet the library had only a tiny budget available for promoting the resource: $2,000 Canadian.
The library got creative with its tactics, such as taking advantage of free outdoor advertising preallotted for public services at City of Vancouver bus shelters, hosting an inexpensive and social-media-savvy launch event for key stakeholders, and targeting public relations efforts to earned media. Though the lab opened in May 2015, Singh says the library started talking with journalists eight months in advance and offered to give media outlets a preview of the space under embargo.
Singh said the awareness campaign was successful. The library gave 56 Inspiration Lab tours to 600 attendees in its first month; the lab has seen 300 programs, 1,850 attendees, and 4,400 studio bookings; and it has earned the library some powerful advocates, including local entrepreneurs and city councilors.
"We are supporting the digital economy," said Singh of the Inspiration Lab's influence on the city.
Staff members from second-place winner Xiamen (China) University and third-place winner Sunshine Coast Libraries in Queensland, Australia, spoke about their initiatives. Xiamen University's library was recognized for Tuan Time, an online digital yearbook presented to students at graduation detailing a sentimental and personalized account of their library record and experiences, with the goal of cultivating a lifelong love of books and learning. Sunshine Coast Libraries was honored for its popup program, which took a "fun, different, novel" approach in meeting library users and potential customers out in the community, at a marathon, agricultural show, Australia Day celebration, and more.
Attendees left the session with ideas for their own action plans. "True marketing means you've done your homework," said Koontz.