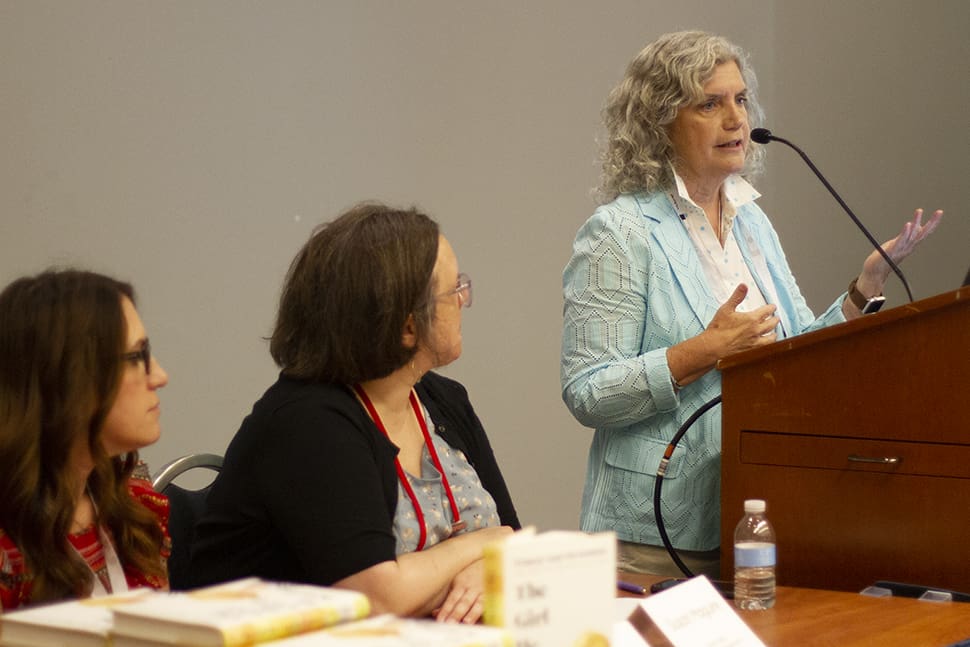 Moderated by Susan Maguire, Booklist senior editor for collection management and library outreach, a panel of romance authors made temperatures rise even in the heat of a Washington, D.C., summer at the American Library Association's 2019 Annual Conference and Exhibition June 23.
Comprising authors Tracey Garvis Graves, Linda Holmes, Tif Marcelo, Hope Ramsay, and Sheila Roberts, the group discussed their latest works. Garvis-Graves, author of The Girl He Used to Know, let the audience in on two secrets: First, the novel's premise originated from the well-known song Auld Lang Syne. And second, in order to write it, she had to convince herself that it was okay for her to write a main character who was on the autism spectrum. In the end, she says, it was one of the most joyous—and most difficult—books she has written. 
Linda Holmes, debut author of Evvie Drake Starts Over, commented that her book's origin lies anywhere from seven to 15 to 40 years ago, when she first started thinking about the concept of writing. She went on to disclose that Maine—the book's setting, as well as a character in itself—was born from her many family vacations to the state. She wanted to explore not only romantic relationships, but platonic ones as well, making them equally important in the novel. She ended by thanking her middle-school librarian for giving her the book Rebecca.
Another debut author, Tif Marcelo, discussed her title The Key to Happily Ever After. Growing up as a latchkey kid in San Francisco, she found her love of books in the public library, she said. The idea behind The Key to Happily Ever After stemmed from a period of her life when, as a a military wife with two children, she found herself alone and in a new state after her husband was deployed. The friends she made during that time helped shape the characters in the novel, she said.
Bestselling author Hope Ramsay was up next to discuss her novel Summer on Moonlight Bay, the 2nd in her Moonlight Bay series. Ramsay, who began by thanking the librarian at the branch where she spent a lot of time as a teenager, described her latest work as "fun, heartwarming, but with grit." With a dog acting as a matchmaker—between a vet and a veterinarian, to boot—Ramsay deploys racial tensions and diverse characters, saying, "You can't set a story below the Mason-Dixon Line without some racial issues."
Lastly, Sheila Roberts took to the podium to promote her book Christmas from the Heart (September, 2019). She noted that her goal is as a writer is to encourage her readers, leaving them feeling empowered, wanting to make changes in their lives, and full of hope.