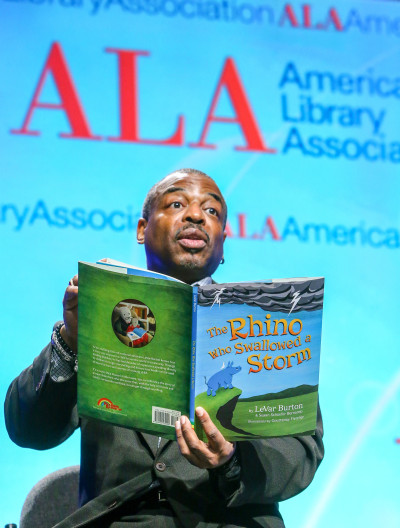 LeVar Burton may be known for many things—playing Geordi La Forge on Star Trek: The Next Generation, Kunta Kinte on the Roots miniseries, and longtime host of the children's show Reading Rainbow—but on February 1 at the 2015 Midwinter Meeting in Chicago, Burton played a librarian by beginning his talk with storytime.
"Let me tell you a story," he began, reading from his new children's book, The Rhino Who Swallowed a Storm (Reading Rainbow, 2014). "It's by one of my favorite authors," he joked. The book's plot addresses the issue of finding comfort and support in tough times. Burton said the theme was partly inspired by one of his good friends (and fellow children's TV-show host) Fred Rogers. He spoke fondly of Rogers, as well other big influences in his life, including Roots author Alex Haley and his mother, who, he said, not only read to him as a child but also read in front of him.
Burton also talked about his successful Kickstarter campaign to help bring Reading Rainbow back in digital form after it went off the air in 2009, following a 26-year run. The crowdfunding campaign met its $1 million goal is less than 12 hours, in the end bringing in more than $5 million from 106,000 individual donations.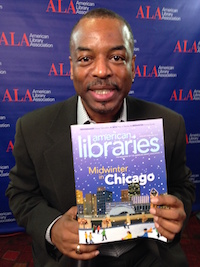 He spoke passionately about encouraging children to read, no matter in what form or platform. "If your kid is passionate about superheroes, then damn it, buy them comic books!" he said.
Perhaps most moving was the question-and-answer session following his speech, which was filled with audience members thanking him for the inspiration they received from Reading Rainbow and his other projects. A deaf attendee told Burton of the impact Reading Rainbow had on her life, earning a hug from the speaker and happy tears from those in the auditorium ballroom.
Burton also addressed the topic of diversity, praising the work of the late science-fiction author Octavia Butler. He said that seeing or reading about diverse characters in science fiction—one of his favorite genres—meant "that in the future, there was a place for people like me."
Updated Feb. 5, 2015
Videos:
LeVar Burton on Technology and Diversity in Literature
LeVar Burton on Fred Rogers