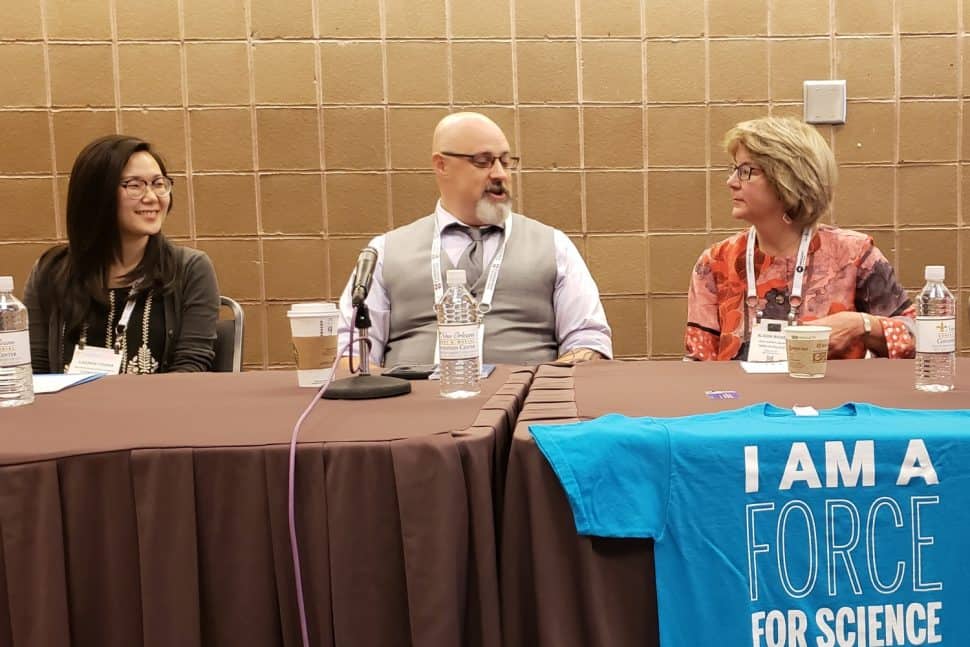 On June 25, the Association of College and Research Libraries (ACRL) Science and Technology Section (STS) brought together experts on science communication to offer their ideas on how to get college students and the public excited about science.
Alison Ricker, head of the science library at Oberlin (Ohio) College, said, "Librarians are all a force for science, simply by what we do." Her message was amplified by a blue T-shirt draped over the panel's table that read "I am a force for science." Ricker explained it was distributed by the American Association for the Advancement of Science to participants in the March for Science rallies held on Earth Day 2017. "But it is very challenging to get students to pay attention to the resources the library offers."
Ricker listed some of her techniques for getting people into the library. "First, we converted our little-used reference desk to a popular science reading collection," she said. The library also participated in a 2017 nationwide school screening of the film An Inconvenient Sequel: Truth to Power, scripted by and starring former Vice President Al Gore. Students could submit questions about the film to Gore, and "one of the questions he chose to answer was from an Oberlin student." Ricker said showing the film was an excellent motivator, as was the 2014 documentary film about the tobacco industry, Merchants of Doubt.
Craig McClain, executive director of the Louisiana Universities Marine Consortium and founding editor of Deep Sea News, a website that offers informal oceanographic news articles in a pop-culture format, mentioned a number of ways scientists have gotten science communications wrong over the past few years but that many librarians are doing correctly:
Science news is focused too much on content. What we need to do is act as filters for all the good information.
Scientists have stopped teaching students and the public to evaluate information critically. Librarians can be at the nexus of that process.
Scientists must become "nerds of trust" for our own friends and family by using Facebook as a referral point for good science. Many people want to know more about scientific topics, but they don't go beyond Facebook to look for resources.
When scientists talk about their subjects, they must be passionate. Science is not a cold place; it's an amazing place, and we need to convey that. Scientists who don't value science communication are outdated.
Scientists must stifle their dislike of science popularizers (the Carl Sagan effect). We need to reward, not ignore, science education outreach.
Go open access. Taxpayers fund scientific research, and it is a social contract to provide the results when we accept that funding.
Lauren J. Young, web producer for Science Friday, a weekly call-in talk show on public radio show, said that "Science is an action verb." Not only does her program offer good conversations, it also has excellent digital resources, such as NASA's simulation of what it might be like on Mars by setting up a base camp on a Hawaiian volcano, and a look at Luigi Galvani's observations on the contraction and spasms of dead frog's legs by electrical current, a process that inspired Mary Shelley to write Frankenstein 200 years ago. Young said that Cephalopod Week in June was also a big hit with listeners, who enjoyed games like "spot the cephalopod" and learning about the Cephalopod of the Day.
Another good way to get people excited about science, Young said, is to "empower them with facts" so that if they are engaging with friends or even people who are skeptical of science, they will have a handy reference tool. Provide lists of "nine essential facts in critical areas like climate change, GMOs, or vaccines" in a handy place on social media to find when these conversations occur.
Ricker suggested using science libraries as event spaces and "encouraging students who are budding chemists or ecologists to set up their own programs with the library's resources."