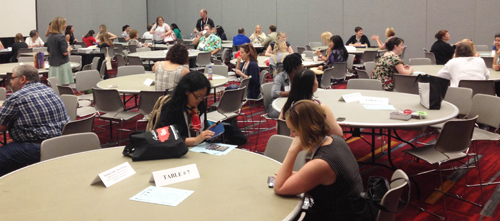 While libraries are so much more than the physical books on our shelves, those books play a critical role in the services we provide to patrons. Which is why, for many of us, half the fun of ALA Annual Conference is hearing about what is new and upcoming from our favorite authors.
With a plethora of exciting titles on the horizon, a quick and fun way to get the word out is through literary speed dating—the first of its kind at Annual Conference. I had the opportunity to attend two of these whirlwind events, and they were quite the experience.
First I went to the Association
of American Publishers' Children's Author event. In one hour I spoke with 14 authors in 3-minute increments about their upcoming releases. Some highlights included P. J. Hoover's new title, Tut, which follows a modern-day King Tut as he tries to survive middle school and escape his evil uncle. The book will also have a companion minecraft server available later in the year.
Alan Gratz's The League of Seven is the first of a steampunk trilogy about the Septemberist Society, a secret society of monster hunters. Gratz is encouraging fans of the series to share their creative responses by submitting them to septemberistsociety.com.
Catherine Linka's A Girl Called Fearless features a present-day alternate American history in which the main character, Avie, is sold as a teenage bride. Linka said she wanted to explore the issues and rules of some developing nations against the backdrop of America.
The second event I attended, YALSA's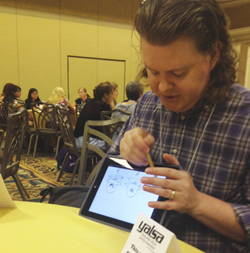 YA Author Coffee Klatch, is where I had the pleasure of hearing from authors who have appeared on one of YALSA's annual selected lists or have received one of its literary awards. A little more time was given with each participant, so I was able to hear from 12 authors.
Highlights included Ryan Graudin's The Walled City, which is inspired by the true story of a densely populated, enclosed city in Hong Kong that was largely controlled by the Triad, an organized-crime syndicate.
Jonathan Friesen's Both of Me follows a protagonist with dissociative identity disorder, as he goes on a journey of discovery and healing. Friesen said that mental health issues are the last stigma to be addressed in writing, and he hopes his books will provide a space for readers who can relate.
Nathan Hale has a series of graphic novels about American history, and the latest, Treaties, Trenches, Mud, and Blood, focuses on World War I.
Obviously there is a lot of interesting literature coming out this year, and I hope you were lucky enough to get some great ARCs to take home and share with friends, family, and patrons. Thanks to all the authors who came to speak with us!
JENNIFER PETTI is a recent Kentucky graduate. You can find her shelving books in Seattle, as well as tweeting and tumbling @sassafrassj.
---
See, hear, and read more about what's going on at Annual—in real time and after.
Twitter: @alaannual and #alaac14
Facebook: https://www.facebook.com/events/489205011101981/
YouTube: http://www.youtube.com/user/AmLibraryAssociation
Flickr: http://www.flickr.com/groups/alaac14/
Pinterest: http://pinterest.com/alaannual/
Tumblr: http://ala-con.tumblr.com