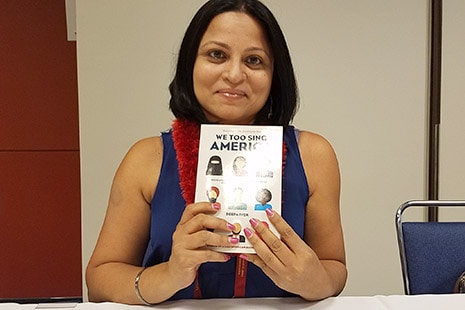 The president's program of the Asian Pacific American Librarians Association on Saturday morning featured South Asian American activist and attorney Deepa Iyer, whose 2015 book We Too Sing America explored the personal stories of South Asians, Muslims, Arabs, and Sikhs whose lives were altered by hate crimes in post-9/11 America. "The book was a call to action for Asian racial identities and solidarity," Iyer said. "I hoped it would be an idea catalyst to build and organize power in a changing racial landscape."
Iyer said that in the wake of the September 11 attacks, these communities faced three different types of repression: public acts of discrimination, governmental surveillance and intimidation, and a media narrative that demonized them as terrorists. "All of this came together to form a climate of isolation and fear" that did not end a year or two after 9/11. "In 2012, an Indian immigrant named Sunando Sen was pushed onto the tracks in front of a New York City subway train and killed" by someone who wanted to avenge the Twin Towers. "In 2015, three Palestinian students were killed in Chapel Hill, North Carolina, by an intruder, supposedly over a dispute about a parking place," Iyer said. These public acts also extend to vandalism at mosques and temples, profiling of community members, employment discrimination for women wearing a hijab, and bullying in schools.
"Muslims are also detained and deported at much higher rates than before 9/11," Iyer said. With the public equating Muslims with terrorists or terrorists-in-training, calling for English-only legislation, holding anti-Sharia Law rallies, and taking out references to Islam in school textbooks, "these things all come together to form a climate of fear. Muslims and South Asians are feeling like this is not their country, and they have gotten accustomed to this attitude, even before Trump."
In August 2012, a man with ties to white supremacist organizations shot and killed six people and wounded four others in the Sikh Temple of Wisconsin in Oak Creek, south of Milwaukee. "The Oak Creek community came together to address hate and gun violence," Iyer said, with the son of one of the victims, Harpreet Saini, providing powerful testimony in the US Senate months after the shootings. "But the roots of anti-Asian sentiments go way back to immigration policies and sentiments more than 100 years ago, notably the Chinese Exclusion Act of 1882 and the riots in Bellingham, Washington, of September 4, 1907. Some 500 whites rounded up hundreds of Sikhs and Hindus, locking them up in the basement of city hall. The intent was to exclude Indian immigrants from working at local lumber mills," Iyer said. "The Bellingham Herald wrote in an editorial, 'The Hindu is not a good citizen … Our racial burdens are already enough to bear.' The paper apologized 100 years later."
The feeling of hopelessness and alarm has only increased after the 2016 election, Iyer said, from the "climate of executive orders that embolden hate groups, the threat of a Muslim ban, and the increased rate of deportations."
What can librarians do to begin healing their communities? Iyer said libraries can:
Serve as safe spaces for everyone in the community.
Offer conversation starters by showcasing books and articles that can bring individuals together.
Become knowledge expanders by featuring speakers of color.
Openly proclaim their sanctuary status through resolutions and statements.
Push civic engagement to establish equitable policies.
Provide good books for youth, such as Ask Me No Questions and Watched by Marina Budhos.
"We are heading rapidly to 2040 when people of color will be in the majority," Iyer said. "Make it clear through your actions—programs, speakers, resources—that put your principles into practice."