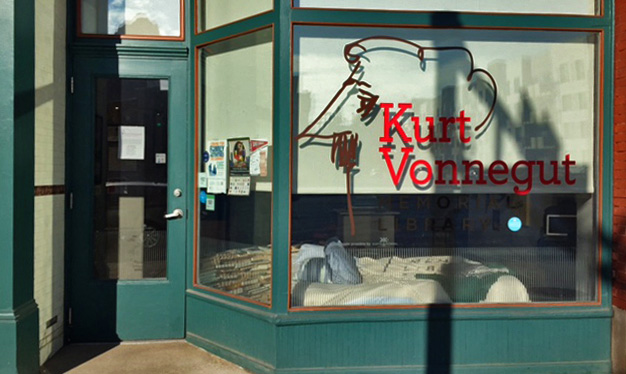 I am at the Kurt Vonnegut Memorial Library (KVML), locked up with Vonnegut—literally. Sunday was Day One, and it was a day filled with lots of people and lots of questions.
It's such an honor to be here. To be asked, to be included, to be this close to Kurt. I look around and I see a lot of the things that made me who I am—books, Kurt, a library, a growler of "Kilgore Stout" (thanks, Books & Brews!). And several people with whom I share a common vision for the freedom to read. It's awe inspiring.
As a librarian, I have always celebrated Banned Books Week. But as an academic librarian, it has never been real. I just don't face this every day—hardly at all.
But others do. So for them, here I am, in the window of the KVML in downtown Indianapolis all week, missing the "Great British Baking Show" (hardly similar, but you know what I mean).
So how did I get here?
At age 15, I would have happily seen John Milton banned, as would most of my classmates. We weren't the most enlightened bunch.
But then my sister handed me a copy of Breakfast of Champions. The world changed for me that day. That book became something else to me—something alive and beautiful, a message in a bottle, an alien communication from another world … at least from beyond Terre Haute, Indiana.
And that connection is different for everyone. For some it's the Bible. For others, it's a comic book. For still others, its Nicholas Sparks, or Dostoyevsky, or Betty Friedan, or David Sedaris, or Bill O'Reilly, or James Joyce, or … well, you get the idea.
Some of the books above I have read and some I have not. But I defend everyone's right to find their own private Breakfast of Champions.
Though I now sit quietly alone in the midst of Kurt's legacy, I am reminded of how many people it takes to do something great. If we want to stop book banning, we need education. And that will take a whole bunch of us. I am also reminded of how many people it takes for me to just be here. All the great folks back at DePauw (I have the best staff on the planet), the KVML staff (who make me feel so welcome), and of course, my wife Ann, our dog Dewey, and the kitties.
It's kind of overwhelming. Like sleeping in a window.