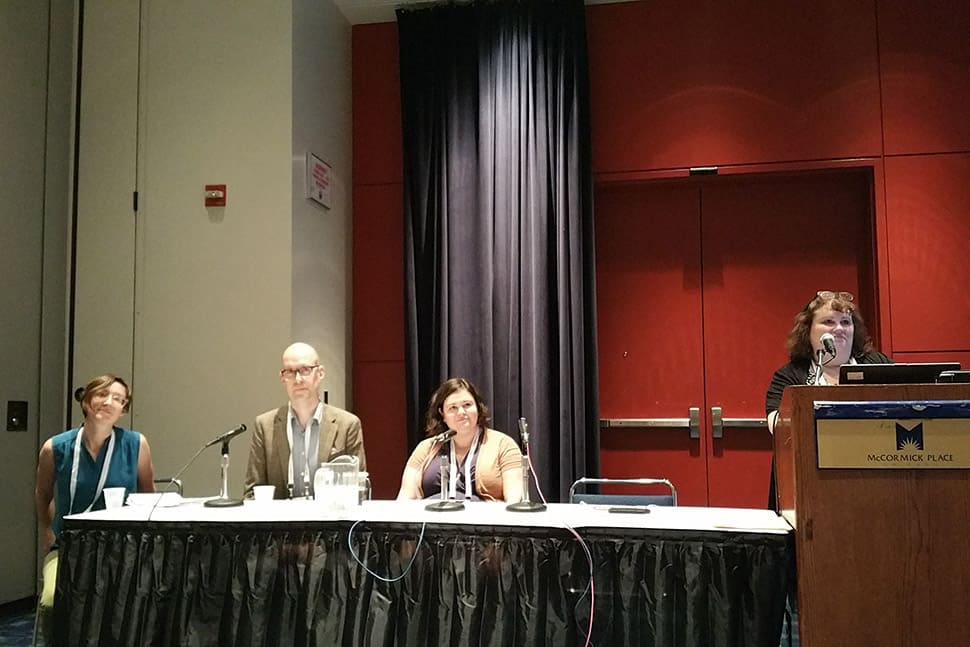 Just a few years ago the Madison Public Library was collection-focused, with high circulation but a low capacity for making connections with its community. Michael Spelman, library manager at the MPL's Central Library, and with community engagement librarians Laura Damon-Moore and Kylee Stoor, explained one key initiative in the process of reorienting the library toward community-led initiatives in "Library Takeover: Or, How Madison Public Library Relinquished Control of Community Programming," in a discussion moderated by Janie Hermann of the Princeton (N.J.) Public Library on behalf of the Public Programs Office.
Over the course of a year and a half, the Library Takeover project—inspired by a similar teen program founded by Apples & Snakes and Half-Moon Theatre in the UK—went from grant proposal to three fully realized, polished library programs that were informed by community input at each step in the process.
Engaging community need
Analysis of the community's needs by multiple organizations showed a stark racial divide in the city of Madison: Black community members were five times as likely to be unemployed and six times as likely to live in poverty as white community members. "If we look at the most entrenched disparities then the changes we make will affect other vulnerable populations as well," Spelman said. The library undertook an in-person survey, called Tell Us, that focused on communities that were least represented in the libraries to determine how the library could adapt to serve those communities' needs.
After grant funding was secured from the Madison Public Library Foundation, a race equity analysis of the program was conducted by engaging community members and stakeholders. This process revealed new avenues for marketing, suggested limiting the applicants to groups that were not affiliated with single organizations, and determined that community members should be paid for their time. This input was key in providing quality programming. "It doesn't necessarily need to be much," Spelman said, but "we need to respect people's time."
Providing resources
From a pool of 39 proposals, three groups were selected to lead Library Takeover events. "It was kind of scary to trust that we didn't know what was going on all the time," said Stoor, but after working with some of the team members on other projects since, the experience has "transformed our approach to the library's plan for adult services."
Space, time, money, expertise, and training resources were provided by library, creating an incubator for community collaboration. Local event planners led a six-week boot camp for each of the three groups, which covered event goals and outcomes, production and logistics, marketing, budgeting, and evaluation. Mentors, boot camp presenters, and team members were all paid with funding received through the grant, and each program was given its own budget.
"We figured out pretty quickly that this was going to require a lot of staff time," said Damon-Moore. She emphasized the challenge of setting out expectations for answering emails, phone calls, and personal meetings. "Ultimately, these events and peripheral conversations and partnerships and collaborations all make it worth it," she said.
When the programs were finally held, they were "like no program the library had ever put on themselves," said Stoor. Though all three programs were built on the same framework of resources and expertise, each group took a different approach to the programming and connected the library to new users. The events represented a diverse cross section of local interests: an inclusive dance party and panel discussion of accessibility issues in nightlife spaces, a gathering of local writers and poets organized in part by the Madison poet laureate, and a celebration of local Indian-American culture that attracted more than 400 people.
Assessing impact and adjusting scope
Data-based evidence was used in the grant proposal for the Library Takeover program, and assessment was built in at several points in the execution process. Surveys of participants at the end of the boot camp determined how much the team members had learned about project management, and attendance numbers and anecdotal feedback were gathered at the events themselves. Now that all three events have concluded, the library plans to bring together the groups as well as the mentors and event planning trainers for a final feedback and debrief session to improve the next iteration of the program.
While grant funding played a large role in MPL's Library Takeover project, all involved are working to scale the program down to be funded completely from the library's programming budget, and believe it is an idea that can be adapted for libraries that have much smaller budgets. For libraries with little or no budget, the panelists suggested partnering with agencies to provide donated goods or gift cards, or coordinating with a community college to provide class credit for the event planning workshops to compensate people for their time.
"It's not about the budgets that you can give to teams of community members," said Damon-Moore, "it's about publicly and loudly committing library resources—whatever those may be—so that community members have an opportunity to host their own events."