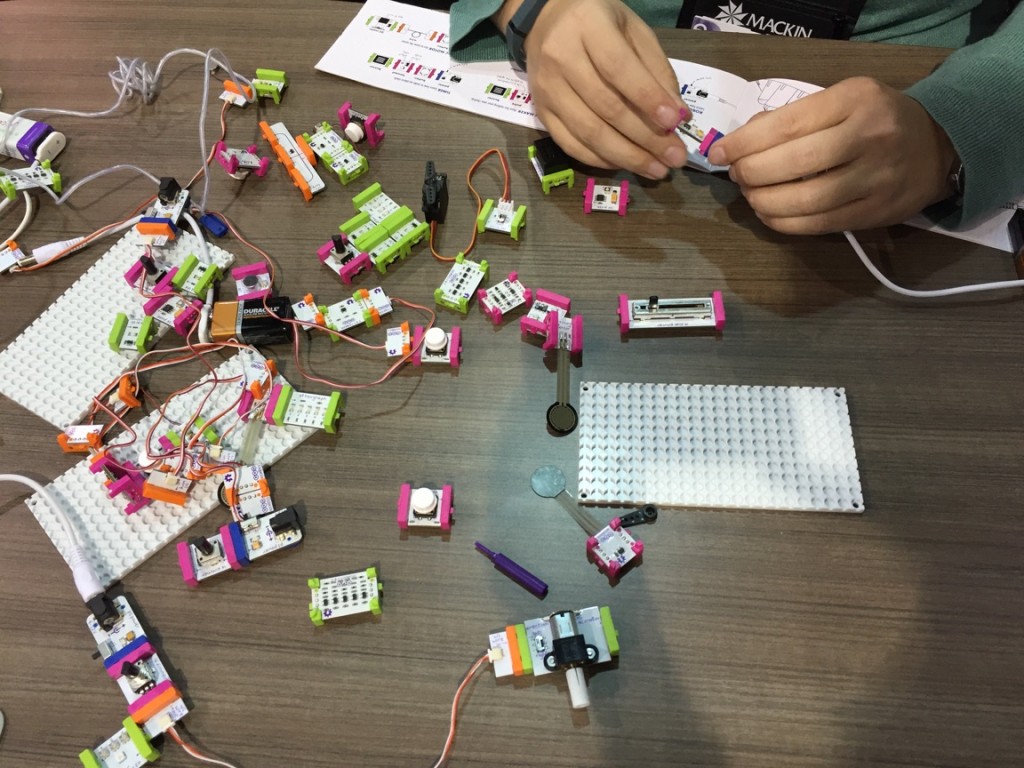 The most important lesson that librarians offer students is love, said Dave Rohl, principal of Perry Meridian Middle School in Indianapolis, because students learn to "love reading, love learning that they don't have time for in the regular classroom. Learning to love to read starts in the library."
At the American Association of School Librarians (AASL) National Conference on Friday, Rohl introduced a group of administrators with Project Connect, who are helping to empower their school library programs. Project Connect is a panel of superintendents, district-level librarians, and AASL leaders who are focused on advocating for effective school libraries and helping develop future-ready librarians. Follett sponsored the session, which was moderated by Britten Follett.
Steve Webb, superintendent of Vancouver (Wash.) Public Schools, said, "Our teacher librarians are indispensable to our strategic vision. They are leads as technologists and experts in teaming." Steve Joel, superintendent of Lincoln (Neb.) Public Schools agreed, and encouraged the audience to be a little bit bolder and take the initiative to meet with their superintendents to be a part of that vision.
Joel was applauded when he said that the most critical hire the school system makes is the media specialists, and that Lincoln has full-time teacher librarians in all 35 schools.
The panels also included teacher librarian Mark Rey. He offered advice ranging from tracking results that will show how they make a difference to setting priorities. "Lead first, then teach, then support. In that order," Rey said. "It's not enough to be a great librarian in your library. Think about ways you can lead beyond the library." (Learn more at follettlearning.com/projectconnect.)
Makerspaces dominated the public library space for a few years now, and this year it seems to be peaking for school libraries. The chairs filled for a session called "Makerspaces and Libraries: How to Bring Some STEAM into Your Program," presented by Diana Rendina, media specialist/teacher librarian at Stewart Middle Magnet School in Tampa, Florida.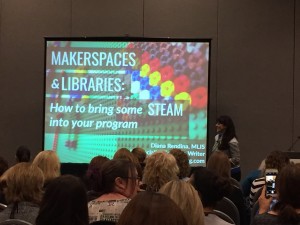 "We were a STEM magnet school but didn't have anything in the library to demonstrate that, other than a jet engine." So Rendina went about weeding books that hadn't been checked out in 30 years, moving old films and other materials from a storage room, and creating a library makerspace. The space features a LEGO wall, LEGO/K'nex storage, a whiteboard table, and a maker room to store some of the arts and crafts supplies, as well as littleBits, Cubelets, and Sphero balls. The LEGO wall was created from plywood, with LEGO baseplates glued on. "Kids are so proud that they were able to add to their library," she said.
The room collectively moaned when she said that art was cut from the curriculum five years ago. The makerspace has helped kids express themselves. The school now has a makers club after school, projects connected with World Space Week, and a STEAM Club, all accessing the materials in the makerspace. For more information, see dianarendinapresents.wikispaces.com/AASL+15.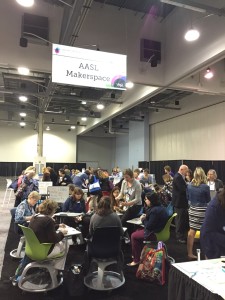 Many librarians went right from the session into the Exhibit Hall, which featured a makerspace. Librarians made flashing name badges, connected circuits, tested robots, and tapped into other typical maker projects.
Updated Nov. 11, 2015, to correct link.