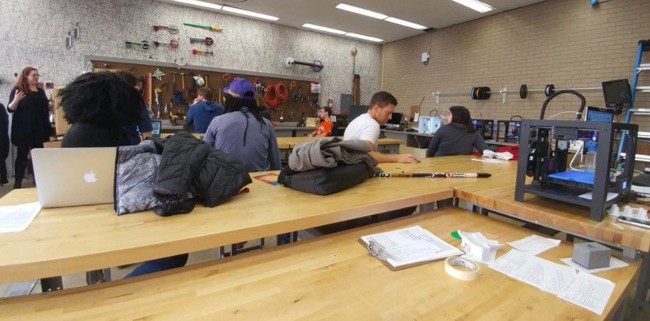 While libraries across the country are celebrating National Library Week (April 9–13), the American Library Association's (ALA) Washington Office is representing libraries with events on Capitol Hill.
To invite members of Congress and their staffers into the world of library makerspaces, the Washington Office is working with DC Public Library (DCPL) to bring its Fab Lab to Capitol Hill in an event hosted by Rep. Ben Ray Luján (D-N.Mex.) on Wednesday, April 11. Luján is a participant of the Congressional Maker Caucus, a bipartisan group of US representatives assembled in 2014 to support and advocate for the community of makers who use 3D printers, laser cutters, and other manufacturing technologies.
During the Hill event, DCPL staffers will demonstrate how the Fab Lab trains patrons to print a 3D object, from using software—to scan and design a 3D model—to creating the final product.
Esti Brennan, adult services librarian with DCPL, says, "3D printing and modeling, computer-assisted design, and small-scale fabrication are increasingly important in areas like entrepreneurship and engineering, but these new technologies can be prohibitively expensive and hard to access. By providing free access and instruction to anyone who is interested, we are helping close the digital divide and address socioeconomic and educational inequalities—ultimately giving people new skills to improve their lives and careers."
In addition to providing exposure and access to new tech, the Fab Lab also attracts new library users as it makes its way around DCPL's branches. "Once patrons are here, they always find more valuable services they may not have known about," says Linnea Hegarty, DCPL's director of strategic partnerships and development. "By 2022, we want 75% of district residents to have active library accounts, and the Fab Lab is important to meeting that goal."
More National Library Week activities
Libraries will also have a National Library Week presence on the Hill as the Washington Office hosts a panel discussion on Thursday, April 12, "Broadband Connectivity in Tribal and Rural Communities." The event is cohosted by Sen. Martin Heinrich (D-N.Mex.), who introduced the Tribal Connect Act of 2017 (S.2205) along with Sen. Dean Heller (R-Nev.) last year. The bill aims to improve broadband access on tribal lands by increasing tribal access to the Federal Communications Commission's (FCC) E-Rate program.
"High-speed internet connectivity is one of the most critical gaps libraries fill in their communities, and tribal and rural communities suffer that gap in glaring disproportion to the rest of our nation," says ALA President Jim Neal, who will speak at both events.
The panel, moderated by Elayne Silversmith, branch librarian for the National Museum of the American Indian's Vine Deloria, Jr. Library, includes two librarians working in tribal communities and two telecommunication and rural broadband policy experts. Closing remarks will be offered by FCC Commissioner Mignon Clyburn, a longstanding champion of E-Rate.
ALA members can participate in National Library Week by joining a simultaneous  #critlib Twitter chat during the Thursday panel from 11:30 a.m.–1 p.m.