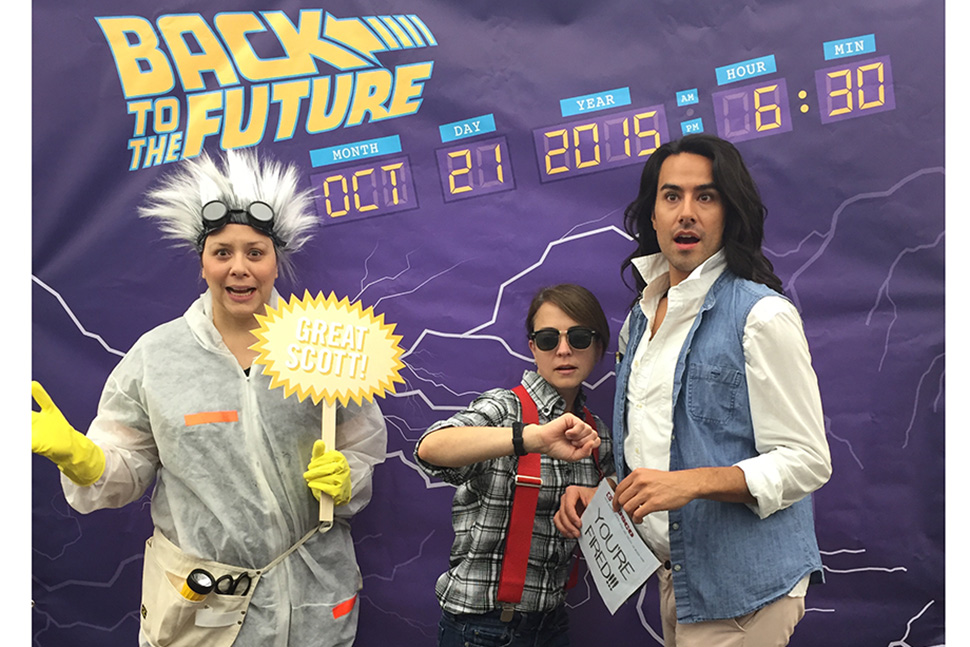 Jumpin' gigawatts! Today is the day that Marty McFly and Doc Brown travel into the future. No, really.
Many libraries are celebrating Back to the Future Day—October 21, 2015—with screenings of the Back to the Future trilogy and programming related to the films. The date, which is featured prominently in Back to the Future Part II, has been incorrectly depicted in internet hoaxes and memes for years.
"We actually have a super fan on our team [a librarian in the children's services department] who knew the date was coming up," says Christina Walsh, teen services coordinator at the Salt Lake City Public Library System. The library will be observing Back to the Future Day with a showing of Back to the Future Part II, trivia, a costume contest, and a photo booth.
"We have speech bubbles for people to use [for the photo booth]—one of them says 'Great Scott!'" Walsh says. "We don't have any hoverboards, sadly," she jokes.
Cobb County Public Library System, headquartered in Marietta, Georgia, will also be showing Back to the Future Part II this evening. Following the film, the library hopes to foster a discussion comparing the world of today with what was predicted, says Tom Brooks, communications coordinator.
"I think there will be an enthusiastic response. There are a lot of curious kids in Cobb [County]," Brooks says. "Especially the teen readers," he adds. "Imagining the future is a big theme of life."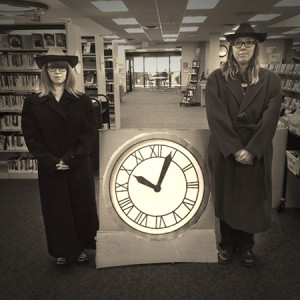 Jefferson County (Colo.) Public Library (JCPL) has committed to showing the three Back to the Future films on three different dates, with Part II's screening scheduled for today.
"There's a lot of us who grew up with the movie and continue to enjoy it," says Cindy Matthews, promotions and marketing manager. "It's something we wanted to share with our patrons."
JCPL will provide a photo booth that allows participants to pose in front of a replica clock tower and add "futuristic" or "old-timey" effects to their photos, evoking Back to the Future Part II and Part III, respectively.
"We're trying to get a DeLorean," Matthews says. "We're still trying to convince the owner to let it out of his garage."
Back to the Future Day perhaps holds special significance at Chicago Public Library (CPL). In Part II, the Chicago Cubs win a fictionalized 2015 World Series. Amazingly, the actual Chicago Cubs—a team that has endured a 107-year championship drought—are still in contention to win the World Series this year.
"The Cubs are obviously a big thing in the city right now," says Mary Beth Kraft, director of marketing, "but it's just a fun way for our librarians to pull from our collection."
CPL is celebrating the first Back to the Future film, which observes its 30th anniversary this year, by promoting other items in its collection from 1985.
"We're really focusing on pop culture, and tying in popular culture to our collections, and letting our patrons connect to the library in that way," Kraft says.
The library is also opening up its Maker Lab at the Harold Washington Library Center to users who want to create free Back to the Future stickers. "People are always excited to come and make something in the Maker Lab, especially when it's themed," says Kraft.
Ultimately, many libraries hope the Back to the Future festivities appeal to kids who may not have seen the films.
"I think kids will think it's very funny that that's what the '80s version of the future was," Walsh says.