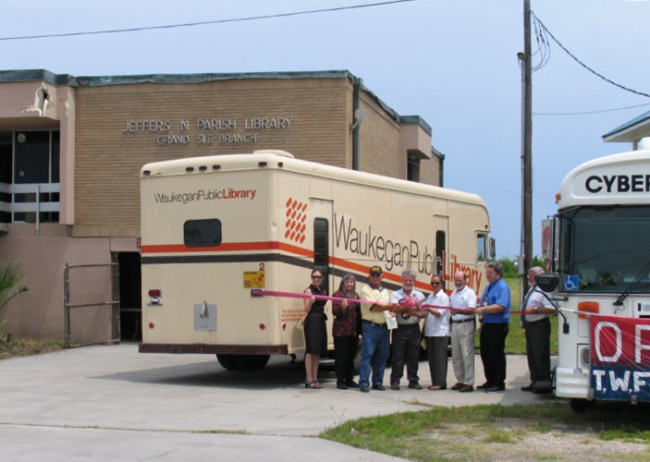 This post is the first in a six-part series commemorating libraries and librarians 10 years after Hurricane Katrina.
Librarian Marylyn Haddican wrote the American Library Association (ALA) a letter in 2011. It was the year ALA hosted its Annual Conference in New Orleans for the second time since Hurricane Katrina, but it was actually a belated thank-you note to express gratitude to ALA for being the first major group to hold a conference in New Orleans in 2006, following hurricanes Katrina and Rita. It was a time when the city's future was uncertain and other professional organizations were canceling their commitments in the area.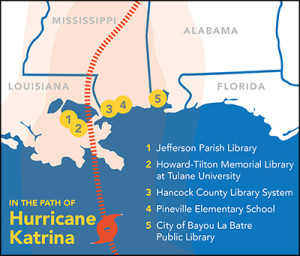 "I can't say enough, how I felt personally, when the American Library Association came," says Haddican, who was working in the IT department of Jefferson Parish Library (JPL), headquartered in Metairie, Louisiana, at the time. She commends not just the conference organizers and the positive effects the conference had on the local economy, but also the more than 900 volunteers who participated in ALA's Libraries Build Communities project, which helped to clean up and rebuild libraries, homes, and community sites in the area.
Today, Haddican is director of JPL, one of the library systems that AL featured in its coverage of Katrina starting in 2005. Then-director Lon Dickerson detailed to us the extent of damage to JPL's 15 branches, ranging from minor water and wind damage to the complete destruction of four of the library's branches: the Grand Isle, Gretna, Lafitte, and Lakeshore libraries. Even with four libraries decimated and more than 250,000 books initially reported by Dickerson as destroyed, Haddican can't help but say her library was fortunate.
"When the levee broke, it broke on the side of Orleans Parish," Haddican says. "We could have had more damage than we did. We were just lucky."
Serving a population of more than 400,000, JPL has received large financial support from a variety of backers following Katrina, including ALA, Louisiana Library Association's Disaster Relief Program, the Bill & Melinda Gates Foundation, the Bush-Clinton Katrina Fund (distributed by the Americans for Libraries Council), local and national community organizations and Friends groups, and 26 libraries that had been assigned to JPL through ALA's "Adopt a Library" program. The Federal Emergency Management Agency (FEMA), insurance, and the library's own budget also funded recovery efforts, with JPL's total damage and rebuilding costs assessed at $24 million, according to Haddican.
But perhaps the most tangible contribution following Katrina, says Haddican, was the bookmobiles provided by Muncie (Ind.) Public Library (MPL) and Waukegan (Ill.) Public Library. The bookmobile from MPL was converted into a cybermobile that provided internet to the community—an essential service in the early months following the hurricane. "People had to apply for insurance; they didn't know where to report to work or even if they still had a job," Haddican says.
We were just lucky.—Marylyn Haddican, director of Jefferson Parish (La.) Library
The four branch libraries that were destroyed have all reopened, with completely new furniture and materials: Grand Isle Library, which reopened in November 2012, moved to a different location; Gretna Library reopened in a different area of its original lot, as a significantly larger building, in March 2010; Lafitte Library reopened in March 2010 as a larger library building in a different, higher-elevation location; and Lakeshore Library reopened in the same location in December 2011. Dickerson, the director who had camped out with 14 of his staff members at JPL's East Bank Regional Library through mid-September 2005, was retired by the time Grand Isle reopened but came back for the ribbon-cutting ceremony.
JPL is hosting many events this month to recognize the 10th anniversary of Hurricane Katrina, including a literary festival, commemorative jazz concert, a talk on the city's water infrastructure, and a program designed to evaluate and restore photos damaged from Katrina.
JPL is constantly working with the local parish government on natural disaster training and simulations, and staffers review an emergency plan at least annually. "I think we do have more policies and procedures than before. I know a lot of people who put their insurance policies in a carry-on suitcase," Haddican says, remarking on the readiness of her employees.
Overall, Haddican says, people in the community think differently post-storm. "A lot of people here now have generators," she says. "You put a hammer and a saw in your attic because the water rises. You think about it in increments. This is like our war story, I guess."