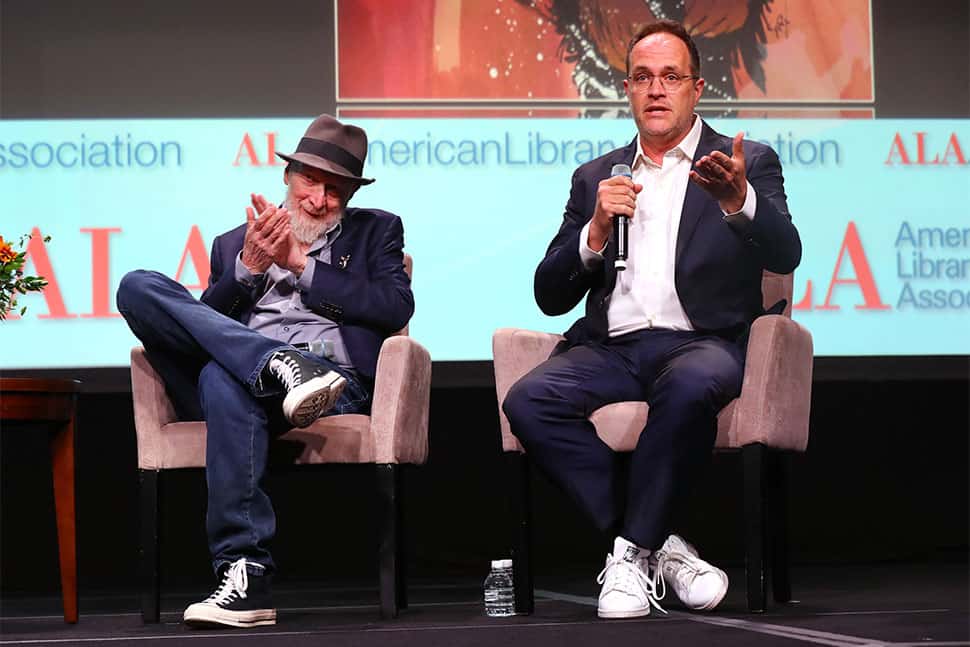 Award-winning comic and graphic novel artist Frank Miller (300, Sin City) and screenwriter Tom Wheeler (Puss in Boots, Dora and the Lost City of Gold) previewed a new collaboration on Sunday morning at the American Library Association's 2019 Annual Conference and Exhibition in Washington, D.C. as part of the Auditorium Speaker Series. Titled Cursed, the upcoming YA book and Netflix series find these acclaimed artists retelling the King Arthur myth with a feminist bent.
In a talk moderated by Todd Krueger, 2019–2020 president-elect of the Young Adult Library Services Association, Miller and Wheeler explained the genesis of the project. Miller said that as a kid, after discovering Superman, his other big love was Disney's The Sword in the Stone. That continuing fascination was a driving factor in wanting to work on the project.
"It's really elastic," he said. "It can be done for kids and adults." Wheeler's initial drafts of the story were a draw too. "Seeing the tale that Tom was spinning brought a fresh, feminist slant to it."
Cursed will serve as a prequel to the tale of King Arthur, Miller and Wheeler explained, with a young girl named Nimue—later to become the famed Lady of the Lake of Arthurian legend—wielding the powerful sword Excalibur. They said they wanted to create a strong female character to inspire and empower young girls in the same way that King Arthur inspired them when they were young. They said they hired many women to work on the Netflix series—from script writers and episode directors to production and costume designers—to ensure that the representation was solid and accurate.
Known for graphic depictions of sex and violence in his adult work, Miller was asked how he altered his creative approach for a YA audience.
"I'm a comic book artist—how do you think I started my career?" he laughed. "All of my stuff then was created for teens. As my generation started pushing the envelope, it became more adult. But this material I cherish, because it's an opportunity to stretch new muscles."
The book Cursed will be available October 1 from Simon and Schuster Books for Young Readers. The Netflix series will premiere in 2020.