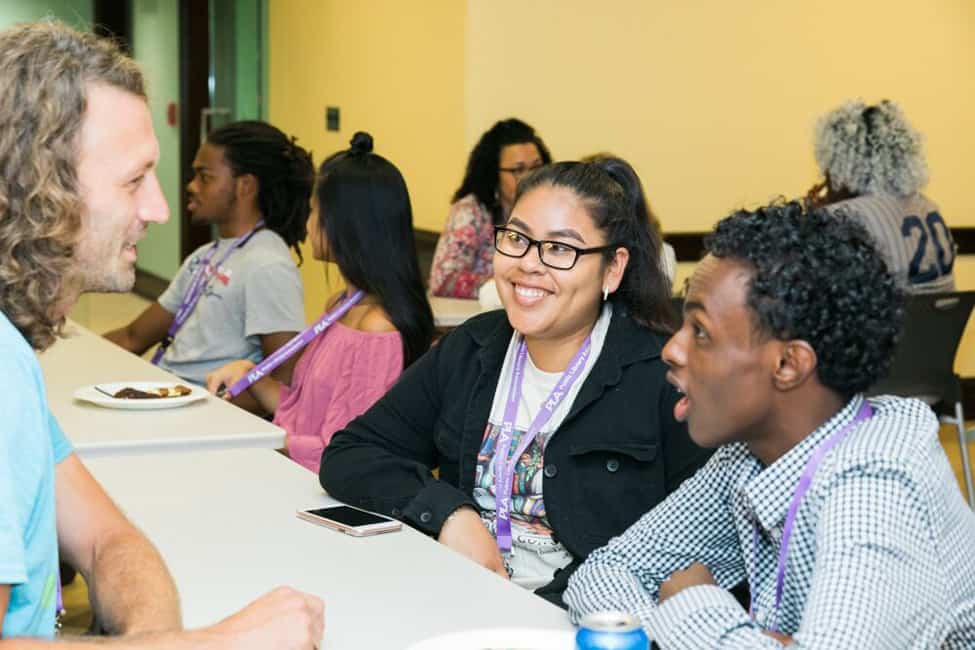 "How do you find a library and a position that fit your skill set and put you in a place where you will be happy?"
"How do you overcome the difficulties and hardships that come along the way?"
"Why are conversations about race so difficult?"
These were only some of the insightful questions asked by the 50 teenagers participating in the inaugural cohort of the Inclusive Internship Initiative (III). Made possible by a grant from the Institute of Museum and Library Services to the Public Library Association (PLA), the goal of III is to introduce high school juniors and seniors from a wide range of racial and ethnic backgrounds to careers in librarianship.
Equal parts academic seminar and career coaching, III's kick-off event June 16 at the Library of Congress put library leaders on call to answer big questions. PLA President Felton Thomas opened by noting, "The traditional stereotype has been evolving for a number of years, but now more than ever, public libraries are providing services—summer lunches, passports, social services—that we couldn't have imagined 10 years ago. Future librarians must understand that we are going through a generational transition of what it means to be a public librarian."
Two "master class" sessions focused on the wide breadth of priorities and possibilities within library spaces, including serving refugee and immigrant populations, starting and using makerspaces, bridging the digital divide, working for justice and civil rights, and standing up for intellectual freedom.
Many speakers shared personal stories about working as underrepresented librarians in an overwhelmingly white profession. Others discussed their impressions before they entered the field and how they struggled with the idea that libraries can be unwelcoming and librarians out of touch.
Jessica Bratt, manager of Grand Rapids (Mich.) Public Library's Yankee Clipper branch, recounted an early-career personnel conflict and how she learned through that experience to navigate the complicated channels of advocating for herself. She underscored that the satisfaction of getting kids what they needed was the motivation that carried her through.
In her presentation, Bratt summarized the theme of the weekend: "We are here to show how librarians are not their stereotype. We want to make lives better. Who wouldn't want to do that?"
Making connections
The event was the cohort's first opportunity to connect with one another. It was also a chance for the teens to explore what libraries do, who librarians are, and how information professionals are working to reflect the populations they serve.
During lunch, John Bertot, professor and codirector of the Information Policy and Access Center at the University of Maryland, and Richard Kong, director of Skokie (Ill.) Public Library, shared heartfelt advice about how teens can find their career paths and future colleagues within the library world.
On getting into library school, Bertot pointed out, the first hurdle is obtaining an undergraduate degree. "But after that, MLS/MLIS schools are looking for people who want to change the world," he said.
"Libraries serve diverse communities, so it makes sense to hire a diverse staff," added Kong. "Accept those who believe in you and allow them to build up your career and who you are. Then turn around and do the same for others."
After an evening of fun and networking at the Northeast Neighborhood branch of the D.C. Public Library, the group reconvened Saturday. A third master class session featured discussions on the impact of lifelong learning programs and the importance of marketing and communications. The sessions introduced the group to connected learning, setting the stage for mentors and interns to work together to develop their summer-long project.
III will run through the summer with a wrap-up event at the American Library Association's headquarters in Chicago. During the next 10 weeks, III interns will work with their mentors on projects designed to engaged them with all facets of the public library ecosystem, from administration and programming to user services and collection development.
Destiny Walker, an intern from the St. Paul Public Library, is already thinking about the scope of her project. She wants to offer a summer club for to LGBTQ teens, inspired by the 2013 movie Geography Club, about teens who start a secret support group.
"Being anyone, being anything in this day and age, is hard. Teens need to know that they have a place, you know?"
While Carlos Reyes, an intern with Nashville (Tenn.) Public Library, hasn't decided on a career in librarianship, he is focusing on how he can help others through the library.
"I enjoyed this new experience because I know that this will help me improve my community," said Reyes. "Being with my mentor has been different because I got to learn from her and she got learn from me."
Though the overarching goal of III is to provide early job training, it is easy to see how libraries across the nation will learn from this cohort.
"I hope to teach others about how open libraries are," said Walker. "I would really like to conduct a project that involves others and make a difference."
PLA's Thomas wants the program to establish a lasting connection between the interns and libraries broadly.
"This connection, hopefully, will pay dividends with a new generation of librarians of color who have a connection to why they have chosen the profession."