The Montana state delegation to National Library Legislative Day (NLLD) came to Washington, D.C., prepared to persuade. Led by Montana State Librarian Jennie Stapp, the group of seven met on May 2, first with a legislative aide to Republican Junior Sen. Steve Daines, then with Democratic Senior Sen. Jon Tester himself.
One secret of NLLD is that talking with office staffers about the state (what section they are from, the best places to ski, theaters and restaurants of the past, alma maters) is an excellent ice breaker and serves to relax everyone, including the librarians. Stapp's group did this with finesse.
Daines's aide Joshua Sizemore is a technology specialist, so he did not have any trouble understanding broadband or even E-Rate applications, which he said he had assisted with. Stapp mentioned that only four libraries out of 82 in the state have a broadband capacity within the guidelines of the Federal Communications Commission's (FCC) E-Rate Modernization Order of 2014, which specifies a 1 GB bandwidth for populations of 50,000 or more and 100 MB for all others. "E-Rate funding is a critical factor for libraries being able to afford broadband," she said.
Tester's legislative assistant Hannah VanHoose indicated that FCC Chairman Ajit Pai, who grew up in a rural section of Kansas, understands the rural aspect of the E-Rate program, so changing it will not be a high priority of his—unlike net neutrality, which will be a major focus over the next three months.
Stapp considers the $1.1 million in federal library funding that the state receives as an essential element in providing early, adult, and digital literacy services to Montanans—a process she thinks is characteristic of the "neighbor helping neighbor" ethic of the Big Sky state. The delegation quoted a recent Texas State Library study that shows that for every dollar spent on libraries there was a return on investment of $4.64 in access to resources, programming, services, and technology. Stapp said she thought the ROI is probably larger in Montana.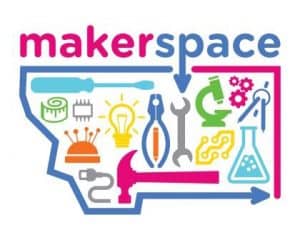 The delegation also had a good story to tell, as well as a handout with photos to supplement it. Sizemore was particularly impressed with the traveling makerspace kits—funded by the Library Services and Technology Act (LSTA) program in 2015 and managed by the Montana State Library—that circulate to small and rural libraries for a six-week period. Lewis and Clark Library Teen Services Librarian Heather Dickerson said the kits allow children and teens to "play, explore, and learn technology to prepare them for 21st-century careers." One group of teens built a simple robot that inspired them to explore future coursework in engineering at Montana State University.
One of Tester's interests is the welfare of veterans, so the delegation came prepared with a list of services that Montana libraries offer to enlisted men and women and their families:
A program that allows veterans' families with no internet at home to come to the library and speak with their loved ones overseas.
Using LSTA funded technology, the Missoula Public Library facilitated an oral history project for veterans to tell about their wartime experiences. The oral histories are publicly available online.
Veterans have been using the Montana State Library's Talking Books Program in increasing numbers, as many of them are blind or otherwise vision impaired.
Financial programs at many Montana libraries are popular with veterans who need to learn more about money and credit.
Tester has already signed the Dear Appropriator letter in support of LSTA, so he was familiar with many library issues and even anticipated some of the items the delegation presented.
Montana's experience with its legislators was a typical NLLD interaction. The delegation was ready with facts, statistics, and stories, and the senators and their aides were prepared to listen. Similar scenarios played out in delegations from the other 49 states and the District of Columbia. Some states had a tough sell, while others were talking to friendly ears. In any case, the stakes are high as Congress moves on to consider the 2018 budget.