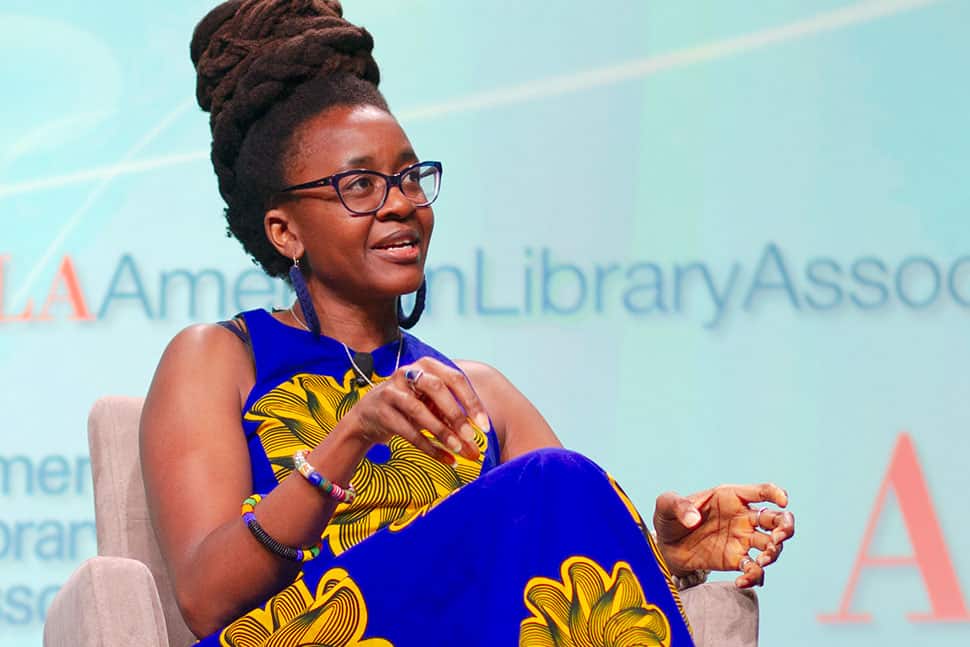 Growing up, I was the bug girl," said Nigerian-American science fiction author Nnedi Okorafor. "From as far back as I can remember, I've loved bugs. I don't know why. It was something about how within a small patch of grass, there was a whole world happening." At her Auditorium Speaker Series session on June 23, Okorafor explained that she had always intended to study science and not be a writer. She also played semipro tennis and was a track star in high school.
Then came "The Breaking," as she called it. Diagnosed with scoliosis at age 13, the disease progressed and when she was 19 she went in for spinal surgery and woke up paralyzed. "I went from being an athlete to being in a hospital bed unable to move," she said. "I lost my faith in science because they did not know what had happened to me." She began thinking up stories in the hospital: "Weird bugs manifest themselves in creative ways when you are on morphine." She tells the story of her breaking in her memoir Broken Places and Outer Spaces (TED Books, 2019).
She gradually recovered through physical therapy and became a full-time writer, mastering many genres and formats from magical realism to science fiction and from novels to comics and, just recently, screenwriting. She is helping to write the pilot for an Amazon Prime Video adaptation of Octavia Butler's The Wild Seed, to be directed by Kenyan filmmaker Wanuri Kahiu. Okorafor is also acting as consultant on an upcoming HBO series adapted from one of her own novels, Who Fears Death (DAW, 2010), with Game of Thrones author George R. R. Martin as executive producer.
Okorafor took many trips to Nigeria with her parents, and she found the country and much of Africa to be a strange mix of traditional culture and technology. "I was watching a man shinny up a tall palm tree to tap its sap to make palm wine," she said. "At one point he stopped, leaned back, and pulled out his cellphone." She said that in Western literature, Africa is a "place to leave, a place for strangers to visit, a place that is stagnant and not moving forward. I thought, what is this place really going to look like in the future?" Many of Okorafor's science fiction books are set in Africa or have African characters, many of whom are living in a post-apocalyptic landscape.
"Who Fears Death was the most difficult book I've written," she said. "It was inspired by the death of my father. I was very angry with him for dying of congestive heart failure and Parkinson's disease. The main character is an angry young woman" in a future version of Sudan who is on a quest to defeat her father, a sorcerer, and it goes into such grave topics as genocide, weaponized rape, and genital mutilation. "Some of my best stories come from things that piss me off," she added.
"I've often wondered what it would be like to be an alien coming into this country," she said. An incident that happened to her in New York's LaGuardia Airport became the inspiration for her comic LaGuardia (Dark Horse, 2018). Okorafor was returning to the US from Nigeria and the TSA agents detained her because of her hair. "'She's got headgear,' one of them said. I had to take my buns down so the agents could touch all of my hair from tip to root in a private room," she said. "After I got through that, I looked in my bag and realized I had a canister of mace, clearly labeled, and the TSA completely missed that."
So in LaGuardia, a Nigerian-American woman goes through airport customs and brings along a red bag in which a sentient plant alien is hiding. "It's a real illegal alien," Okorafor said. "LaGuardia is about immigration. The plant alien decides to call itself Letme Live, and illustrator Tana Ford gives it many dramatic and humorous facial expressions." Soon many other aliens from all over the universe pass through LaGuardia. "One thing that always annoyed me in science fiction is that the aliens are usually humanoids," she said. "I am like, okay, no." Okorafor envisions worlds that have aliens that look like grasshoppers or jellyfish.
"Science fiction needs diversity because it is a global think tank," Okorafor said. "Technologies influenced by science fiction will be limited without diversity. If many different types of people aren't participating in that think tank, we won't have a diversity of technology."