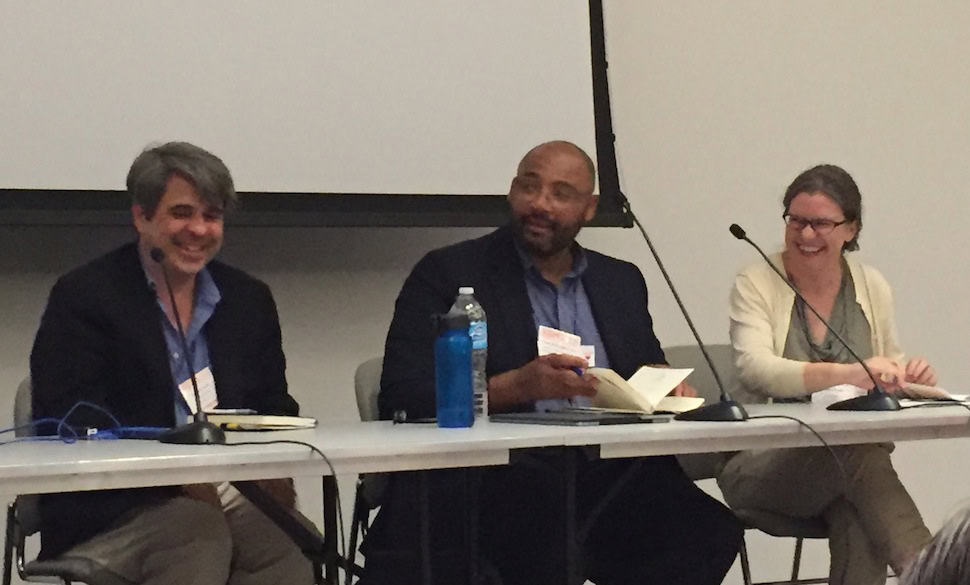 Updated June 29, 2016
On June 23, during the second plenary at the 2016 Rare Books and Manuscripts conference in Coral Gables, Florida, each of the three speakers focused on outreach in special collections. Sarah Werner, book historian, Shakespearean, and digital media scholar, discussed access to special collections both in person and digitally. Pellom McDaniels III, curator of African American collections in the Stuart A. Rose Manuscripts, Archives, and Rare Books Library, highlighted myriad exhibitions, both physical and digital, that he has worked on. And Christoph Irmscher, provost professor of English at Indiana University Bloomington (IU) and George F. Getz Jr. professor in the Wells Scholars Program, shared his experiences with developing a "creative reading room."
Moderator Erika Dowell, associate director and head of Lilly Library Public Services at IU, opened the plenary by expanding on an outmoded definition of outreach in libraries. In the past, she said, outreach has been defined as "library services that extend beyond the library building. Today, outreach retains these goals but it's also a term used much more broadly—marketing, bringing students and faculty into closer engagement, developing digital collections, Twitter, chat, online sharing, and more."
Following Dowell, Irmscher opened his talk on creative reading rooms with a modified metaphor taken from Ralph Waldo Emerson: "The only reading there should be is creative reading." Irmscher outlined the various reading rooms—from Lesesäle at Bonn University to the historic Reading Room at the British Library to the Lilly Library at IU—that he has studied in throughout his scholarly career. He described various projects and initiatives he had worked on at Lilly Library, which included using volumes to teach school children, community groups, seniors, and students.
"School children see things no one else sees," Irmscher said. For example, when displaying the wild turkey plate in John James Audubon's Birds of America, a child kept looking at the lower left corner of the image and finally pointed out the "poop" depicted there, something almost completely unnoticed/ignored by scholars.
Schoolteachers who attended National Endowment for the Humanities institutes at the Lilly and worked with Audubon's volumes also interacted with the collection in new and interesting ways. For example, author Siobhán MacDonald kept a sketchbook during the seminar during which she copied the plates and kept notes about them. She later re-created the images in various mediums. Irmscher also uses the Florence Deshon manuscript collection in his teaching. He said, "Encountering intimate letters frees students to do their own writing."
Following Irmscher, Pellom McDaniels III, discussed his three objectives in creating exhibits. First, to enhance the undergraduate experience through hands-on learning. Second, to promote excellence in research, writing, and thinking. And, third, to develop and promote public scholarship as a form of community outreach service and education. McDaniels gave examples of his work to achieve these objectives through exhibits. The first example, titled, "They Came to Fight," was a collaborative student project in which students participated as docents, and high school students visited the exhibit.
For another exhibit, a congressman and war veterans visited and participated. McDaniels explained that one of the benefits of having exhibitions as a form of outreach is that students, faculty, university members, and the community can all be involved in one project. "We just need to figure out what kind of impact we want to have," he said.
Werner concluded the session. As she began her talk, she admitted that rare books libraries and special collections repositories are becoming more open. Increasingly, patrons have access, and no expertise is needed. More libraries are reaching out to audiences rather than waiting for audiences to find them. However, Werner argued that we could be doing more.
She said that in this digital landscape we can open our collections to nearly untold numbers of people. But the list of things you cannot do in these spaces stretches on. The space of the reading room is foreign. But, she pointed out that the digital landscape may not be much more inviting or navigable for patrons; in practice it's fragmented.
It is harder than it sounds. It is not easy to know where a library's digital collection is located online. Often it is actually a series of digital exhibits rather than simply a digital collection all in one place. If you are lucky, an aggregating site like the Digital Public Library of America or Early English Books Online may have what you are looking for. Werner went on to detail her struggle to find an open access version of John Bunyan's Pilgrim's Progress.
Werner cited copyright as a challenge for creating open access repositories, saying that copyright is the bane of a digitizer's existence. She went on to advocate for maintaining duplicate copies and for making copies of the same text available digitally. She emphasized the importance of providing context for our digital materials: Collections should go beyond simply providing access.
It is possible that there are opportunities for researchers and users to use materials to create educational tools, exhibits, courses, and more. Then, those items can be added to the digital collection landscape. However, even with this fairly simple idea, there are barriers. Researchers would need to have access to downloadable images that are licensed. If they were posting to a blog, they would need to be sure their blog was for educational use and not part of a website promoting a book for sale, Werner reminded the crowd. But she simultaneously argued that we should not force people to pay for access to materials, because in doing so, we are furthering the divide. We need to create context for the works that we digitize. We need to let people use digitized items as they see fit; we need to let them be experts too.