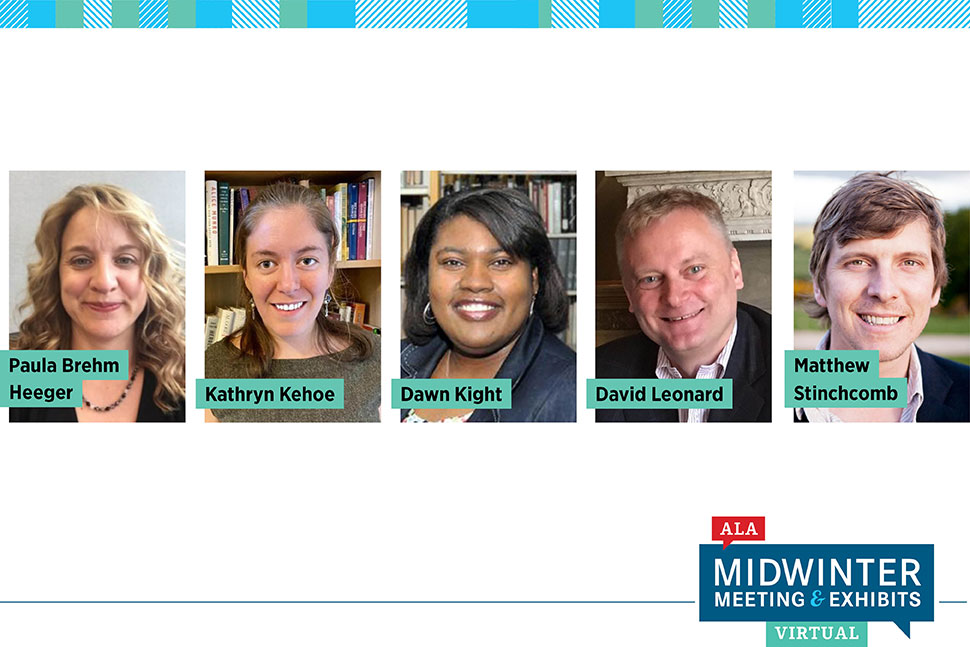 How do we build more resilient communities?
It's a question that Matthew Stinchcomb, cofounder of the Lifeboats HV initiative and keynote speaker at the American Library Association's 2021 Midwinter Meeting & Exhibits Virtual on-demand session "Resilience: How Libraries Can Partner to Reshape the Future," thinks about often.
"If you look at the data on climate change and ecological destruction, there's no doubt that it's pretty dire. Continuing on our current path is untenable for humans and all living beings," he said. "The current pandemic is showing just how irresilient many of our communities are and just how much inequity there is in our current economic system."
Stinchcomb thinks the answer lies in lifeboats, the concept after which his Hudson Valley, New York–based, resilience-building initiative is named.
Lifeboats, as defined by Stinchcomb, are tangible and replicable ideas that meet social, economic, or ecological crises. Lifeboats are inspiring, build a new and better future, and "are about a very large number of small solutions," he said. But these ideas are not a silver bullet and require local customization. Much like actual boats that rescue anyone in distress at sea, lifeboats are available to everyone—which is why the library is a perfect place for them.
This concept is exemplified by Lifeboats HV's partnership with Mid-Hudson Library System (MHLS) in Poughkeepsie, New York. The two entities are collaborating on the Library of Local, a project that offers the public resources for resiliency and self-sufficiency.
As part of the project, architectural units that hold books, seed collections, agricultural tools, and "everything you need to grow things" will be installed in four of the library's branches, said Stinchcomb. MHLS will also host 45 events and workshops covering everything from seed-starting to canning tomatoes.
The relationship between Lifeboats HV and MHLS represents just one potential model for libraries that want to forge outside partnerships to achieve social, economic, and ecological sustainability goals. Following Stinchcomb's keynote, Vicki Coleman, dean of library services at North Carolina A&T State University in Greensboro, moderated a discussion between librarians from across the country who shared stories of their own partnerships:
Paula Brehm-Heeger, director of the Cincinnati and Hamilton County (Ohio) Public Library, spoke about receiving $10,000 in financial support from nearby MLS soccer team FC Cincinnati, so that the library could create an outdoor technology area for its West End branch situated in an economically disadvantaged area. The shaded courtyard will meet a need for Wi-Fi and device access while enabling social distancing. "It's really important to build the partnerships before the crisis, so you can activate them when things occur," she said.
Dawn Kight, dean of libraries at Southern University and A&M College in Baton Rouge, is working with partners to tackle the digital divide. Four of Louisiana's cities are on the National Digital Inclusion Alliance's top 100 list of worst-connected cities. "The impacts are widespread, from hampering student achievement to not having job skills to pull families from poverty," she said. Her library is collaborating with the Louisiana Board of Regents' Digital Inclusion Strategic Task Force and Louisiana's LOUIS library consortium to increase access to internet, devices, and digital literacy training. "Without our partners," she said, "it would be a slow and tenuous process."
Boston Public Library President David Leonard says his institution is working with partner YW Boston, a policy organization dedicated to eliminating racism and empowering women, to further its equity, diversity, and inclusion goals. "We wanted to bring experts in this work into our organization to take stock of where we are and begin to change the organization to be even more responsive to the needs of our patrons today," he said. He recommends that libraries "find external expertise to help you get the work done."
Kathryn Kehoe, grants and communication librarian at North Carolina A&T State University in Greensboro, is involved in a number of partnerships aimed at closing the digital divide. She's currently on the steering committee of Digital Durham and working with Durham (N.C.) Public Library to create a digital navigator program that would let librarians and paraprofessionals connect patrons to low-cost internet access, devices, and digital literacy skills. Her advice: "I really recommend when you first start getting interested in this work, you map out the experts on the issue."
Presenters ended the discussion with recommendations for libraries that are considering partnerships and trying to measure the efficacy of them.
"When [partners] know your work and see the commitment you have … that makes it easier to build trust," said Kight.
Added Leonard: "The expectations should be clear. If you do that work up front, then it becomes easier to measure the impact and success."