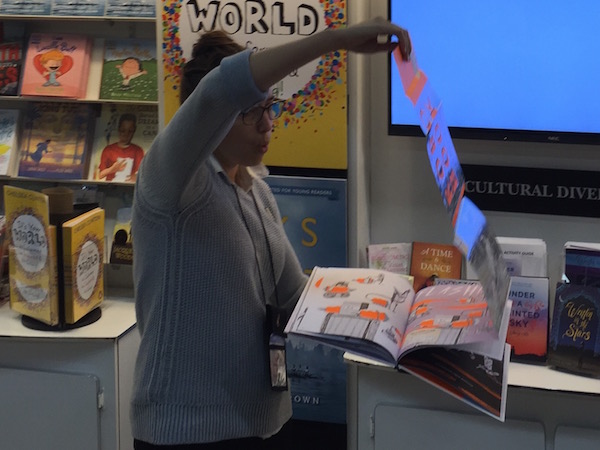 Penguin Library Marketing Team members Dominique R. Jenkins, Maureen Meekins, and Alexis Watts took turns giving a preview of Penguin's upcoming releases for the Penguin Young Readers Group and for Penguin Adult during the publisher's Book Buzz Theater presentation Sunday morning.
The following is a list of the titles they announced, with release dates, and in some cases, a blurb from the presentation.
Adult
The Hours Count
By Jillian Cantor
October 2015
The Gates of Evangeline
By Hester Young
September 2015
"A supernatural thriller."
Fates and Furies
By Lauren Groff
September 2015
"A story of a couple, bound together by the three fates. One reader commented that she loved this book so much, it ruined her for reading other books."
The Secret Chord
By Geraldine Brooks
October 2015
Brooks is a Pulitzer Prize winner. The Secret Chord is an "unvarnished look at the most emotionally intense moments in King David's life."
The Song of Hartgrove Hall
By Natasha Solomons
December 2015
"If you like Downton Abbey, you want this book."
The Gilded Hour
By Sara Donati
September 2015
White Collar Girl
By Renée Rosen
November 2015
"A new novel about the newspaper world of 1950s Chicago."
The Courtesan
By Alexandra Curry
September 2015
"Curry's debut novel."
The Paris Key
By Juliet Blackwell
September 2015
"Her first work of women's fiction."
"A great book club book."
Mrs. Sinclair's Suitcase
By Louise Walters
August 2015
Along the Infinite Sea
By Beatriz Williams
November 2015
"If you read The Secret Life of Violet Grant, you want to read this book."
A Dictionary of Mutual Understanding
By Jackie Copleton
December 2015
"Rich with historical details and stunning description."
"There's a lot here for book clubs to sink their teeth into."
Pop Goes the Weasel
By M.J. Arlidge
October 2015
Is Fat Bob Dead Yet?
By Stephen Dobyns
September 2015
"If you're looking for a great mystery about freeing beagles from nicotine addiction, you've come to the right place."
"So weird."
"Stephen King described Dobyns as the best of the best."
"You can judge this book by its cover, honestly."
A Likely Story
By Jenn McKinlay
November 2015
A Curious Beginning
By Deanna Raybourn
September 2015
After You
Jojo Moyes
September 2015
City of Clowns
By Daniel Alarcón and Sheila Alvarado
November 2015
"A beautifully rendered graphic novel."
The Journey of the Penguin
By Emiliano Ponzi
October 2015
"The story of the Penguin penguin."
"Dreaming of more, a penguin sets off on a long swim north, turning up in London just in time for auditions to be the face of a new publishing house."
The Portable Veblen
By Elizabeth McKenzie
January 2016
"A story about a very charismatic squirrel."
In Order to Live
By Yeonmi Park
September 2015
"Park shares the story of how she escaped North Korea."
Choosing Hope
By Kaitlin Roig-DeBellis and Robin Gaby Fisher
October 2015
"The story of how Roig-DeBellis saved a group of children during the tragedy at Sandy Hook Elementary."
SuperBetter
By Jane McGonigal
September 2015
"SuperBetter is both a game and a book."
Big Magic
By Elizabeth Gilbert
September 2015
The Wind in the Reeds
By Wendell Pierce
September 2015
Never Broken
By Jewel
September 2015
Unfaithful Music and Disappearing Ink
By Elvis Costello
October 2015
Tom Jones
By Tom Jones
November 2015
But Enough About Me
By Burt Reynolds
November 2015
Young Adult
The Accident Season
By Moïra Fowley-Doyle
August 2015
Haunting, magical realism, "the perfect cocktail between literary and commercial."
Sophomores and Other Oxymorons
By David Lubar
August 2015
Follow up to Sleeping Freshmen Never Lie.
Don't Fail Me Now
By Una LaMarche
September 2015
Nightfall
By Jake Halpern and Peter Kujawinski
September 2015
"The story of a town that only experiences night every 14 years."
The Appearance of Annie van Sinderen
By Katherine Howe
September 2015
"The story of a teenage boy who falls in love with a ghost."
Juniors
By Kaui Hart Hemmings
September 2015
"Like eating really delicious fancy chocolate—super lush."
"It captures the angst of being a teen."
The Rose Society
By Marie Lu
October 2015
Soundless
By Richelle Mead
November 2015
Middle Grade Books
Pieces of Why
By K. L. Going
September 2015
"A story of humanity."
Confessions of an Imaginary Friend
By Michelle Cuevas
September 2015
"The story of an imaginary friend who asks to be set free, goes on his own adventure, and meets other imaginary friends along the way."
Switch
By Ingrid Law
September 2015
"A whimsical, charming, coming of age story."
The Poe Estate
By Polly Shulman
September 2015
The Green Bicycle
By Haifaa Al Mansour
September 2015
"The story follows a girl who lives in present day Saudi Arabia and wants to buy a bicycle. Shows what modern day life in Saudi Arabia is like for a 13 year old girl."
Husky
By Justin Sayre
September 2015
"Both heartbreaking and hilarious."
"Sayre is a comedy writer who has worked on Sex and the City and Two Broke Girls."
The Wild Ones
By C. Alexander London
September 2015
"The story follows a raccoon who is from the country whose family was killed by hunting dogs. As a result, he is forced to move to the city."
The Odds of Getting Even
By Sheila Turnage
October 2015
"A follow up to Newberry Honor winner Three Times Lucky."
The Toymaker's Apprentice
By Sherri L. Smith
October 2015
"A reimagining of the Nutcracker."
The After-Room
By Maile Meloy
November 2015
"Meloy has a talent for weaving together historical weight and fantasy."
The Trilogy of Two
By Juman Malouf
November 2015
"Juman is Wes Anderson's partner. She wrote and illustrated the entire book. The illustrations are beautiful."
Picture Books
The Day the Crayons Came Home
By Drew Daywalt, Illustrated by Oliver Jeffers
August 2015
"Funny and endearing."
Dewey Bob
By Judy Schachner
September 2015
"The art is exquisite–Schachner did collage for this one."
Little Tree
By Loren Long
September 2015
"This book is about a little tree who has a hard time letting go of his leaves."
Happy!
By Pharrell Williams
October 2015
"Williams brings his beloved song to his youngest readers."
"Great for reading aloud or singing aloud."
The Nonsense Show
By Eric Carle
October 2015
Robo-Sauce
By Adam Rubin, illustrated by Daniel Salmieri
"This book turns into a robot!"
Nonfiction
The Omnivore's Dilemma for Kids
By Michael Pollan
August 2015
"This will teach kids about how food comes to the kitchen."
Legends: The Best Players, Games, and Teams in Football
By Howard Bryant
September 2015
It's Your World: Get Informed, Get Inspired & Get Going!
By Chelsea Clinton
September 2015
The Boys in the Boat
By Daniel James Brown
September 2015
"Deeply emotional, but still totally accessible to this age group."
Ordinary People Series, by Brad Meltzer
The two newest books are:
I Am Lucille Ball
July 2015
I Am Helen Keller
September 2015.