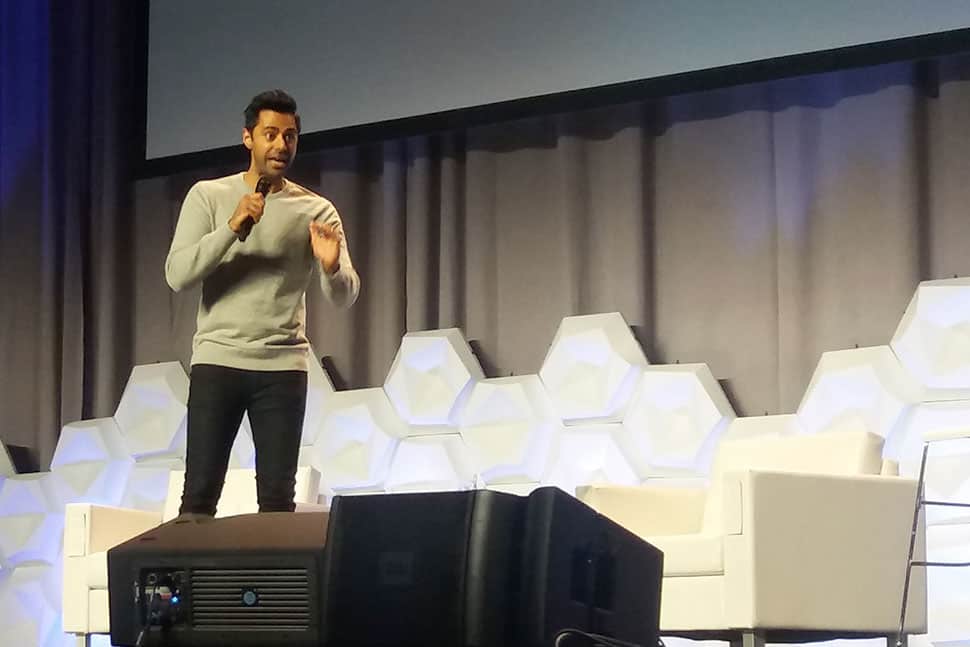 Hasan Minhaj admitted it was the "strangest gig" he'd ever been asked to do.
"Do you want to perform in a Costco warehouse for a bunch of librarians while a volleyball tournament is going on behind you?" he observed his environs, poking fun at being the Closing Session speaker of the Public Library Association (PLA) Conference in Philadelphia on March 24. "This is going to be amazing," he said to a packed and raucous room.
The comedian, actor, host, and writer—perhaps best known for being a correspondent on The Daily Show with Trevor Noah, hosting last year's White House Correspondents Dinner, and for his comedy special Homecoming King—used the opportunity to preview material for his upcoming Netflix talk show just announced this month. Minhaj dissected political and cultural issues, such as gun control, racism and immigration, and a fear-exploiting news cycle, through punchy stand-up, video clips, and data visualizations.
"Whenever we do these field pieces, it's like I have to go into enemy territory," he said. Minhaj recounted the time when The Daily Show sent him to Alabama for a segment on guns. (His response: "You know it's an away game, right?") He ended up buying a concealed carry permit—what he called his "gun library card"—for the price of "just a Chipotle burrito with avocado." When the gun salesman saw the camera, he told Minhaj he couldn't purchase arms because he "could be ISIS."
"Have you ever been offended and flattered at the same time?" Minhaj mused.
Minhaj incisively framed the racialization and coded language of terrorism. "I can't speak to my mom in Urdu on a plane because people are afraid of terrorism," he said, which he paralleled to a man pulling out a prohibited Samsung Galaxy Note 7 device on an aircraft. "You're texting on a bomb!" Minhaj exclaimed. "I'm not saying every Samsung blows up, it's just that every time it blows up it happens to be a Samsung.
"You are literally more likely to be killed by furniture than by a terrorist organization," Minhaj joked. He deferred to facts and figures to dispel the belief that letting refugees into the US would increase terrorism. "Of the 784,000 [refugees] let in since 9/11, exactly three have been arrested for planning terrorist activities," Minhaj said.
He added, "The real question isn't whether refugees can adopt American values; it's whether Americans can adopt American values."
Following his set, Minhaj sat in conversation with Brendan Dowling, assistant editor of PublicLibrariesOnline.org, to talk about his relationship to libraries and literacy.
"I would check out anything in the library," Minhaj said, noting that Judy Blume, Marc Brown, and Beverly Cleary were some of his favorite authors as a kid. Minhaj, who has a younger sister, especially gravitated to the Arthur series. "The Arthur–DW relationship is something I put into my stand-up."
During the question-and-answer period, one audience member thanked Minhaj for "expanding career prospects for Indian Americans."
Minhaj joked, "You can be like Dinesh D'Souza or Ajit Pai!"
In closing, Minhaj had advice for talking to those whose points of view you don't completely understand or agree with: "The biggest thing that is missing from the conversation is empathy," he said. "See people for who they are and realize they're not a monolith."