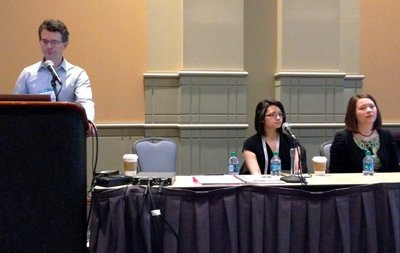 Even the world's largest library association needs its own archive. And since 1973, ALA has partnered with the University of Illinois at Urbana-Champaign to have its institutional records preserved and managed by the university's library.
At a Sunday morning Midwinter session, presenters Chris Prom, Cara Bertram, and Denise Rayman, all from the U of I library, discussed the open-access repository, known as the ALA Institutional Repository (ALAIR), which has more than 3,000 cubic feet of physical records and more than 460 GB of digital records from the various divisions, offices, committees, and round tables that comprise ALA. (Prior to 1973, the ALA Library managed and stored content in a Chicago warehouse.)
The collection contains correspondence and documents throughout ALA's history, but it also has photos, film, and sound recordings, as well as an archive of ALA's website and its content throughout the years. The university also provides reference services for the collection.
Currently, only ALA staff members are able to upload ALAIR content and access it for free online, but the goal is to open this capability to the Association's membership in the near future. Bertram says that researchers arrive from as far away as other countries to access the records. "There's a lot of scholarly interest in these archives," she says.
---
See, hear, and read more about what's going on at Midwinter—in real time and after. 
Twitter: @alamw and #alamw14
Facebook: https://www.facebook.com/events/512164432210368
YouTube: youtube.com/user/AmLibraryAssociation
Flickr: flickr.com/groups/2422196@N23
Pinterest: pinterest.com/alamidwinter