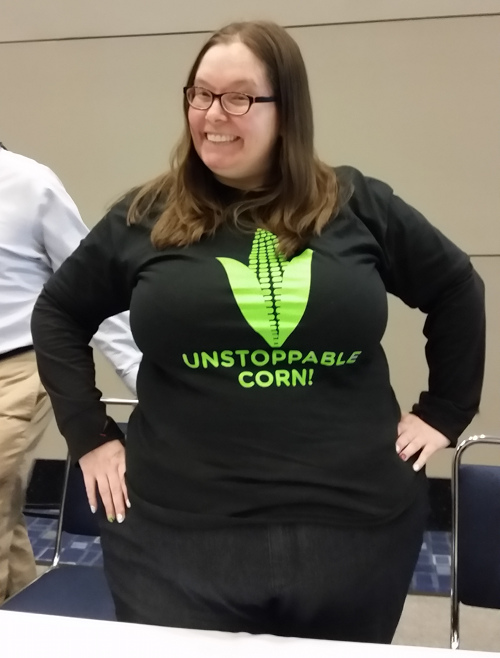 ALA held its first official Midwinter Ignite session on Saturday morning, after introducing them successfully at the ALA Annual Conference in Las Vegas. Ignite presentations are five minutes long and are accompanied by 20 slides that advance automatically every 15 seconds, keeping both the speakers and their audience on their toes. The six topics presented at this session included diversity, website optimization, and partnerships.
First up was Angie Manfredi (pictured above), head of youth services at Los Alamos (N. Mex.) County Library System and  book blogger at Fat Girl, Reading (fatgirlreading.com). She offered some suggestions on children's and YA titles with protagonists that were non-white, differently gendered, or differently abled. Among the books were: The Zero Degree Zombie Zone by Patrik Henry Bass and Jerry Craft (African American), I Am Jazz by Jessica Herthel and Jazz Jennings (transgender), A Time to Dance by Padma Venkatraman (Hindu girl with a prosthetic leg), The Year of the Fortune Cookie by Andrea Cheng and Patrice Barton (Chinese American), One Man Guy by Michael Barakiva (Armenian gay boy), and Maddi's Fridge by Lois Brandt and Vin Vogel (poverty and hunger).
Edith Campbell, assistant librarian at Indiana State University, also tackled diversity. She noted that only 18% of all kid's books in the past 18 years were about children of color, whereas 47% of all children in the US are not white. "Librarians can promote diversity and a level playing field for all users," she said. "Books with protagonists of color are for all readers." Campbell added, "I grew up reading all-white books and I turned out all right, but I want my grandchildren to shine."
Ivy Noelle Weir, program coordinator at Bayard Taylor Memorial Library in Kennett Square, Pennsylvania, advocated for librarians to use comics as a way to engage patrons of all backgrounds and life experiences. Particularly useful comics include Ms. Marvel, whose shape-shifting teen protagonist is a practicing Muslim; The Shadow Hero, a classic story by Gene Luen Yang and Sonny Liew that features the Green Turtle, an Asian-American superhero; and Young Avengers (which "has a huge fan base and is an easy sell to teens on Tumblr") by Kieron Gillen, whose all-LGBTQ superhero team is made up of both males and females.
On the website beat was Heidi Steiner Burkhardt, head of digital services at Norwich University in Northfield, Vermont, who offered tips for writing on the web: put your main points at the top, use bulleted lists and subheads to break up content, discuss only one idea per paragraph, use a conversational first person (I/we/us) and second person (you/yours), and don't put more than two links in a sentence.
Daniel Verbit, LIS student at the University of Alabama, warned against using "under construction" messages on websites and gave some advice on making the inevitable 404 error codes, which can signal a dead end for patrons, more useful. "Help users fix a broken link" by providing a search box, suggestions, or at least a clever graphic image to make the error page more friendly.
Joe Collier, business reference librarian at Mount Prospect (Ill.) Public Library, spoke about his fascination with Graceland Cemetery in Chicago, founded in 1861 and a popular tourist site for those who want to visit the final resting place of many Chicago luminaries. He was disappointed with the badly photocopied map provided by the cemetery and thought, "I'm a librarian. I can do better than that." Collier had the skills to assess and compile geographic data, maximize the viewer's ability to understand that data, and use many digital and nondigital tools to make the experience a fulfilling one. However, he couldn't draw a map himself, so he collaborated with a cartographer, Jake Coolidge, who co-presented with him. The Graceland Cemetery Guide and Map, which they self-published in 2014, contains text and photos by Collier and cartography by Coolidge. Collier summed the experience up: "Librarians should be doing cool projects like this, so don't be afraid to partner with skilled non-librarians" to get the job done.