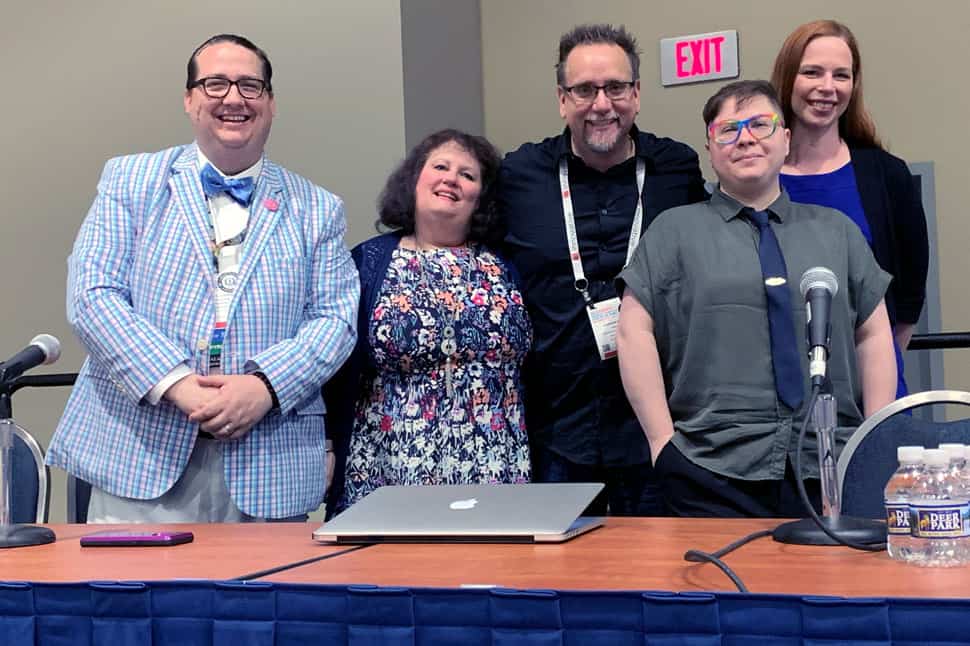 Shrimp and self care might not seem connected. But moderator Emily Clasper opened the "Self Care is Not Selfish: Preventing Burnout" session with a photo of shellfish. She joked that she always wants to say shellfish when she means selfish, even though everyone realizes the two couldn't be more different. Similarly, self care and selfishness are very different things.
The panel included Carson Block, Kyle L .Courtney, Sarah Houghton, Janie Hermann, and Djaz F. Zulida, who all hold various roles in librarianship. One panel member was missing, Sarah Houghton who needed her own self care. She sent in a video that told her story, stating "Self care takes priority, as it should … take care of yourself, I support that." Along with a very well placed expletive in her 3 minute and 30 second clip, her video led to a definition of terms, including self care, coping, spoon theory, and lastly, burn out. More  information can be found at bit.ly/begood2you.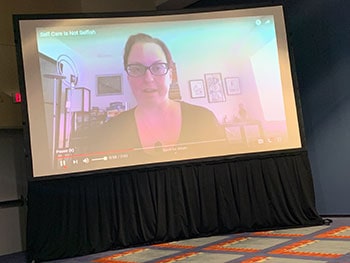 Clasper continued the discussion, bringing up the topic of how to recognize the signs and symptoms of burn out in yourself and your staff. This is where the panelists opened up, giving personal accounts of the signs they have noticed in themselves. These signs included being late to work, missing deadlines, checking out, going through the motions, exhaustion, and being overwhelmed. Unusually heightened moods can also be an indication of impending burn out.
However, these symptoms can be combated. Advice from the panelists include saying "no", not working after 6pm on weeknights, and not using social media apps. Zulida also reminded people in the audience to take their medication, hydrate, and do small things in the immediate moment. Clasper observed that she had to change her way of thinking in order to change her feelings and their outcomes to combat her mania associated with work.
The panel also recommended managers check in with staff regularly—as much as weekly—depending on what the situation warrants.
Courtney summed it up nicely, saying that "Self care is about creating a life that is easier to manage."
The session was as heartfelt as it was emotional with the panelists bearing their truth to help audience members.