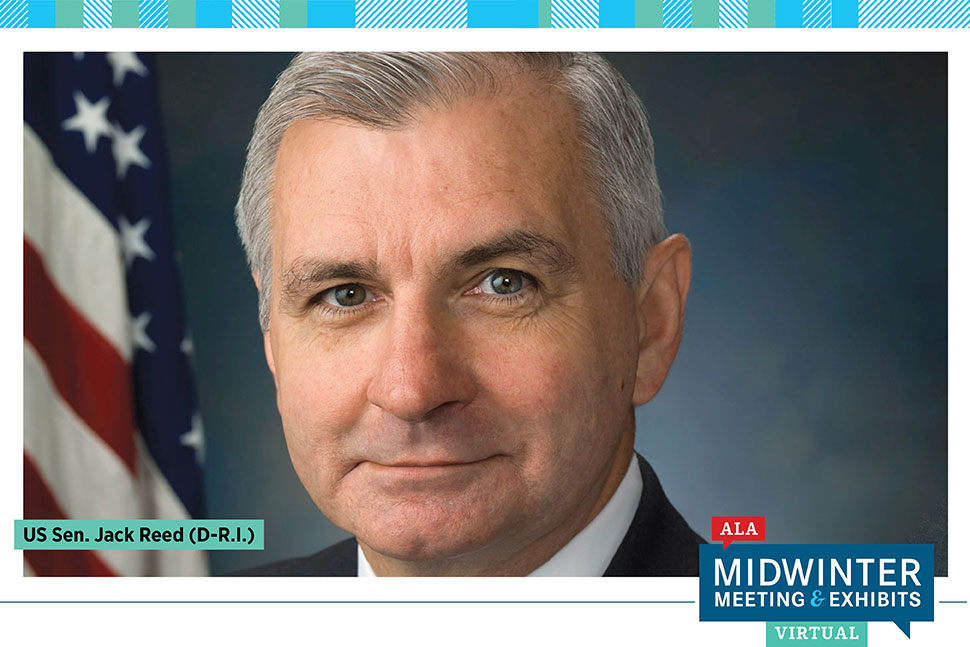 As a veteran member of the US Senate, Jack Reed (D-R.I.) has been a premier library champion during his decades of service. With the 117th Congress already in session, Reed sat down for a special interview with ALA President Julius C. Jefferson Jr. at the 2021 Midwinter Meeting & Exhibits Virtual on January 23 to talk about the recent events in Washington, the pandemic's effect on the nation, and the special place that libraries hold in his heart.
The senator spoke candidly about the events of January 6, when rioters stormed the US Capitol. While waiting in a secure location with other lawmakers, Reed recounted, "There was this consensus by every member that we had to go back, that we were not going to, you know, go away for the day, reconvene a couple of days from now. [The consensus was that] we were going to finish this today…. and that I hope sent a positive message to the American public."
Reed's advocacy for public libraries comes from a desire to help library staff on the front lines tackle issues like information literacy and the digital divide, he said. As the COVID-19 pandemic rages on, Reed observed, it has "exposed the social disparities that are rampant throughout the United States." He noted that access to Wi-Fi is no longer an option or a luxury, and that libraries help foster a sense of community.
Wielding the influence of his seat on the Senate Appropriations Committee, Reed backed up his support for libraries with federal dollars. Months after championing efforts to secure $50 million in stimulus funding for the Institute of Museum and Library Services in the CARES Act in March 2020, Reed introduced the Library Stabilization Fund Act, proposing $2 billion to bolster library services during the pandemic. In the final days of the 116th Congress, Reed introduced the Build America's Libraries Act, which called for $5 billion to repair and construct library facilities. He said he plans to reintroduce the legislation in the new Congress.
Reed's proposals to fund library relief are the latest in a long history of his support for libraries. Reminiscing about his childhood in Rhode Island, Reed said early experiences at the Auburn branch of Cranston Public Library cemented his love of libraries. "It was a place of repose and knowledge and wisdom," he said.
Jefferson asked for Reed's advice on how library advocates can better cultivate library champions, at home and in the halls of Congress. "I would advise all ALA members to get to know their congressmen and congresswomen, their senators, and their staffs. I would make it a point to invite them to events that are taking place," Reed said.
Reed also suggested library staff ask board members and other community members to become advocates. He noted the value of focusing strategically on members of key committees in Congress, such as the Senate Committee on Health, Education, Labor, and Pensions, that specifically deal with library and access issues on a regular basis. But, he added, "don't neglect any member because … they all ultimately get to vote. [Libraries can find] newer members who have interest in or maybe even a history with libraries, and just ask them to step up."