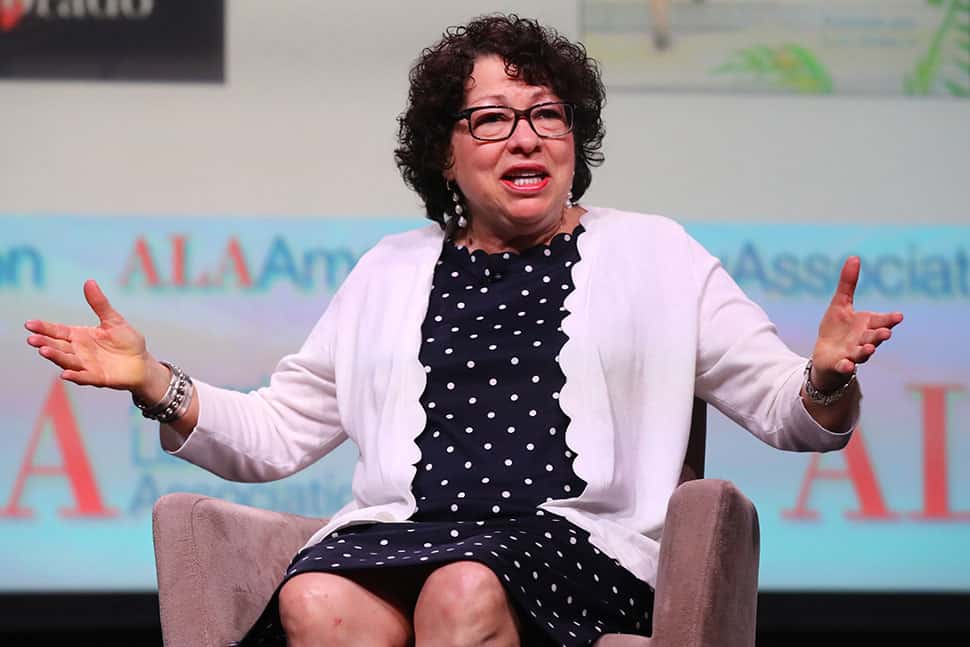 "I am in a room with people whom I love," said Sonia Sotomayor, Associate Justice of the Supreme Court of the United States, at the American Library Association Annual Conference and Exhibition June 22. "Among my most favorite people in the world are librarians. You open up the world to kids. I love you, so thank you for inviting me here today."
Her talk was moderated by her longtime editor Jill Santopolo, associate publisher of Philomel Books. Sotomayor noted that as a child she could never sit still and was soon walking the aisles of the auditorium—followed closely by her security detail—telling her story, hugging attendees, and being serenaded for her upcoming birthday (June 25).
Sotomayor said she started writing books as a way to stay grounded after she was appointed to the Supreme Court. She went from having an important but relatively anonymous job in New York to a very public role in Washington that occasionally involved having dinner with the president or throwing out the first pitch at Yankee Stadium. So she began to think seriously and deeply about her life, who she was, and how she got there, which eventually became her autobiography My Beloved World.
Her cousin, a bilingual education teacher, pressed her to write a version of the book for middle-grade readers in English and Spanish (The Beloved World of Sonia Sotomayor/El mundo adorado de Sonia Sotomayor), which inspired her to write another book for younger children (Turning Pages/Pasando páginas).
Her new book, Just Ask!/¡Solo pregunta!, is one she said wanted to write since a fellow patron in a restaurant many years ago accused her of being a drug addict after seeing her injecting insulin in the restroom.
Just Ask! is a book of stories and messages that she wanted to say on behalf of children who live with challenges, just as she did. She said she hopes readers will learn not to assume the worst in people when you see them doing something you don't understand.
When Sotomayor was a child, the Parkchester branch of New York Public Library was her refuge after her father's death. "If I went to the library," she said, "I could escape the sadness in my house" for a few hours. The books there also set her on her current path to studying the law.
Lord of the Flies made a particular impact. She related to the children on deserted island whose first instinct is to follow rules adults taught them, which ends in tragedy. "It struck me with an understanding that I have carried with me ever since," Sotomayor noted. "We need laws. We need them to live together, to survive as a community." Morality is not natural; community is a learned response.
Sotomayor said she never considered another career path. "I have loved everything I have done in the law. I am a living example of someone who has lived her life further than she ever dreamed."