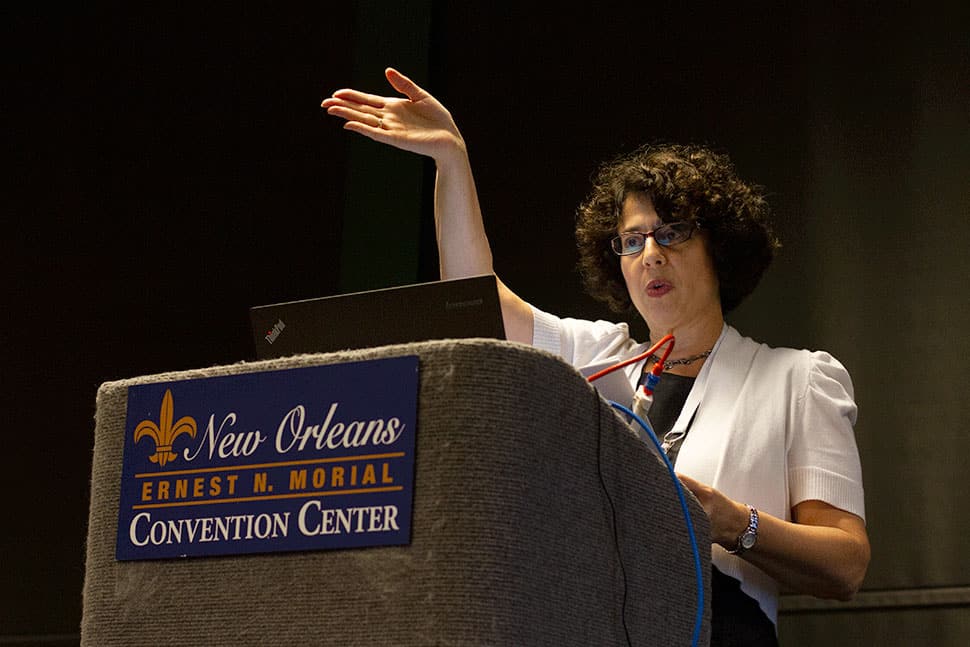 Spatial humanities are "the 'why' of 'where' in the humanities," said Katherine Hart Weimer, head of the Kelley Center for Government Information, Data and Geospatial Services at Rice University. More than just mapping places on Earth, spatial humanities research explores the relationships between multiple objects, processes, or phenomena.
Weimer was joined by two other panelists to provide an introduction to spatial humanities and its potential as an aspect of library instruction and its role in student research at "Understanding and Using Spatial Humanities: Digital Mapping at the Forefront of Scholarly Research," moderated by Leslie Wagner, chair of the Map and Geospatial Information Round Table, on Saturday, June 23, at the ALA Annual Conference and Exhibition.
Integrating spatial thinking into humanities research opens new avenues of inquiry into the relationships between data points in space. Spatial habits of mind—pattern recognition, describing patterns, understanding visual formats, thinking conceptually about spatial things, and interest in spatial tools—form the foundation of spatial literacy.
Weimer provided a list of questions that are essential to assessing spatially aware digital scholarship:
With this visualization, what new questions are now possible to ask?
What concepts are being presented? What's missing?
How is the Humanistic inquiry manifested?
What spatial patterns and relationships are now made visible?
Does this clarify or refute previously held understanding?
Is this presenting a new research methodology?
She also suggested a number of spatial humanities projects as an introduction to the types of work being done, including geohumanities.org/gis, a list of geospatial humanities projects maintained by the Geohumanities Special Interest Group of the Alliance of Digital Humanities Organizations, and Pelagios.org, which connects online resources by the places they refer to.
Co-panelist Nicole Kong, geographic information system (GIS) specialist and assistant professor of library science at the Purdue University Libraries, has collaborated on a number of spatial humanities projects. She explained that many students will come to her with an idea for a project, but not be accustomed to spatial thinking. The key, then, is to help students understand the value of spatial thinking in their research, whether through an introduction to the tools or encouraging them to take a class or workshop.
During the research process, there are a number of hurdles: where to find information, how to create visualizations, how to analyze the result, and how to share and preserve data. All of these are opportunities for librarian collaboration. Kong leads workshops and teaches a semester-long class on GIS projects, and notes that one of the biggest barriers to entry is discomfort or unfamiliarity with the technology.
"You don't have to know everything about GIS to make it happen. Showing how to organize data can help a lot," Kong says. "I'd rather teach the researchers about this tool than just give them the map."
Chelcie Rowell, digital scholarship librarian and history liaison at Boston College and the final panelist, spoke about her approach as a nonspecialist working on spatial humanities projects in libraries, particularly those without a specialist on staff. Her roles have ranged from methods consultant and data provider to cheerleader, she says, and each project was a learning process.
Rowell pointed out that her early collaborations were with researchers who came to her with examples of similar projects—other research, and even journalistic pieces—which gave her a leg up in her learning process. She was able to deconstruct those projects and determine which parts could be applied to the new project. "A lot of these projects have been very high-touch," she said, "and that's because I didn't know what I was doing. I had to learn it."
GIS may sound intimidating, but each panelist emphasized that a lot can be accomplished with a little knowledge and the right tools. They agreed that library instruction should include more spatial concepts, and that these concepts were more common than you'd think. Wagner, the moderator, paused between presentations to share a revelation. "I just realized that my thesis was in the spatial humanities," she said. "It was years ago, and I just realized that now."