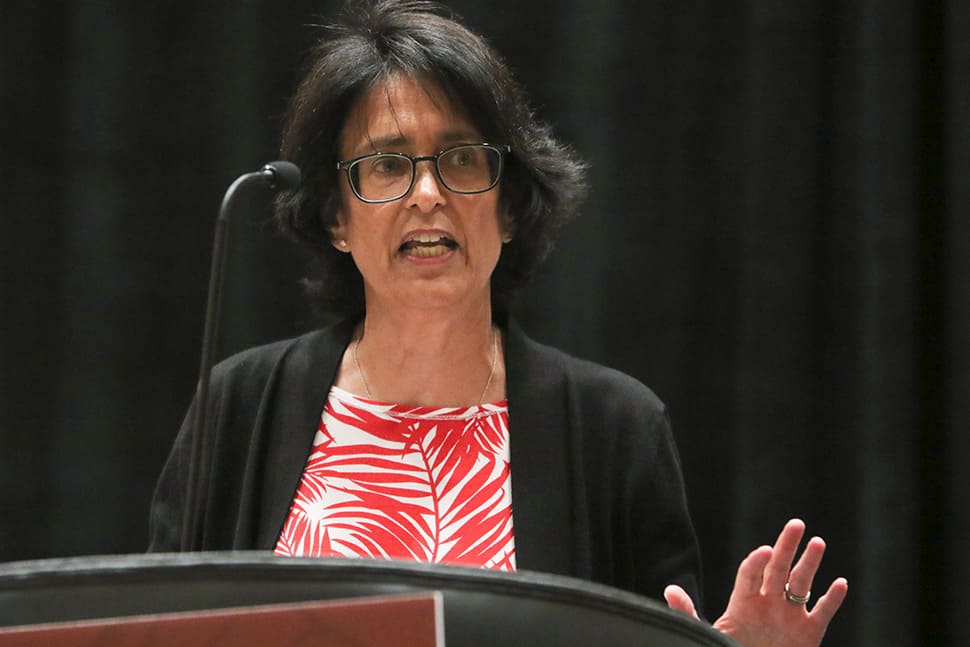 Librarians joined with publishers Saturday night to honor Jennifer Egan, author of Manhattan Beach, as the winner of the 2018 Andrew Carnegie Medal for Excellence in Fiction, an award cosponsored by the American Library Association's (ALA) Booklist and Reference and User Services Association.
Egan told the audience that, like many other novels, Manhattan Beach was born in a library, specifically the Local History Room of the New York Public Library. She had wanted her next novel to be set in New York City during World War II, but did not know exactly where to start. The library staff showed her some books of photographs showing the city in the 1940s, especially one by German-American photographer Andreas Feininger. "There was water in every one of his pictures," Egan said. "and that's where I first saw a photo of the giant Hammerhead crane at the Brooklyn Navy Yard." She had discovered a major setting for her novel—warship workers on the New York waterfront.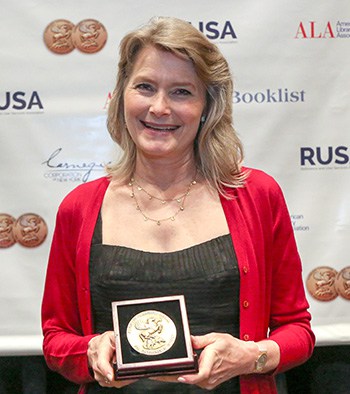 Her next step was to visit the Brooklyn Historical Society, where she discovered the Alfred and Lucille Kolkin papers. The Kolkins were married in 1943, and Lucy worked at the Brooklyn Navy Yard as a ship fitter while her husband joined the Navy as a radio technician. In 1944, "Lucy wrote to Al on a daily basis as she commuted to work on a streetcar," Egan said, "and I got to know her and her world so well that I wrote an essay about her in 2008 called 'Reading Lucy.' One day I received an email with the subject line 'I am Lucy's daughter' sent by one of Lucy's two daughters. "It turns out, one of them was a librarian," Egan said, so the next step was a visit to the Brooklyn Navy Yard with both of them, their families, "and Al, who was still alive and in his 80s."
Egan also visited the San Francisco Maritime Museum to research military deep-sea divers, which one of her female characters becomes. "I actually had the opportunity to put on an old Mark V diving suit." Egan said it was extremely heavy.
Sue Halpern, author of Summer Hours at the Robbers Library, was the featured speaker at the awards celebration. She quipped, "I guess the best way to get to the podium at the Carnegie Medals ceremony is to write a book with the word 'library' in the title. And it helps that the fictional library is a Carnegie."
Halpern said that her mythical, small-town Robbers Library was somewhat based on her experiences in establishing a lending library in Johnsburg, "a remote hamlet in the Adirondack Mountains" where she lives with her husband, environmentalist Bill McKibben. "The township has the lowest population (2,000) of any other in New York," so getting a library set up was dependent on "two miracles": a man named Arnold Stevens who worked at a lumberyard and managed to get $15,000 put in the budget for a one-room library in back of the town hall, and a young man named Russell with bookselling experience in Seattle who came to town and became the librarian.
"Before we know it," Halpern said, "in this hardscrabble town built on the logging industry, 1,500 people had library cards. Once you put books in the hands of children, the story goes on and writes itself." Now the Town of Johnsburg Library checks out snowshoes, she added.
"Librarians are the front line in sustaining democracy," Halpern said. "As Kit, one of the characters in Summer Hours, says, 'Books and libraries can save lives too."