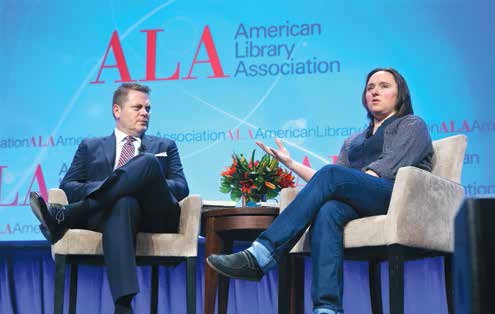 It's not surprising that Sarah Vowell and Nick Offerman are longtime friends. Vowell, an essayist, historian, and frequent This American Life contributor, and Offerman, a writer and actor best known for his work as the stogy Ron Swanson on the hit NBC comedy series, Parks and Recreation, share a similar sense of humor. Their comedy is dry, observational, self-deprecating, and very smart.
So when Vowell and Offerman learned that they were each scheduled to deliver talks on Saturday during the Auditorium Speaker Series, they decided to combine forces and moderate each other's talks. It was a win-win decision: The pair was able to let their hair down and discuss their work informally and comfortably, while the capacity crowd watched two quick comic minds riff off each other as they dissected their work and followed whatever hilarious tangents popped up.
Before joining forces onstage, Vowell and Offerman started their respective talks with solo readings and insights from their new books, both of which delve into individuals who have helped shape America. Vowell's latest, Lafayette in the Somewhat United States, follows the author throughout the United States as she researches the life of the Marquis de Lafayette, the influential French aristocrat-turned-U.S. general during the Revolutionary War, who has been seemingly forgotten by history and the modern American public. Offerman's new book, Gumption, details the lives of 21 historic and modern figures who have inspired him, from George Washington and Frederick Douglass to musician Willie Nelson and artist Yoko Ono.
Vowell and Offerman were quick to laugh at themselves as they read their work. Vowell admitted to being unprepared. The book is being released on October 20 and this was the first time she had talked about it in public. "I don't know how to talk about it. I'm not polished. But you asked me to be here," she shrugged and deadpanned in her trademark dry nasal tone.
Offerman opened his session by telling the audience about the librarians in his life: his aunt was a librarian and his sister is the director of the Three Rivers Public Library District in Channahon, Illinois.
"I adore librarians because you're the curators. You're better than a really good weed dealer; better than a good weed farmer. You run the best dispensaries," he said, earning big laughs. "You're someone to whom a pilgrim can come and you'll say, 'I've got some really good shit in the back.'"
The laughs doubled when Vowell and Offerman were together.
After joining Offerman onstage, Vowell remarked that he had received more applause from her crowd that morning than she had just received.
"It's interesting that librarians go for the TV guy," she noted.
"Perhaps they're Americans first," Offerman smugly shot back without missing a beat—a dig at the Frenchman at the center of Vowell's book.
The banter was a highlight of both Vowell and Offerman's sessions. They went off script regularly, so much so that it was easy to forget that they were on-hand to discuss and promote books. It felt as if you were eavesdropping on two very funny friends gabbing. "Let's stop pretending we care about our books," Offerman said and laughed.
Serious topics were addressed—discussions of the unheralded brilliance of talk show host Conan O'Brien, the effects of the 2013 government shutdown on Vowell's research, and the eccentricities of President Theodore Roosevelt were fascinating—but the informality of the conversations kept the proceedings fresh. It also revealed down-to-earth human sides that many celebrities and public figures reveal only to close friends and family.
Sarah Vowell on libraries:
Sarah Vowell on writing:
Sarah Vowell on Lafayette in the Somewhat United States:
Nick Offerman on Libraries and Technology:
Nick Offerman on his book Gumption:
Nick Offerman on writing: