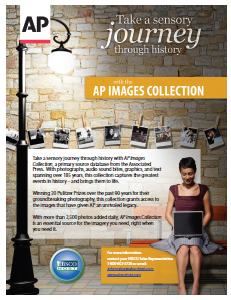 Kiichiro Sato, regional photo editor for the Associated Press (AP), presented "Through the Photographer's Lens: How Images Impact Research," at the ALA Annual Conference on Monday. Sato's presentation included a sampling of photos that are available through the AP Images Collection, the AP's partnership with EBSCO Publishing that makes millions of images available to library patrons. One of the largest collections of historical and contemporary imagery in the world, AP Images includes 12 million photographs dating back to 1826, more than 36,000 audio sound bites, and more than 340,000 professionally made graphics.
Sato, who is based in the AP's Chicago office, oversees 14 states from Minnesota to Texas. His session included information about the AP's history, mission, and emphasis on journalistic standards, as well as examples of its work over the years.
The AP is a not-for-profit cooperative owned by its 1,400 member news organizations. The photographs they use follow strict journalistic guidelines and pretty much go untouched, according to Sato. There are 400 full-time photo staffers working for the AP globally, about half of which are in the US. There are more than 3,500 photos added to AP Images daily. All AP-owned only content is available in the AP Images archive for public use; images the AP acquires from local publications may have their own restrictions and are not necessarily available.
Sato said that before any assignment, photo staffers do very detailed research on news topics—like last year's drought in the Midwest—and try to find creative ways to depict current events. He shared a picture of a lake that had dried up in the spring, and how that summer grass had managed to grow where water had been.
He also explained presidential press coverage in some detail: An AP photographer travels with the president at all times; at any speaking engagement with the president, there are usually two or three photographers stationed inside, and if possible one outside the premises; there is always a photographer at the airport when the president is leaving, and always one wherever he is landing. The airport photographers have an interesting job because they follow Air Force One with their cameras from the moment it appears in the sky (even as a speck) until it leaves again and is out of their sight.
"The photographer doesn't have to be shooting images throughout that time, but we make sure to watch the plane the entire time just in case anything happens in the air," Sato said. "Obviously, we hope nothing ever happens, but just in case, we have someone there who can get a shot."
After his presentation, Sato answered questions about photojournalism ethics. One audience member asked if it hurt some causes to have certain populations, such as hungry children in underdeveloped countries, exploited in photos.
"We have those conversations all the time, conversations about those hard-to-take pictures like during natural disasters," Sato said. "We might shoot first and then go up to someone and talk to them to get their stories. We aren't trying to be insensitive, but we also don't want to lose the chance to capture that moment."
He added that often if content is too graphic, the editors may include a note warning readers, or choose not to include it at all.
"Everything we send to the New York office, we let the news desk know to alert us or flag any images that may be questionable or raise concerns," he said.
Asked if there were any photos he wishes he had taken, Sato said, "All the time."