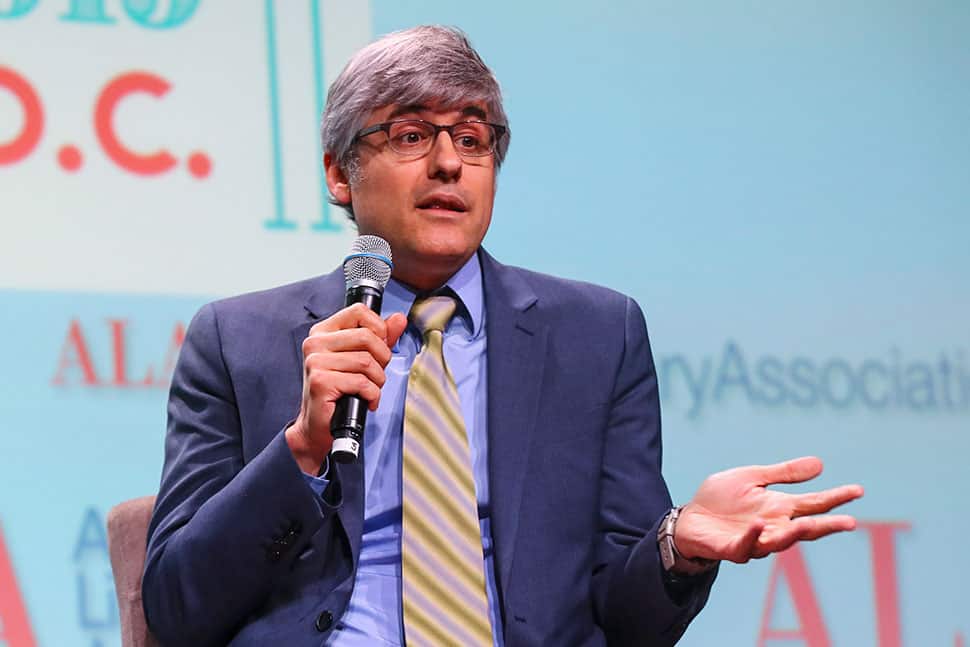 Mo Rocca prefers a little bit of everything. "I like the variety pack cereals more than the big box. Let's hear it for variety pack!" he joked at the Closing Session of the American Library Association's 2019 Annual Conference in Washington, D.C., on June 25.
Which is why it's no surprise that the CBS Sunday Morning correspondent's forthcoming book, Mobituaries: Great Lives Worth Reliving (November, Simon & Schuster), and podcast of the same name, commemorates people and things—from the station wagon to Neanderthals to Thomas Paine's legacy—where the common thread is that they're overlooked and no longer with us. Oh, and there's another overlap: "The chief thing about dead people is that they don't have publicists you have to deal with," quipped Rocca.
Rocca attributes his attraction to the "romance" of obituaries to his father's influence, and likens the obit to a trailer for an Oscar-winning biopic. "To see a life distilled like that, you get the sweep and drama," he said. Rocca's personal mission is to highlight those who might not have gotten a proper obituary in the first place. "I'm the type of person kept awake at night by things like Audrey Hepburn dying on the day Bill Clinton was inaugurated and her not making the first page."
Rocca ran down a short list of dearly departeds that made an impact on him and appear in the book. For instance, Sammy Davis Jr. represents the death of a type of entertainer that is no longer around.
"There's a reason you can't do a biopic [on him]," Rocca said. "You'd have to have five different actors to play him. … He was all about the earnest love of performing and undeniably great."
Rocca is also fascinated by "the presidents you can't remember: the guys between Lincoln and Teddy Roosevelt." He was particularly struck by a story about Chester Alan Arthur ("who's probably from Canada, but that's another scandal"), who as a young lawyer defended an African-American woman named Elizabeth Jennings who had been kicked off a "whites-only" streetcar in New York City in 1854. He won his civil suit, which led to the integration of transportation authority. "It happened almost 100 years before Rosa Parks and the Montgomery bus boycott," Rocca remarked.
He sees his Mobituaries book as a way to flex his interviewing skills in a different way. "TV is so collaborative that sometimes you want to scream, but writing is so solitary," Rocca said. "I need both."
Reporting isn't the only skill within Rocca's purview, as he demonstrated by performing a one-handed cartwheel onstage while not spilling a water bottle he held in his other hand. "In 4th grade, I was acting up so much in class, my father said, you've got to stop interrupting and making jokes, unless you're going to make this a profession."
He also expressed his admiration for library workers. "Any time a group of grown-ups applaud for [the PBS Kids show] Wishbone is very special to me." When a person in the crowd asked him to come up with a viral quote about librarians on the fly, he joked, "How about, 'Microfiche is my fetish'?"
One fan—who namechecked two of Rocca's gigs by saying that 10 years ago he won Wait Wait… Don't Tell Me! only because he watched The Daily Show with Jon Stewart—asked Rocca what entertainers' roles should be in a divisive country where newscasters are no longer seen as the most respected figures.
"I do think right now, every time you hear 'unprecedented, this has never happened before,' it makes an unsettling situation even more unsettling," Rocca said. "I think there's value in people reading history. … There are always opportunities to say 'There's an antecedent here,' and I think that's reassuring, especially to kids: 'Don't worry, something like this happened, and here's how it resolved.'"